In Stock Now
£

15.79Save

£

2.20
Buy Now
Delivery From Friday 29th October
Help & Advice Speak to our experts today
Need help or technical advice on a product or service? Get in touch, we're always happy to help.
Call us on : 01603 599 599
Key Features
UltraWhite powder detergent
Specially formulated for whites and light laundry
Suitable for all Miele washing machines
Lasts up to 49 cycles from one box!
Similar models in this range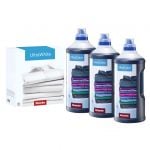 Half Year Supply
Miele Ultra White Detergent
Miele WA UW 2702 P UltraWhite Detergent 2.7Kg makes keeping your whites as white as possible always.
Using specially designed and formulated detergents can help you to get even more from your Miele washing machine. This high-quality product from Miele's Care Collection has been specifically created to work with Miele machines and to get great results every time.
Available in 2.7kg cartons, Miele's Ultra White Powder Detergent will last up to 42 cycles, giving you a huge amount of cleaning power in every box. Ultra White detergent is suitable for all Miele washing machines, allowing you to take full advantage of its cleaning capabilities no matter which Miele machine you own.
The hard-working detergent works perfectly at a variety of temperatures, so whether you're washing your clothes at 30˚C, 40˚C or 95˚C you'll get great results every time. And although it's been specially formulated to work with white fabrics, the detergent also works perfectly with dye-fast coloureds, allowing you to use the same detergent for a variety of washes.
Unlike other detergents, Miele UltraWhite contains active oxygen. This helps to keep whites white and ensures the detergent offers excellent spot removal on all fabrics. Try Miele's UltraWhite detergent in your next wash and harness the cleaning power of this innovative product.
Weight - 2.7kg
Cycles - Lasts up to 49 cycles
Suitable for - All types of laundry especially whites
Phosphates - No
Biologically biodegradable - Yes
Part number - 7903020
We offer FREE delivery on orders over £100. Deliveries of small items are made by courier and are the next working day after dispatch.
Large appliances are delivered by our own delivery teams, installation services can also be selected during the checkout process. Unfortunately, we are not able to deliver some large appliances outside of Norfolk and North Suffolk at the moment; you will be informed of this during the order process if you enter a postcode outside of our delivery zone.
Some manufacturers offer direct delivery of large appliances; you will be informed if this is available during the order process.
We aim to dispatch within 2 workings days of the order being placed. You will receive an email confirming your delivery date.
Delivery Information ›
We offer installation services on large home appliances, you can select additional services at checkout.
We offer the following installation services:
Televisions & Associated Devices - from £45.00
Washing Machines - from £25.00
Washer Dryers - from £25.00
Tumble Dryers - from £10.00
Dishwashers - from £25.00
Refrigeration - from £10.00
Ovens & Cookers - from £60.00
All installations are carried out by our own experienced engineers. Our installation services are only available in Norfolk and North Suffolk, you will be asked for your postcode during the checkout process to see if these services are available to you.
Upon receipt of your order, we will call you to arrange a convenient time for your delivery and installation to take place.
For full details follow the link below.
Home Appliance Installation ›