Miele PowerDisk review
28/5/2019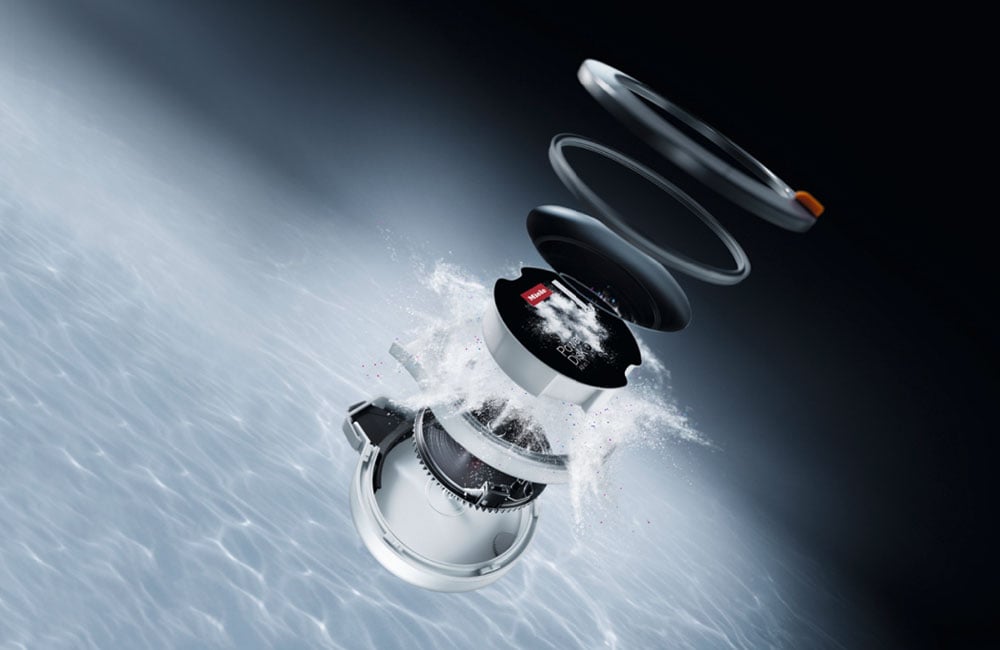 Miele has long been one of the most innovative and exciting manufacturers in the world of kitchen appliances. Their products are produced with a huge amount of care and attention and are specifically designed to meet the many challenges of modern life.
One of the company's latest innovations is the PowerDisk. Part of Miele's Generation 7000 dishwasher range, the PowerDisk has been created to help boost dishwasher performance, minimise the amount of detergent used and help homeowners get great results from their Miele appliance every time.
If you're currently on the lookout for a new dishwasher, selecting an appliance that's compatible with the PowerDisk could help you get even more from your dishwasher. To help you decide if the PowerDisk is right for you, we're taking a look at this innovative product and how it's changing the world of dishwashers for good.
---
---
The Miele PowerDisk
Miele has already released a number of self-dosing washing machines. These are designed help households use the right amount of detergent in every cycle and get the most out of their appliance. Generation 7000 dishwashers introduce self-dosing technology to the kitchen. Designed to release a specific amount of detergent at just the right point in the washing cycle, self-dosing dishwashers help to get plates, pots and pans cleaner than ever before.
Miele has designed its self-dosing detergent in the form of a PowerDisk. This hockey puck-shaped product slots into a compartment in the front door of the dishwasher and releases small amounts of detergent at set points during the dishwasher's cycle. Each PowerDisk contains around 400g of detergent and Miele estimates that each one should last around one month or 20 cycles.
When used in conjunction with the appliance's auto programme, the PowerDisk adjusts the amount of detergent it releases to suit the wash cycle. If your dishes are heavily soiled or if the dishwasher is fully loaded, it will release a little more to help cope with the extra work. On the other hand, if your Generation 7000 dishwasher only contains lightly soiled crockery and cutlery, the PowerDisk will release a little less of its high-performance detergent into the cycle.
---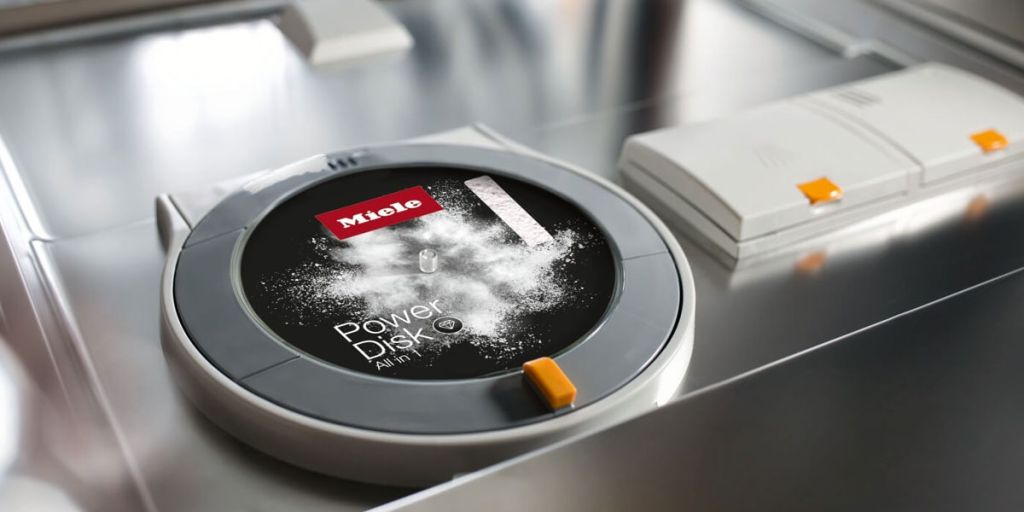 ---
Performance
The Miele PowerDisk contains specially formulated granular detergent. The product also has rinse aid and components for salt function built in, giving you complete cleaning capabilities. As the PowerDisk has been specifically designed to work with Generation 7000 dishwashers, it will provide you with excellent results and help you to get your pots, pans and plates gleaming every time.
Just 7g of detergent is released into the dishwasher each time the PowerDisk rotates during the cycle. On average, the disk will rotate around four times per cycle, using just 28g of detergent to clean your dishes.
Use your G7000 dishwasher's auto mode to detect exactly how much detergent is needed in every wash. This will help to minimise the amount of detergent you use while helping you get great results from every cycle.
PowerDisks are specially formulated to help protect any glass or sliver that's placed in your dishwasher. This will help to ensure that all the items you wash come out looking great.
---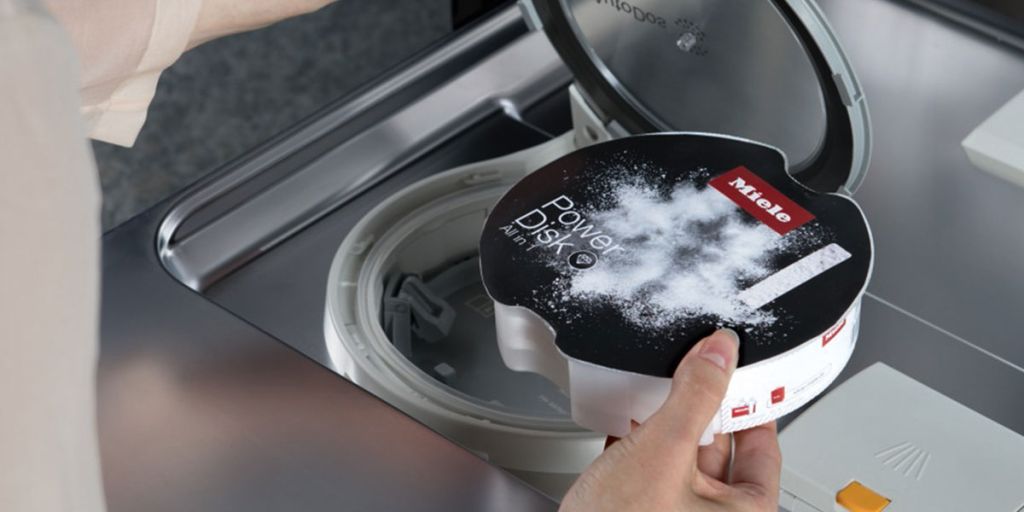 ---
Buying new Miele PowerDisks
If you have a Generation 7000 dishwasher, you can buy Miele PowerDisks direct from Gerald Giles. Some dishwasher suppliers are also planning on selling the product, giving you a choice of options when it comes to stocking up. Buy your PowerDisks in bulk to ensure you never run out of detergent. If your appliance is running low on detergent, you can use the Miele app to check its levels, receive notifications when your PowerDisk falls below a certain level and even order more of the product when your stocks run out.
Affordability
Miele PowerDisks are priced at under £10 each. If you buy in bulk, you can make the detergent even more affordable. As Generation 7000 dishwashers have built-in technology that means you'll never use more detergent than you need to, you can be confident that your appliance will run as affordable as possible.
What's more, as G7000 use minimal energy to power each cycle, you may well see a reduction in your home energy bills. Miele G7000 dishwashers can even tell you if you're using them efficiently, giving you the tools and the know-how you need to make your home that little bit greener.
---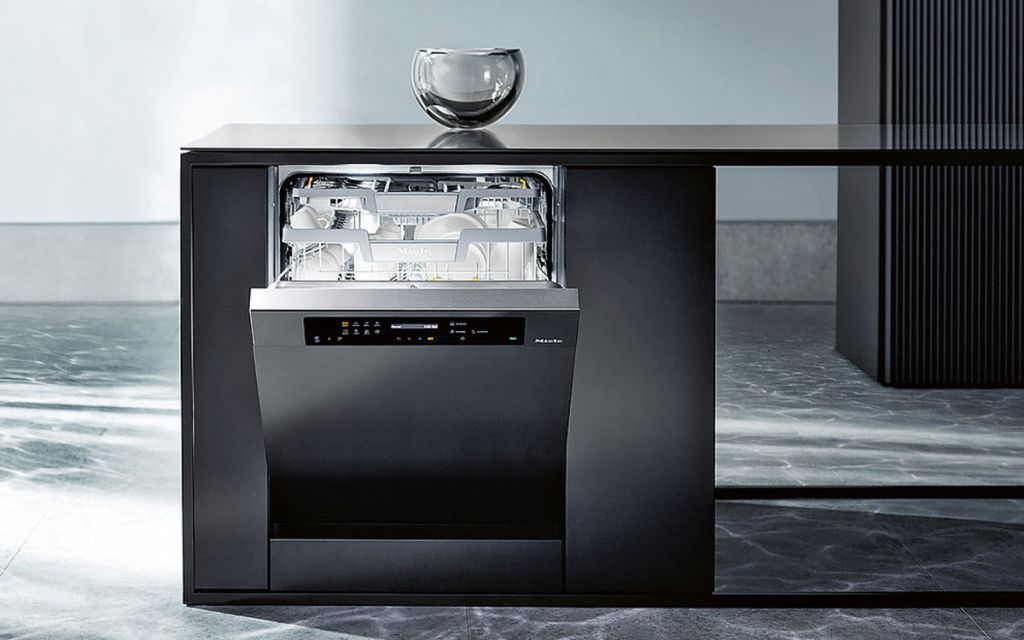 ---
Miele Generation 7000 self-dosing dishwashers
Miele PowerDisks are compatible with Miele G7000 self-dosing dishwashers. These dishwashers have only recently hit the market and form part of Miele's innovative range of kitchen appliances. Unlike other dishwashers currently available, Miele's Generation 7000 appliances come complete with self-dosing technology.
A world first, this innovative idea helps households to minimise the amount of detergent they use in every cycle, reduce their impact on the environment and make their kitchen run as efficiently as possible. Miele's G7000 dishwashers are also compatible with standard dishwasher tablets and liquids, giving you full control over your kitchen and your cleaning routine.
As well as using Miele's unique self-dosing technology, Gen 7000 dishwashers offer a range of other benefits. For a start, they're Wi-Fi enabled. This means you can hook the appliance up to your smartphone and control it when you're out and about. As well as allowing you to turn the appliance on and off remotely, the Miele app also sends you notifications when you're running low on detergent and allows you to buy new PowerDisk packs instantly.
Miele PowerDisks offer homeowners an innovative and affordable alternative to traditional detergent options. Designed to be as efficient and effective as possible, PowerDisks will help you to keep your plates, pots and pans clean, in good condition and looking great.
If you've already invested in a Miele G7000 dishwasher, or if you're thinking about adding the appliance to your kitchen arsenal and want to find out a little more about PowerDisks and how they work, we can help. Get in touch with a member of our team, or take a look around our site, to find out more.
---