Which Dyson vacuum cleaner? Everything you need to know to help you choose
4/2/2020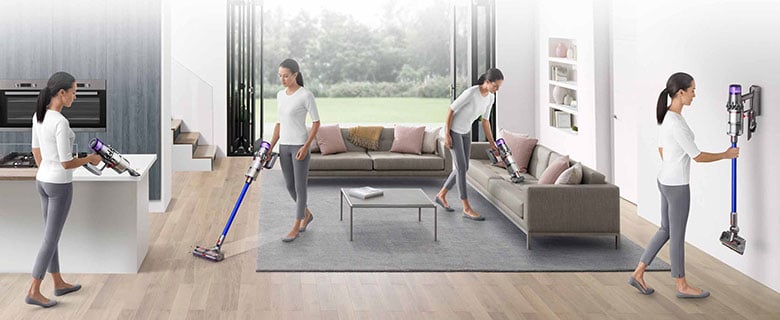 One of the most desirable and innovative vacuum brands around, Dyson has been making waves in the world of cleaning for decades. The manufacturer produces a fantastic range of vacuum cleaners with everything from handheld models to cordless and upright models available.
Each of the vacuum cleaners in the Dyson range offers its own unique benefits and features. From small, light and manoeuvrable cleaners to strong, powerful and durable cleaners, the Dyson range has something for everyone. As Dyson vacuum cleaners are so innovative and so well made, they're among the more expensive vacuums on the market.
This makes it even more important to ensure you select the model that's perfect for your home and your requirements. To help you decide which Dyson cleaner best meets your needs, we're taking a look at the brand's most popular vacuums and what makes these models truly unique.
Dyson technology
Over the years, Dyson has developed its own unique designs and technology. This innovation is largely behind the brand's popularity, and its price tag. Understanding this technology should help you to decide if Dysons are right for your budget and requirements.
Bagless vacuum cleaners
All Dyson vacuum cleaners are bagless. This means you won't have to remove or replace the bag when you're cleaning your home. Instead of a bag, Dysons have cylinders to collect the dust, dirt and debris removed from your surfaces. It was this bagless technology that originally put Dyson on the map. The company ran a high-profile marketing campaign promoting the technology and highlighting the advantages of bagless vacuums over traditional bagged cleaners. One of the main advantages of bagless vacuum cleaners is that you don't have to worry about buying and replacing vacuum bags. This makes bagless vacuums cheaper and easier to run and means you won't be caught short on cleaning day.
Dyson vacuum cleaners use cyclone technology to ensure there's no loss of suction as the dust cylinder fills up. This means that the dirty air is sucked into the cleaner and pulled through the cones that are visible at the top of the vacuum's dust cylinder. It's then flung into the surrounding dust bin. Once the bin is full, you can simply empty the vacuum and continue cleaning. This bagless technology ensures your vacuum remains powerful and effective even when it's full. It also means you don't have to worry about buying replacement bags for your cleaner.
The Dyson ball
As well as the brand's unique cyclone technology, all corded Dyson vacuums come complete with the manufacturer's innovative ball design. Developed by Dyson to aid usability, the flexible ball helps to make these powerful vacuum cleaners exceptionally manoeuvrable, even in tight spaces. The ball also houses the vacuum's motor, which helps to make these devices quieter and more streamlined. It also lowers the centre of gravity of the vacuum, something that can further aid manoeuvrability. The Dyson ball technology has been commended by the Royal College of Chiropractors for its potential to prevent musculoskeletal discomfort during vacuuming.
View all Dyson Ball vacuum cleaners
Dyson dust ejector
A number of cordless vacuum cleaners feature Dyson's unique dust ejector function. This hygienic solution is essentially a silicon collar that slides down inside the dust bin, pushing the collected dirt and debris as it goes. This easy, innovative function means you don't have to put your hand in the dust and helps to keep vacuuming as clean and easy as possible.
Pet hair removal
If you're a pet owner, a vacuum's, fur-removing properties will probably be fairly high up on your list of priorities. Dyson offers a range of vacuums that are specifically designed to remove pet hair. These innovative cleaners come with a built in Tangle-free Turbine. The turbine is made up of two counter-rotating spinning discs with bristles that pull hair into the middle and suck it up into the vacuum. The Tangle-free Turbine has been designed in this way to prevent pet hair from clogging up the vacuum and reducing suction. Choosing a vacuum with a Tangle-free Turbine will help you to remove pet hair from your home and give all your surfaces a deep clean.
View all Dyson animal vacuums
Multi floor cleaning
If you don't have pets, or if animal hair isn't a big issue in your home, you might find a Dyson Multi Floor vacuum is better suited to your needs. Although multi floor vacuums don't have a Tangle-free Turbine, they still offer excellent versatility and good suction power. Multi floor vacuum cleaners can pick up dirt from a wide variety of surfaces, including carpet, hard wood, laminate and tile. To get the best out of your cleaner, you may need to adjust the head or change the end of your vacuum to better suit your floor type.
Capacity
The capacity of the vacuum cleaner you buy will have an impact on its weight, its look and how regularly it needs to be emptied. Most Dyson vacuum cleaners have fairly small capacities, with many coming in at around 0.5 litres. However, some larger models measure in at around two litres. In general, cordless vacuum cleaners have smaller capacities than corded versions. While this means you'll need to empty your vacuum on a regular basis, it also means your vacuum will be pretty lightweight. This is a real bonus if you need to carry your vacuum up and down stairs or if you have limited mobility.
Weight and noise
Two things you should always consider before buying a vacuum cleaner are noise and weight. While these might not initially seem as important as suction power, battery life and design, if your vacuum is deafening, or too heavy to carry, it can make using it a real challenge.
In general, Dyson's cordless vacuum cleaners are lighter and quieter than upright and cylinder models. Most of the cordless cleaners in the Dyson range weigh in at around 2.5–3kg. This makes them light enough to carry around the house and lift above your head when cleaning cupboard tops and corners. Although Dyson cylinder vacuums are heavier than cordless versions, they're still pretty easy to handle with most weighing in at around 5kg. This makes cylinder cleaners suitable for people who need a lightweight vacuum with excellent suction power. The heaviest vacuums in the Dyson range are the upright cleaners. Containing a lot more plastic than other models, upright cleaners are more solid than other Dysons available. Upright Dyson vacuums weight between 7kg and 9kg, making them substantially heavier than other models.
However, as Dysons are designed to be manoeuvrable and easy to use, this extra weight shouldn't have too much of an impact on usability. If you live in an apartment, like to vacuum when your kids are napping or just prefer a quiet cleaner, noise is an important consideration when buying a new model. Unless you happen to have a decibel meter handy, the best way to test volume is to turn the vacuum on and have a go with it before your buy. While not the quietest vacuums on the market, Dysons are far from the noisiest, so you shouldn't have too many issues with sound when cleaning.
Dyson upright and cylinder cleaners
Dyson's most popular vacuum cleaners are probably its upright models. Easy to store, great for covering large floor areas and able to collect a lot of dust, dirt and debris, upright vacuums are suitable for most homes and floor surfaces. However, Dyson also makes an excellent range of cylinder vacuums. These models tend to be lighter, easier to manoeuvre and quieter. They're also better suited to cleaning awkward areas like stairs. If manoeuvrability is important to you, a cylinder vacuum may suit you better than an upright model.
View all Dyson upright and cylinder vacuum cleaners
Cordless vacuum cleaners
In 2018, Dyson announced that it would stop developing corded vacuum cleaners and focus all its energies on cordless models instead. So while corded vacuums are still available to buy, it won't be long until almost all Dysons available on the market are cordless. Luckily for consumers, Dyson's cordless cleaners are among the best in the business.
The brand has put a huge amount of time and money into creating efficient, stylish and effective vacuum cleaners for the homeowners of the 21st century. Dyson's cord-free cleaners offer a sleek, modern design and many of the innovative features the brand is famous for. Some cordless cleaners from Dyson have battery lives of up to 60 minutes. This means you can clean your home for an hour before the vacuum needs to be recharged. When the battery is empty, simply hang the vacuum on its base unit to recharge. Models in the Dyson cordless range take between 3.5 and 5 hours to recharge when full empty.
View all Dyson cordless vacuum cleaners
Dyson cordless vacuum cleaners compared
As all Dyson cordless vacuum cleaners come complete with the latest cord-free technology, choosing between them isn't always easy. In 2018, Dyson launched its V10 range. The brand claimed V10s were good enough to replace corded vacuum cleaners as the models featured large bin cylinders, long battery lives and powerful suction.
The brand's most recent collection of cordless cleaners is the V11 range, with additionl features including a digital display with a battery life countdown, optimised battery life and a range of other extras, it's the perfect choice if you want to get more from your vacuum. Some models in the range come with an auto-cleaning function that automatically adapts to your floor surface, ensuring every room in your home is as clean as possible.
If you're looking for a more affordable Dyson cordless cleaner, you could opt for one of the brand's older models. The V7 range, released in 2017, offers great value for money, a good battery life and the same dust ejector mechanism as later models. The V8 range is very similar to the V7 range but has better battery life and a few more extras.
Choose from the Dyson V11 Animal + or the V11 Absolute Extra
Cost
One of the most recognisable vacuum brands around, Dyson is also one of the most expensive. Although a new Dyson vacuum won't break the bank, a premium model will set you back around £400. If you're happy to opt for a vacuum from an older or more basic range, you can pick up a standard Dyson for less than £200, there are also seasonal offers where the more premium ranged cleaners are reduced. Dysons cost more than other vacuums because of their reputation, their innovation and their features.
The company is constantly looking for new ways to make their vacuums more powerful, more useful and more versatile. Every generation of Dyson cleaners that hits the market offers something unique and gives consumers an excellent product to enjoy. If you're looking for a high-end vacuum cleaner that's built to last, you can't go far wrong with a Dyson.
Reliability
No one wants to spend £400 on a new vacuum cleaner just to have it break down a few months later. Luckily for people buying Dysons, the brand's products are generally very reliable. In fact, most of its upright, cylinder and cordless models come with a 2-year guarantee included, with some products even available with an impressive 5-year warranty. This means that any issues you have with your vacuum in the first two years will be sorted for free, giving you peace of mind and ensuring you're able to get the most out of your new cleaner.
5 Year warranty Dyson vacuums Small Ball Allergy Bagless Upright Vacuum Cleaner
Which Dyson is right for you?
Once you've got to grips with the unique features and benefits offered by Dyson vacuums, it's time to decide which model is right for you. Before you part with your hard-earned cash, make sure you take the time to consider your options and decide which vacuum best suits your requirements.
Your home
The first thing to consider when buying a new vacuum cleaner is your home. Think about the different floor surfaces you have in the building, how many stairs you have and if your property has any special requirements. If you have a variety of floor types in your home, like carpet, laminate, tile or hard wood, a multi floor vacuum will probably be the most suitable option for your home. Dyson multi floor vacuums are specially designed to remove dust and debris from a variety of surfaces. Investing in one of these versatile cleaners will help to ensure every corner of your home is as clean as possible.
If you have pets in your home, it might well be worth investing in a Dyson Animal Vacuum. As we've already seen, Dyson's innovative Tangle-free Turbine will remove pet hair from your home quickly and efficiently. This is great news if you want to reclaim your home from your animals and leave the space looking its best.
If you're thinking about opting for a cordless cleaner, make sure you have somewhere discreet to place the wall mount so it doesn't get in your way. It's also important to think about whether or not the battery life of a cordless vacuum will give you enough time to clean your home from top to bottom.
Your budget
Cost is always going to be a consideration when buying a new vacuum cleaner. Although Dysons are among the more expensive vacuums on the market, there is still a lot of variation in price in the Dyson range. If you're working to a tight budget, look at vacuums from an older Dyson range. Models released in 2017 and 2018 offer great value for money and still boast a variety of innovative features. More basic models from recent Dyson ranges are also very affordable. They may not have all the bells and whistles of premium models, but they'll still allow you to clean your home quickly and effectively. Alternatively, if money isn't an issue, opt for a top-of-the-range Dyson vacuum. Offering you the very latest in cleaning technology, a Dyson premium vacuum will help you get your home cleaner than ever before.
Offers
Even if you're on a budget, you may be able to get a good deal on a premium Dyson by keeping an eye out for special offers. Deals can save you a significant amount off the retail price of a new Dyson so make sure you take advantage of any you see. Offering an excellent array of features, innovative design and powerful cleaning, Dysons are popular with homeowners around the world. To find out more about Dyson vacuum cleaners, and the range we offer, explore our site or get in touch with a member of our team today.