KitchenAid: Perfect for preparing pasta
6/4/2021
Lockdown had us all looking for new things to try out in the kitchen, with making pasta from scratch topping many people's lists. If you're thinking of expanding your Italian culinary repertoire, KitchenAid has all the right gadgets to get you started.
During the last 18 months and 3 lockdowns, cooking and baking became our refuge from the realities of coronavirus. Millions of amateur chefs across the country started experimenting with recipes they'd never tried before, from sourdough to banana bread. With basic food items unavailable due to panic buying, many of us experimented with making staples such as pasta from scratch for the first time.
So if you were one of those families that rolled your own pasta last year maybe you're ready to give fettuccine or macaroni a go. Food preparation stalwart KitchenAid has several attachments for its premium line of stand mixers that will help you craft the perfect homemade pasta.
We all love the taste and texture of fresh pasta, which can instantly transport us back to holidays in Italy and unforgettable restaurant meals. However, while fresh pasta is easy to pick up in the supermarket and freeze for later, many of us rely on dried pasta, and the thought of making your own from scratch can be daunting.
Make Pasta in All Shapes and Sizes with KitchenAid Attachments
With the KitchenAid Pasta Roller and Cutter Stand Mixer Attachments (5KSMPRA) you can whip up lasagne sheets, spaghetti and fettucine with ease in the comfort of your own kitchen. If rigatoni or bucatini are more your thing, you can also invest in the KitchenAid 5KSMPEXTA Pasta Shape Press. With these clever attachments, you don't need to hop on a plane to get the best of Italian cuisine; you'll be able to bring the taste of Gragnano to your own dining table.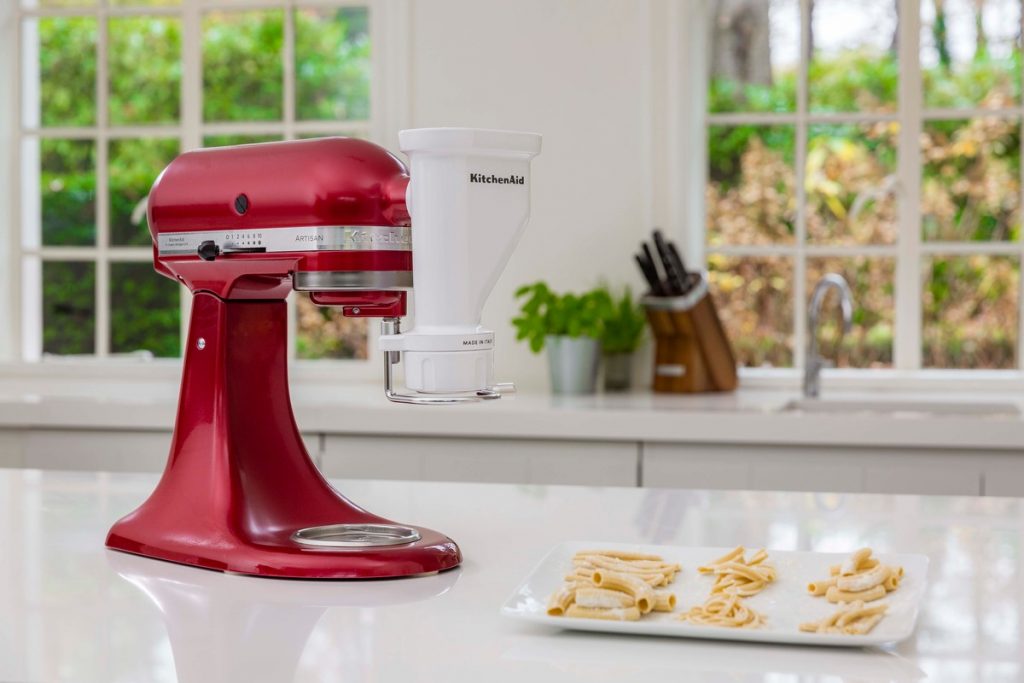 The Pasta Roller and Cutter attachments are compatible with all KitchenAid stand mixers and give you everything you need to turn your bowl of dough into perfectly-formed pasta shapes. As Donna Currie writes on The Spruce Eats, 'One of the trickiest parts about making pasta is rolling it evenly so you end up with noodles that are all the same thickness. The pasta roller makes that simple.'
After you've prepared your dough in the mixer, you just feed it into the roller attachment until it's supple and silky. The flat sheets can be used to make lasagne or cannelloni. If you want to make spaghetti or fettucine, you can run your pasta sheets through the cutter attachment. The Pasta Shape Press, which also fits all KitchenAid stand mixers, makes spaghetti, bucatini, rigatoni, fusilli, and two sizes of macaroni. There is a different cutter for each pasta shape, and you just pop these little discs in place and then feed small amounts of dough through the press. Once you've made your pasta, you can toss it in a big pan of boiling, salted water and cook for one to three minutes, or store it in the freezer to cook another time.
KitchenAid Pasta Attachments Are Easy and Fun to Use
KitchenAid's top-of-the-line pasta makers come highly recommended. Business Insider says that these handy little attachments 'turn your KitchenAid stand mixer into a one-stop pasta shop.' Boasting KitchenAid's renowned engineering, these 'durably constructed' gadgets have an 'excellent rolling and cutting speed.' They are 'easy to switch out' and 'easy to clean', so using them is a stress-free way to add a special touch to your home cooking.
Making your own fresh macaroni or fusilli at home is great not only for showing off your culinary prowess, but for having fun in the kitchen and teaching your little ones to cook. Foodal says that this all-purpose set of pasta-making tools is by far the best way to equip your kitchen for fun nights of family cooking: 'Homemade pasta is infinitely better than store bought, and makes for a fun way to enjoy an otherwise typical meal of spaghetti and meatballs.'
KitchenAid's Sifter & Scale Makes Dough Prep a Doddle
These aren't the only KitchenAid tools to consider if you're dreaming of homemade pasta. Why not check out the 5KSMSFTA Sifter & Scale Stand Mixer Attachment? This smart little gadget weighs and sifts your ingredients for you, so you can mix your pasta dough without covering the worktop in flour! With KitchenAid's range of first-class kitchen utensils at hand, you'll want to make your own pasta creations every night of the week.
Alternatives to Pasta
In the unlikely event you get tired of pasta, or want to cut down on carbs, why not replace it with veggies? KitchenAid has two nifty mixer attachments that help you turn courgette or sweet potatoes into pasta substitutes. The KitchenAid 5KSM1APC Spiraliser Attachment for Tilt Head Mixer cuts your veg into spaghetti-shaped strands that you can eat with pasta sauces or in a salad, and the 5KSMSCA Vegetable Sheet Cutter shaves vegetables like zucchini into thin slices that can be used instead of lasagne sheets.
Making pasta with the KitchenAid Roller and Cutter and Pasta Shape Press is a fun and easy way to try something new in the kitchen. Cleverly designed with durable materials, these mixer attachments are no-mess, no-fuss. So, if you're looking to get your kids interested in cooking, or impress your friends at your next dinner party, pick up a set of KitchenAid's pasta attachments today.
---
KitchenAid Stand Mixer Attachments
---