How to purify the air in your home
19/8/2020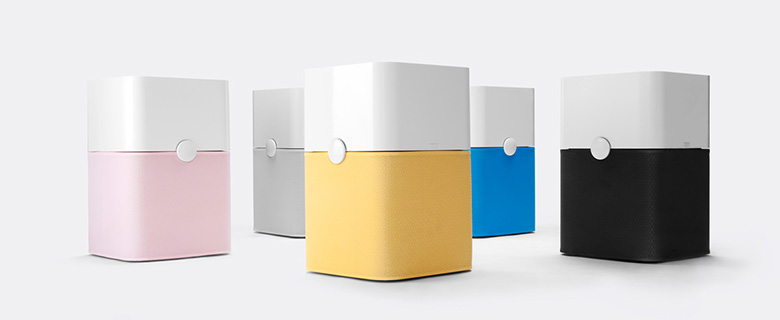 If you're currently searching for an air purifier for your home, you'll know there are a lot of models to choose from. Some of our favourites are made by Blueair. Compact, stylish and incredibly effective, these powerful purifiers contain a number of unique and innovative features that help remove pollen and other impurities from the air quickly and efficiently.
Blueair air purifiers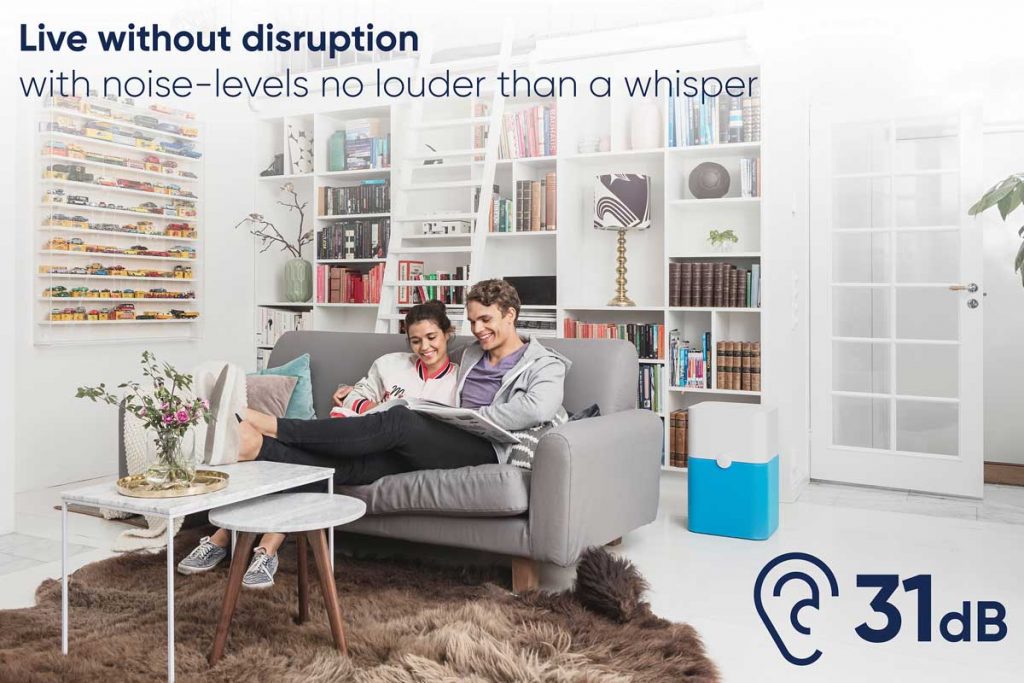 HEPASilent™ Filtration Technology
One of the most integral parts of Blueair purifiers is their HEPASilent™ filtration technology. The unique system combines electrostatic and mechanical methods to filter particles from the air. The technology is so effective that it's able to remove at least 99.97% of all airborne particles down to 0.1 micron in size. This includes pollen, smoke, dust, mould, spores, bacteria, and pet allergens, all of which can trigger allergies and make breathing a struggle.
HEPASilent™ filtration technology enables both high airflow and high filtration efficiency. This results in a high Clean Air Delivery Rate (CADR) and helps to keep the air in your home feeling fresh. The filtration system is very quiet and requires less energy that other comparable technologies.
Before reaching the main part of the filter in Blueair's Blue range, the air drawn into the purifier passes through a pre-filter. This removes larger particles from the air and increases the efficiency of the main particle filter.
SmokeStop™
While a lot of people use an air purifier to remove pollen and other allergens from their homes, they are also effective at getting rid of unwanted, and potentially dangerous, odours and gases. A number of Blueair purifiers contain SmokeStop™ or Combination filters. These filters contain activated carbon as well as filtration that removes odours, VOCs, Ozone and gases from the air that pass through the purifier. Once these impurities are removed from the air, your home will be a much healthier place to live.
Clean Air Delivery Rate
The Clean Air Delivery Rate, or CADR, of an air purifier is one of the best ways to measure its efficiency. CADR indicates the volume of clean air delivered by the air purifier per minute or per hour, giving you a good idea of how much clean, pure air will be pumped around your room when the purifier is in action.
One of the main features of Blueair purifiers is that the HEPASilent™ filtration technology enables high air flow and high filtration efficiency. This means the purifiers have a high CADR and will clean a large volume of air whenever they are turned on.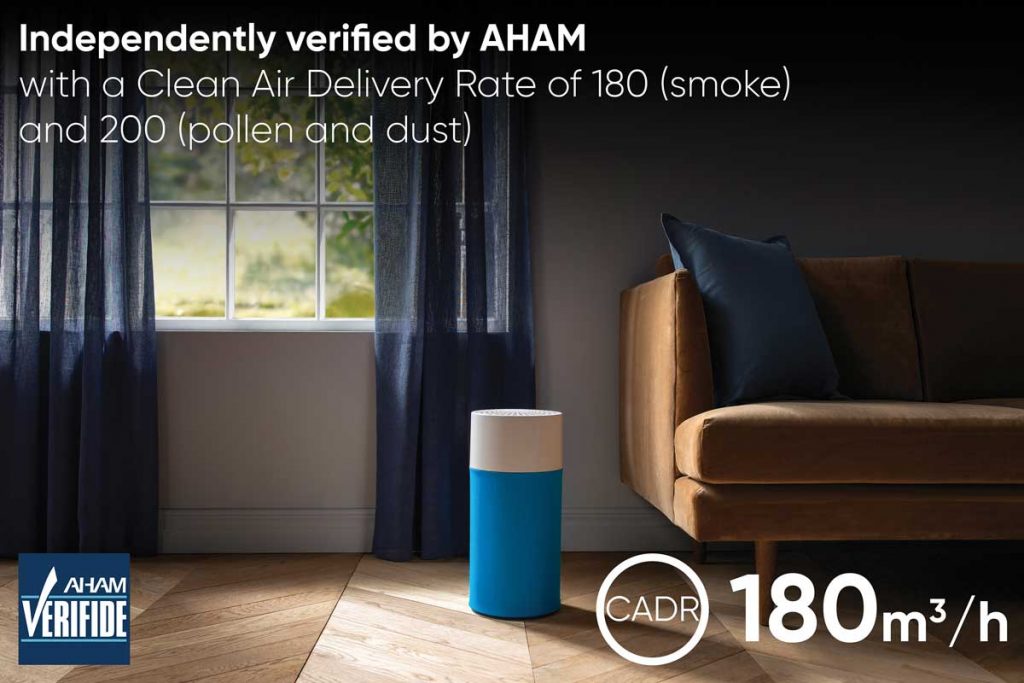 Air Changes per Hour
Another good indicator of an air purifier's performance is the number of Air Changes per Hour, or ACH. As the name suggests, ACH indicates how many times per hour the total air volume in a room is filtered. The value is calculated using the CADR and the recommended room size for each product. If you want to completely clean all of the air in your home on a regular basis, this value is a good one to be aware of.
Two air changes per hour should give around 50% removal of particulate pollutants, which is recommended by asthma and allergy associations whereas in China it is recommended to have 3.6-6 ACH depending on the pollutant. In the US, it is recommended to have 5 ACH to guarantee you are removing pollutants effectively, giving at least 80% particle reduction and cleaning room air every 12 minutes.
Every Blueair air purifier is verified to give 5 ACH to make sure you are breathing clean, healthy air.
Eye-catching design
As well as being efficient, quiet and low-energy, Blueair purifiers are nice to look at. This is important to a lot of people as purifiers often take up a fairly prominent position in the home.
The simple, eye-catching design combines bright blocks of colour with a sleek outline. Some Blueair purifiers, like the Blueair Blue Pure 221, come with multiple pre-filters in a number of colours, allowing you to match your purifier to your interior. You can also purchase additional pre-filters to personalise your air purifier to perfectly match your space.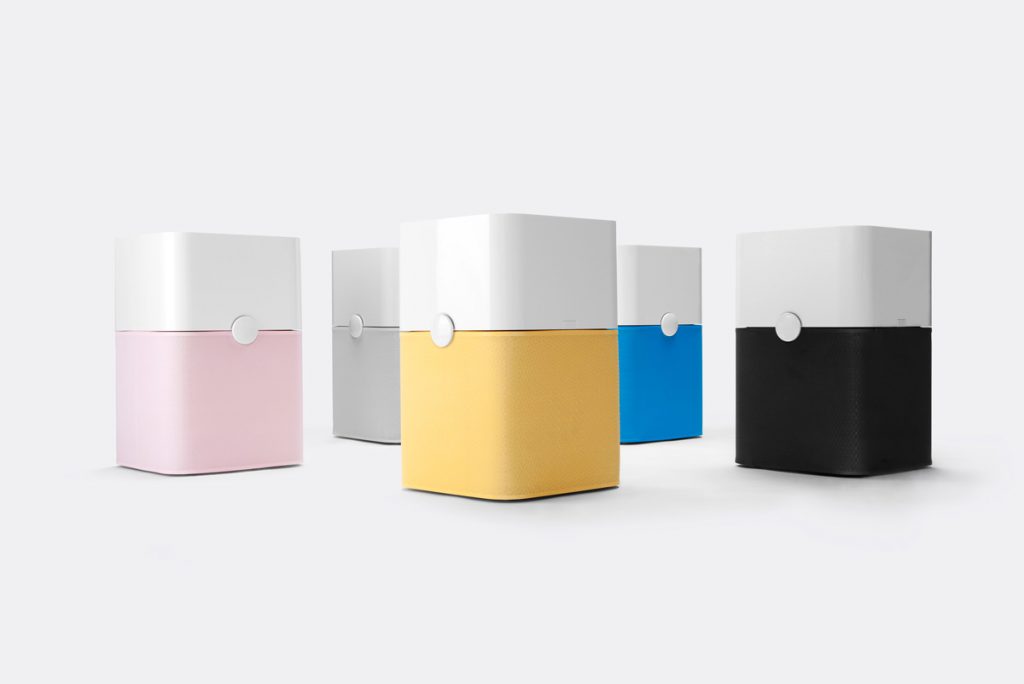 Cleaning capability
When looking for an air purifier for your home, it's important to check the size of the rooms you want to filter. Different purifiers have different capabilities, and selecting the one that's right for your room will ensure you get great results.
For smaller spaces, the Blueair Blue Pure 411 is ideal. In spaces up to 15m², it can filter the air an incredible five times per hour. The purifier has a convenient one-button speed control and the 360˚ air intake works perfectly wherever it's placed in the room.
If you need to purify the air in a larger space, opt for the Blueair Blue Pure 221. This powerful appliance is designed for rooms up to 50m², allowing you to clean the air in a large kitchen diner, living room or even a small, open-plan flat. Both models of air purifier have indicators to let you know when the filter needs replacing. This will help to ensure the air you breathe is always as clean as possible.
Installing a high quality air purifier in your home will help to improve the quality of the air you breathe and could help to ease, and even alleviate, symptoms of hay fever and other allergies. To find out more, or to find the Blueair air purifier that's right for your home, explore our site or get in touch with a member of our expert team.
For people with pollen allergies, the spring and summer months can be especially tough. Trees, grasses, weeds and flowers release their pollen into the air from March all the way through to September. When allergy sufferers breathe in this pollen, it can cause a variety of severe reactions including itchy eyes, runny nose, cough, itchy throat, facial swelling, and fatigue. Experiencing these symptoms throughout the spring and summer can take the fun out of the sunniest months of the year and leave allergy sufferers feeling miserable.
The best way to minimise symptoms and ease suffering is to remove as much pollen as possible from the air you breathe. While it's difficult to remove pollen from the air outside, controlling the air inside your home is a lot easier. Air purifiers can remove the vast majority of pollen and other impurities from your property, enabling you to breathe more easily. If you're currently struggling through yet another summer of allergies, these purifiers could transform your quality of life and help you make the most of the sunshine.