What's the difference between an air fryer and a multi-cooker?
16/5/2022
Whilst many of us wish we had the time and skill to perfect culinary delights, busy work and family schedules can take over, leaving us longing for convenience. At Gerald Giles, we value the importance of cooking and how it can stimulate your senses, bring people together, and increase feelings of wellbeing.
If you're looking to upgrade your kitchenware so that you can cook delicious but quick meals, look no further. We can help you make the most of your kitchen with our range of top appliances, no matter the size. Our expert team can help, and in this article, we discuss the differences between arguably, the most popular kitchen appliances, the air fryer and the multi-cooker.
Cooking for convenience arose in Britain during the 1970s with the introduction of the microwave. This gadget was able to prepare family meals in minutes. However, these meals were frozen, pre-packaged, and often lacked nutrients. Microwave meals were also only accessible to those who had domestic freezers and the space to store them.
In the 1980s, when microwaves and freezers were more popular, the demand for convenience food continued due to a shift in family life. Many women were now working 9 to 5 jobs meaning they didn't have time to manage work, children, and coming home to prepare full meals each day. You could have a steaming plate of food in front of you in just three minutes.
We've come a long way since the 1980s and now have a luxury range of kitchen appliances available to take the hardship out of cooking whilst still allowing you to create delicious meals for all the family.
---
So, what's an air fryer and why are they so popular?
Although 'fry' is in the name, the air fryer does not fry food. Due to its small size, the air fryer is a perfectly portable appliance suitable for kitchens of all sizes. Imagine you were to take your kitchen oven and shrink it in size. Not only would you be a magician, but you would have an air fryer. If that's not possible, you can buy one from us.
The air fryer doesn't bake food either. Essentially, it mimics the effects of deep-frying without using vast amounts of oil. Letting you enjoy the food you love but in a healthier way.
Air fryers are versatile and can cook anything from frozen food to hand-cut French fries and homemade cookies. Suitable for cooking sweet and savoury foods, it's no wonder the air fryer has seen a considerable surge in popularity in recent years.
The air fryer can also cook:
Hard-boiled eggs
Spring rolls
Fried fish and chicken
Grilled vegetables
Baked potatoes
Frozen food
Cakes
Muffins
Chips and crisps
The air fryer works simply by using a heating mechanism and a fan. Once you've put your food in the appliance, hot air suddenly runs around the food. This air circulation helps create an even finish mimicking the effects of the food being fried with oil, although it has not.
Most foods are cooked at around 25-35 minutes, making the air fryer the perfect accompaniment to any kitchen. With some air fryers, you may have to turn your food over halfway through its cooking time to ensure it crisps evenly.
After your food has finished air frying, it is important to thoroughly clean the appliance to avoid any leftover pieces from burning the next time you use it.
Air fryers have seen such a huge increase in popularity because they're considered the healthiest appliance to cook food, but is this true?
The unavoidable fact is that air fryers use significantly less oil than deep fryers. French fries cooked in an air fryer are expected to contain around 75% less fat than their deep-fried counterparts. This means they are certainly a healthier option than other appliances available that rely on using lots of oil.
To summarise, air fryers are an excellent way to whip up a variety of foods in a short space of time. Due to their compact nature, they keep their heat in when raised to a high temperature, unlike standard kitchen ovens that heat the entire kitchen. In the summer, this can make cooking feel like a huge chore.
If you're looking for a healthier and quicker way to enjoy the foods you love, investing in an air fryer will undoubtedly be in your best interest!
---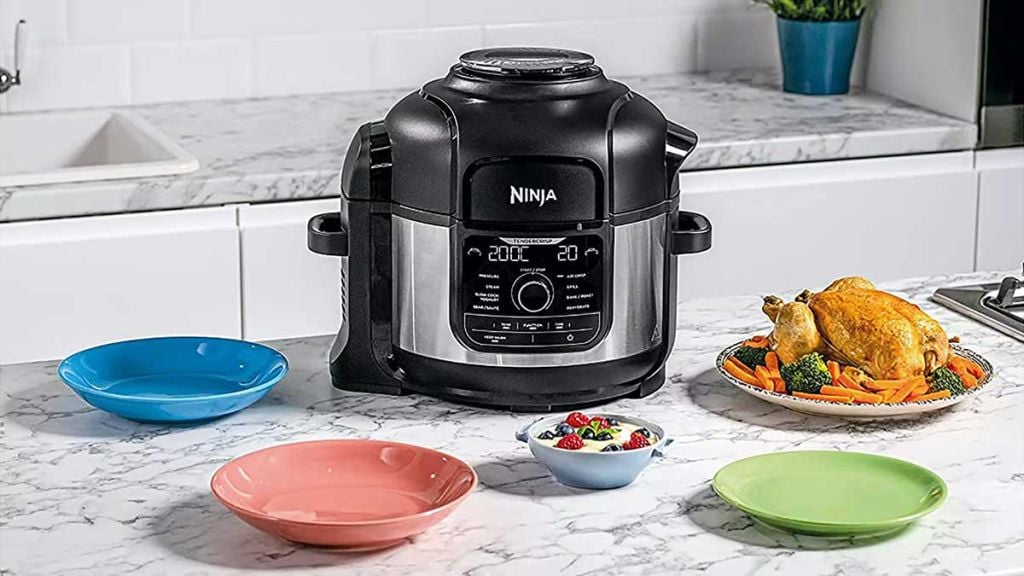 What's a multi-cooker?
Multi-cookers are often considered the future of cooking. This is because they contain multiple cooking programmes under one lid, including a pressure cooker. Choosing to purchase a multi-cooker gives you a reason to finally clean out your cupboards of old appliances that you don't use anymore.
The multi-cooker can do it all, from perfecting soup and jams to casseroles and briskets. Suitable for any fussy eater, multi-cookers do the hard work for you. All you have to do is set the function! Most multi-cookers include around 9 to 15 functions meaning you can fry, sauté, simmer, and bake easily.
The multi-cooker can also cook:
Stew
Chilli
Curry
Rice
Steamed vegetables
Cooked chicken and meats
Pasta
Porridge
Roast dinners
Bread
Dumplings
Cookies
Cakes
With a multi-cooker, it's never been easier to hone your culinary skills. For a sure way to impress your guests, a multi-cooker is the way to go! Most multi-cookers even have a yoghurt-making function. What a perfect way to start the day.
Multi-cookers are so popular due to their time-saving abilities. With their pressure-cooking setting, you can cut your cooking time in half, leaving you with time to focus on the things that really matter. They're also great space savers and can force you to donate any old appliances that you no longer need.
Perfect for big families, multi-cookers can serve up to 6 portions in one go. Gone are the days of multiple pans and dishes building up on your countertop. Most multi-cooker parts are also dishwasher safe making cleaning a breeze too.
Whilst they may look quite similar, there are a few distinguishable differences between the air fryer and multi-cooker but don't worry because we're here to explain.
Firstly, air fryers tend to cost less than multi-cookers. This is because multi-cookers contain more cooking functions and are a tad more complex, not to mention versatile. However, because air fryers only have one function, they cook food quicker than a multi-cooker, which needs to build pressure before cooking begins.
It also depends on what you want to use your new kitchen appliance for. Are you wanting to expand your culinary repertoire and cater for a bigger group of people? If so, a multi-cooker will be the perfect choice. Multi-cookers are also considered the more energy-efficient appliance due to their low wattage and heat-retaining abilities. These appliances can also be used as air fryers, but air fryers cannot be used as multi-cookers.
---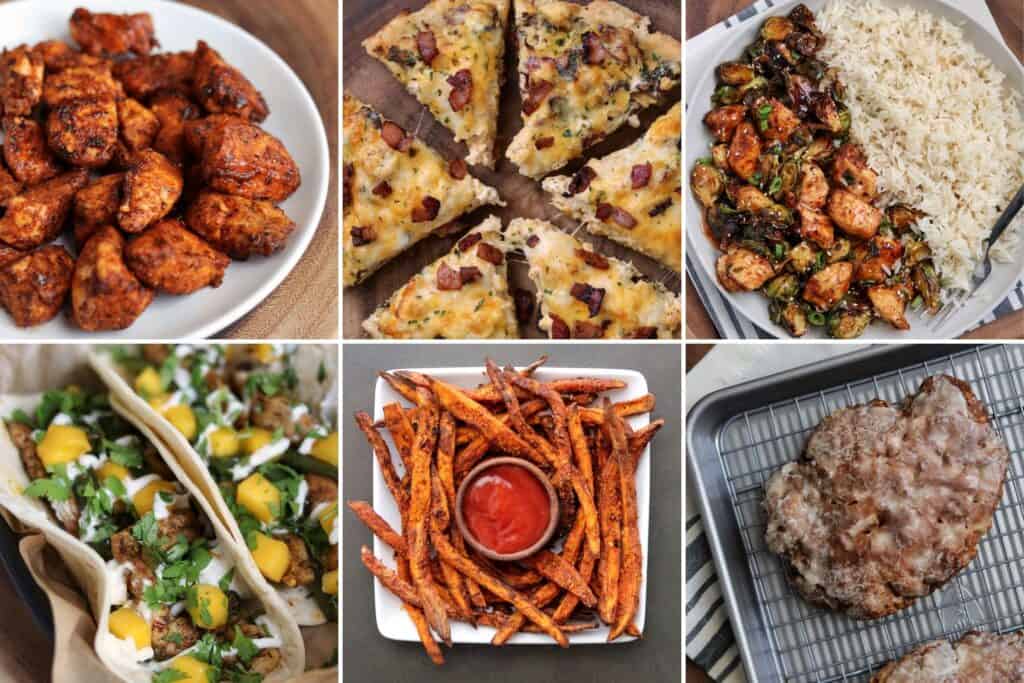 ---
However, if you're looking for a new, healthier way to cook food in smaller batches then the air fryer is for you. It is important to remember that air fryers were designed for one thing, to make foods crispy, and multi-cookers were designed for more. However, our Ninja range of air-fryers now include roast and dehydrate functions making cooking more enjoyable for all.
Air fryers are the more compact out of the two appliances meaning they can be used in the smallest of kitchens, unlike multi-cookers which are a little bit bigger due to their many functions.
Consider an air fryer or multi-cooker if you feel that your busy schedule and cramped kitchen are putting you off cooking. No matter which appliance you choose, you're sure to save time, money, and space and, by doing so, will be able to glide into the modern convenience cooking revolution.
Our favourite multi-cookers and air fryers are listed below. With many on offer and inclusive of free delivery, there's never been a better time to treat yourself (and your kitchen).
This amazing device includes 15 different cooking functions and can cook for up to 6 people. It also includes a Combi-Steam Mode meaning you can steam and crisp at the same time and a Digital Cooking Probe helping you keep an eye on the temperature of your food as it cooks.
Read our blog "Why the Ninja Foodi MAX 15-in-1 multi-cooker will change the way you cook forever!" for even more information.
Take an air fryer and double it. What do you get? The Ninja Foodi Dual Zone Air Fryer. This amazing device takes air frying to the next level including two separate zones so you can cook food separately.
We understand that investing in a new kitchen appliance can be daunting, however, it is an investment sure to pay off. If you've still got questions such as 'which appliance will I use more?' or 'which appliance is easier to use?' get in touch with us today!
Email us at sales@geraldgiles.co.uk or contact us on 01603 599599. We aim to respond as soon as possible and can't wait to hear from you.
---