Why the Ninja Foodi MAX 15-in-1 multi-cooker will change the way you cook forever!
19/1/2022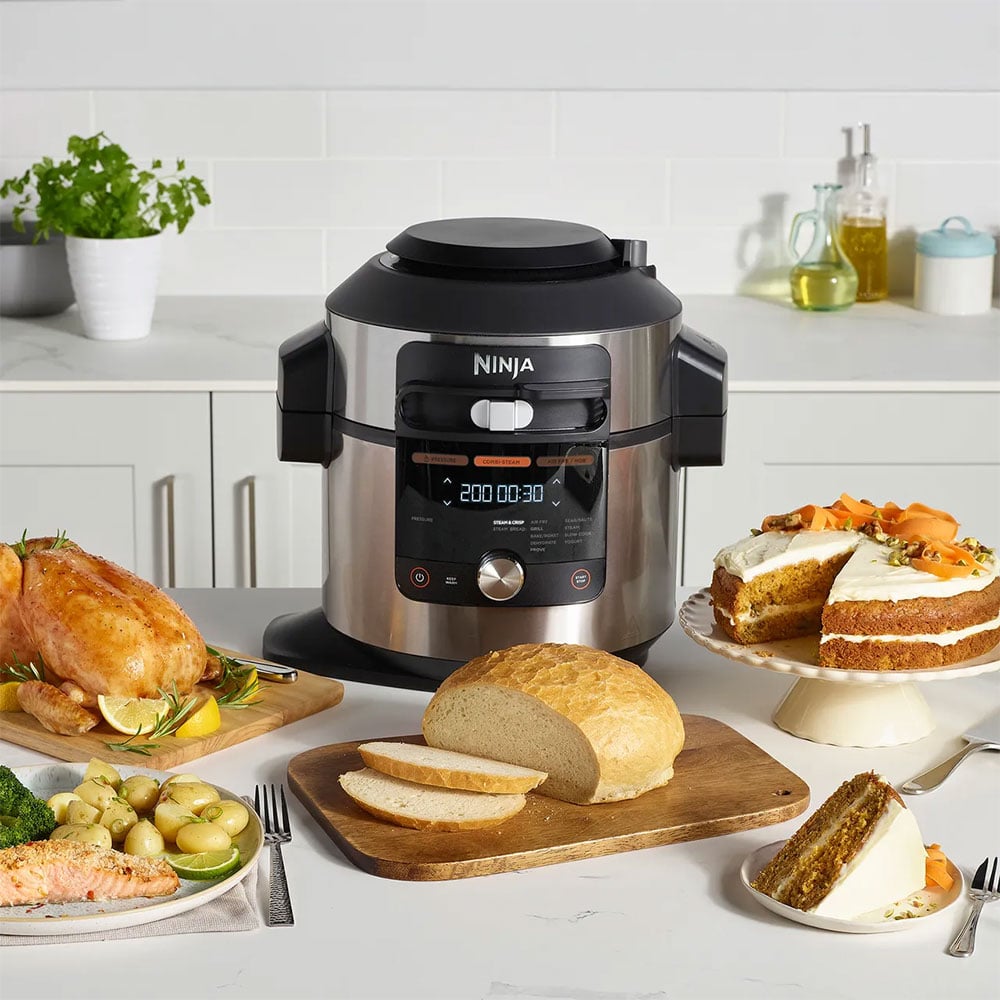 Just as within the world of fashion, food and cooking are also subject to trends that influence what we cook and how we cook it. If you've been paying attention of late, you'll probably have noticed that certain kitchen gadgets are the tech du jour, namely the air fryer and the pressure cooker.
When we say pressure cooker, we don't mean the old-fashioned iron contraptions complete with industrial-looking clamps on the side to stop the lid from exploding off when the pressure got too high, and a steam valve on the top that resembled a whistle on a train. We're talking about the sleek, stylish and multi-functional digital gadgets that are revolutionising cooking in the kitchen.
---
---
A Multi-Cooker with More
A few companies have tried to create multi-cooker hybrids of the air fryer and pressure cooker, and the result is usually a kitchen gadget which, rather than doing one thing well, does several things half-heartedly. Until now that is thanks to the NINJA Foodi MAX 15-in-1 SmartLid Multi-Cooker with Smart Cook System. It might not exactly be easy to pronounce but it is easy to use.
If you're wondering what a "SmartLid" is, many multi-cookers require more than one lid to perform different functions, meaning you need space to store (often large) auxiliary accessories. This is all well and good if you have a kitchen with acres of storage, but if you're buying a multi-cooker for the space saving potential, this is a definite downside. The NINJA Foodi MAX has just one lid which performs every function and never needs to be swapped out.
---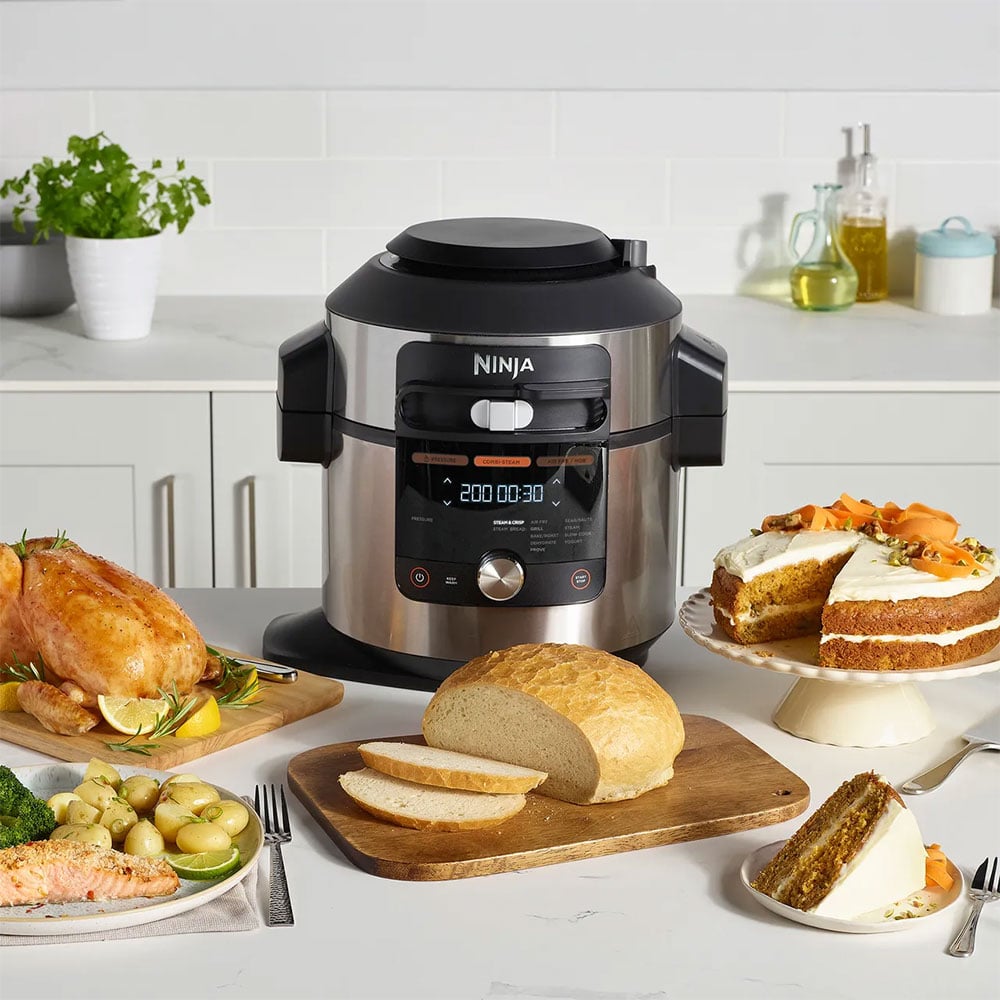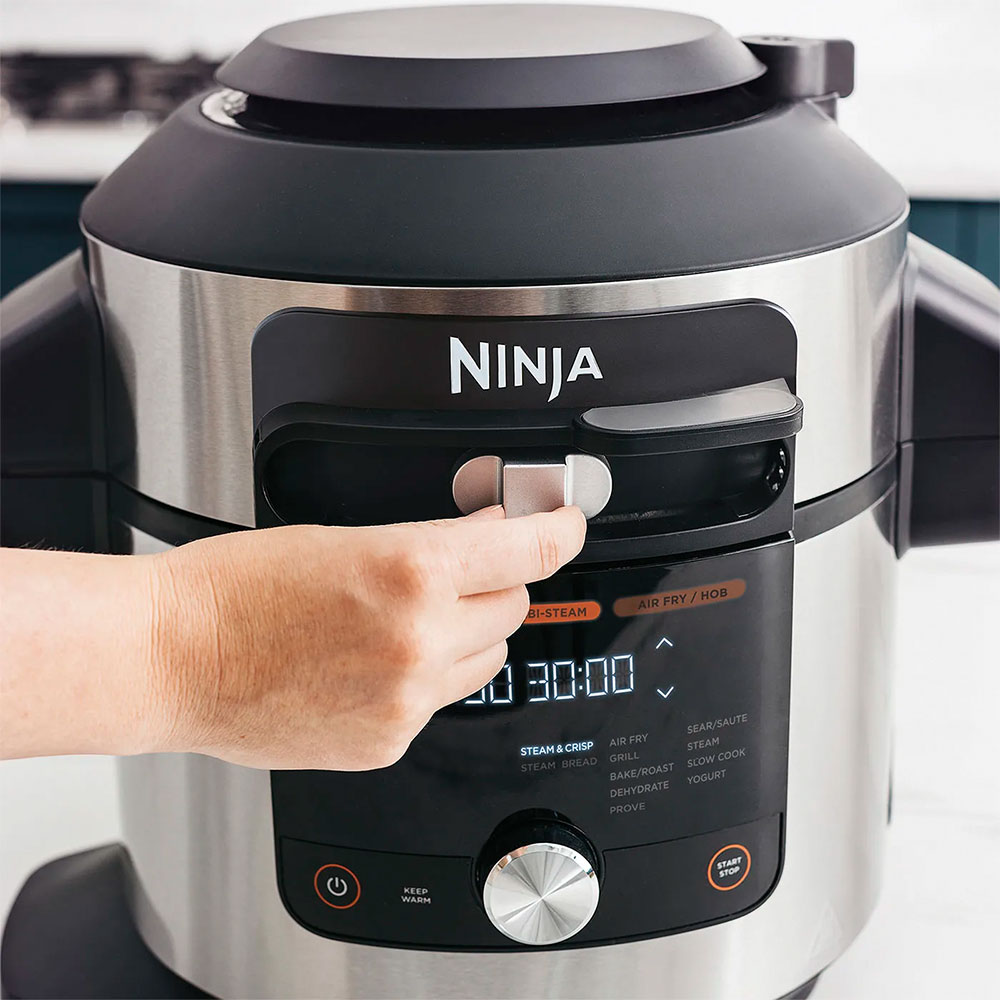 ---
Unbeaten Functionality
Let's circle back to that functionality for a moment. The NINJA Foodi MAX performs, as the name suggests, no fewer than 15 different functions. With this one gadget, you'll be able to pressure cook, air fry, grill, bake, dehydrate, prove, sear/sauté, steam, slow cook, make yoghurt, steam meals, steam air fry, steam bake, steam bread and steam roast. And while it may seem like something with so many settings could be complicated to use, changing function is simply a case of switching between cooking modes using the SmartLid Slider.
This means that with just one cooker, you'll be able to bake a cake, cook a roast, dry fruit and cook cheese on toast. The future really is now.
One of our favourite features of the NINJA Foodi MAX is the built-in temperature probe, which allows you to cook meat to perfection. In the past, if you wanted an impeccably rare fillet steak, it felt like you needed the skill of a trained chef and the nerve of a Formula One driver so as not to ruin an expensive cut of beef. The NINJA's temperature probe will give you a steak which is cooked to your exact preference with barely any effort at all.
Something for the Family
While you may think that the NINJA Foodi MAX sounds like something that only belongs in the kitchen of a budding chef or a serious foodie, you'd be mistaken. This NINJA model has been made not only with family in mind, but a BIG family! It has a capacity of 7.5L, which is more than enough to cook a leg of lamb or large joint of beef, a stew with around 15 large portions and the ceramic coated Cook & Crisp Basket fits up to 1.8kg of French fries!
From a family perspective, it's all well and good having a huge capacity, but many multi-cookers take a really long time to cook everything because they lack the sheer power of a traditional oven. This isn't the case with the NINJA Foodi MAX; the pressure cook setting allows you to cook food up to 70% faster than other methods, while still producing meat which is fall-off-the-bone tender. This thing has the ability to cook a 3kg chicken in under an hour, which should keep even the hungriest, most impatient family fed and content.
---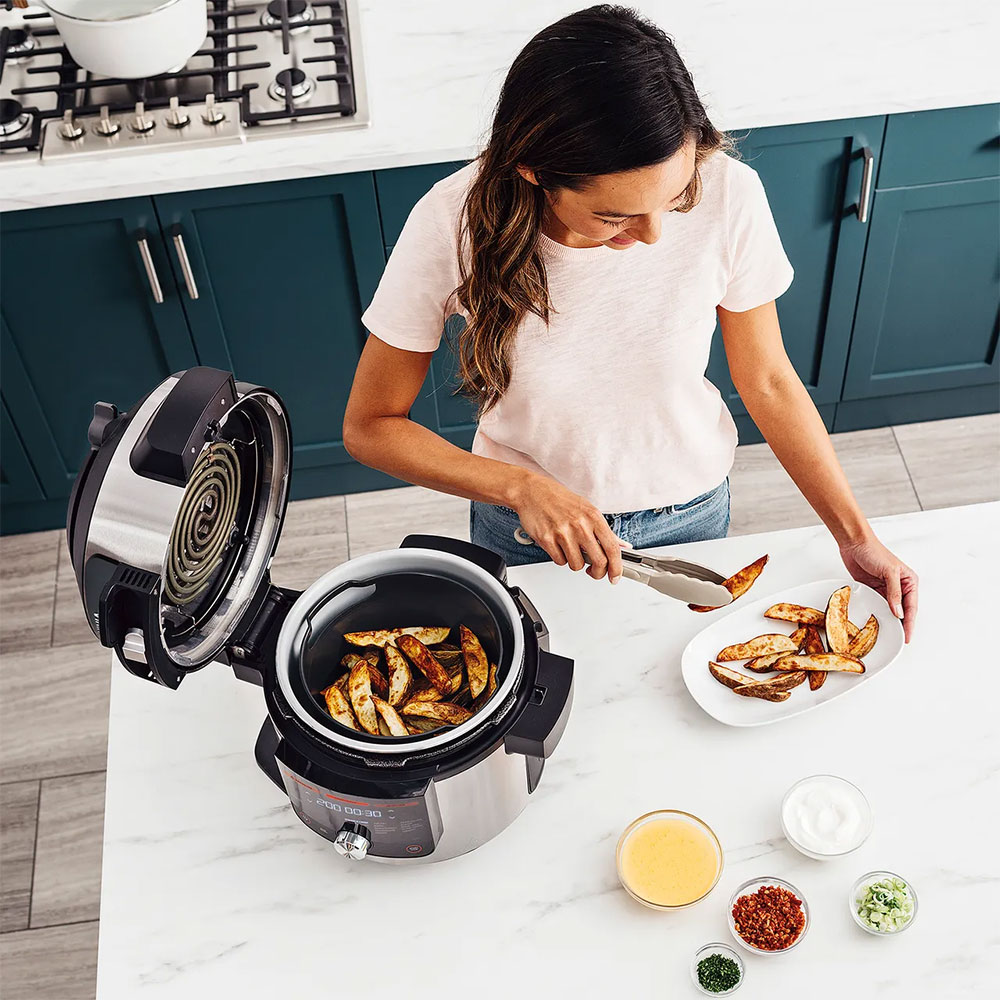 ---
Healthier Cooking
Let's not forget the fact that air fryers are responsible for creating some seriously tasty meals with significantly less oil – up to 75% less fat than traditional frying methods for hand cut fries. That's a serious caloric saving. It's great fun for anyone who likes to experiment in the kitchen and it often feels like the potential for cooking with the NINJA Foodi MAX is endless.
In fact, One pot cooking is currently in the middle of its renaissance, and that's in no small part thanks to the NINJA Foodi MAX 15-in-1 SmartLid Multi-Cooker. Far from being the way that our elders saved money and made meals with cheaper ingredients that had to stretch as far as possible, it's now completely conceivable to cook a high-end, gourmet meal using just one highly-functional gadget.
It may be the birth of a new way of cooking, but we're truly convinced that the NINJA Foodi MAX 15-in-1 has set the standard for multi-cookers and will be here to stay for a very long time.
Packed with lots of easy to use features and making it easier and quicker than ever to make meals that would give any amatuer chef a run for their money, the NINJA Foodi Max is a good investment for the modern kitchen. Take a look at our offers online and if you've got any questions about this or any other product you've seen on our website, please get in touch on sales@geraldgiles.co.uk or Tweet us @GilesElectrical.
---
---