3 year manufacturer warranty
Standard Delivery From Tuesday 23rd August
Help & Advice Speak to our experts today
Need help or technical advice on a product or service? Get in touch, we're always happy to help.
Call us on : 01603 599 599
Key Features
Class leading sound with adaptive EQ
DAB, DAB+ and FM tuner
High quality Bluetooth receiver
High contrast OLED display with auto dimming
Intuitive Rotodial control system
Easy-to-use comprehensive dual alarms
Sleep function
Similar models in this range
---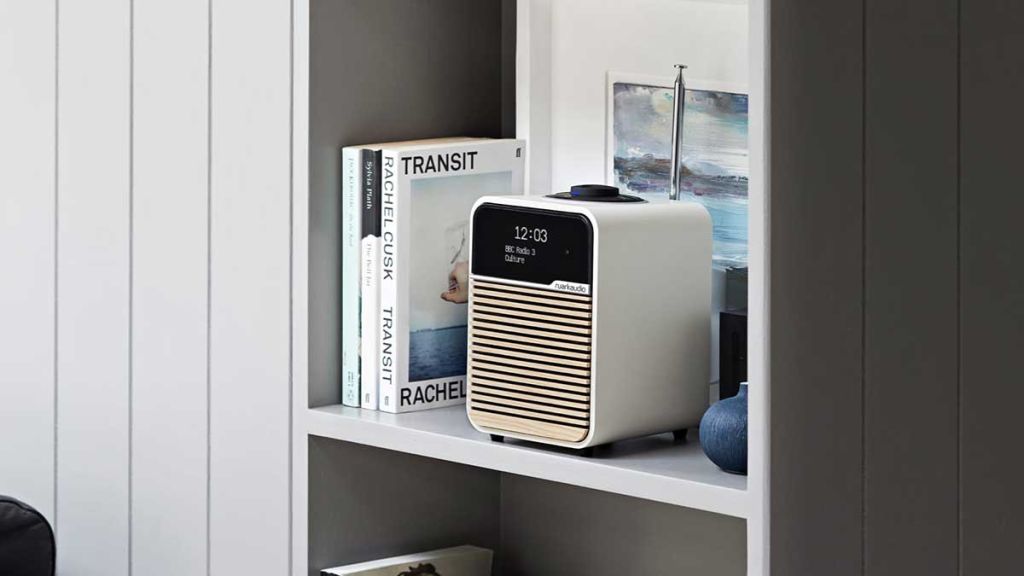 ---
R1 Deluxe Bluetooth Radio – 14 years in the making
---
In the autumn of 2006 we launched our now iconic R1 radio and with considered refinement and evolution in autumn 2020 we released our fourth generation. Like the original, the design of R1 Mk4 is simple yet stunning, but we believe even more in-tune with what discerning customers are seeking today.
Ideal for the kitchen, perfect in the office and simply delightful to wake up to in the bedroom, our new R1 brings style to any room and with a quality Bluetooth receiver built in you can wirelessly stream to R1 from your phone or computer. Most importantly, if you love music then we are confident that you'll find R1 Mk4 a revelation.
---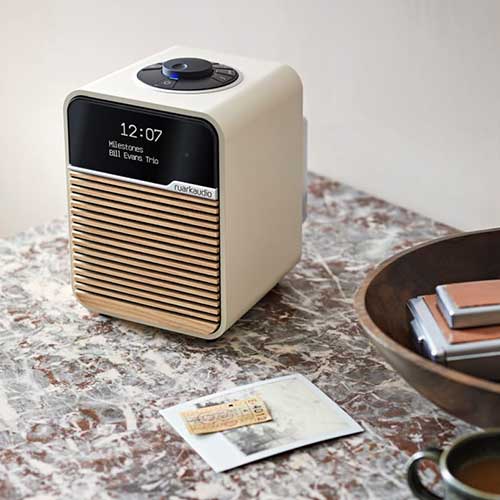 A NEW APPROACH
Each generation of our R1 has been an evolution of the original, but with R1 Mk4 we wanted it to be more progressive both in design and performance.
Using a precision moulding process has allowed us to gently profile the enclosure providing a fresh new look and the perfect surface for our new Light Cream and Espresso finishes. With acoustic treatment the enclosure is sturdy and acoustically inert, providing the ideal housing for our electronics and NS+ driver.
Enhancing the design further is a beautiful hand-crafted slatted wood grille. This brings added sophistication and creates a timeless Eames like vibe, but overall, the design is still unique and distinctly Ruark.
---
A NEW STANDARD IN SOUND
Our previous R1 models were critically acclaimed for their sound, but with R1 Mk4 we have further raised the bar! With our heritage in high-fidelity loudspeakers we understand the complexities of enclosure and drive unit design and making sure that both are matched to each other. In particular our latest neodymium NS+ driver, as used in our R3 and R5 models, provides a smooth and extended frequency response and in R1 Mk4's tuned enclosure delivers an impressive bass performance.
Driving the system is a punchy Class A/B linear amplifier for exceptional dynamics and with adaptive equalisation an eminently listenable sound is provided at all volume levels.
---
---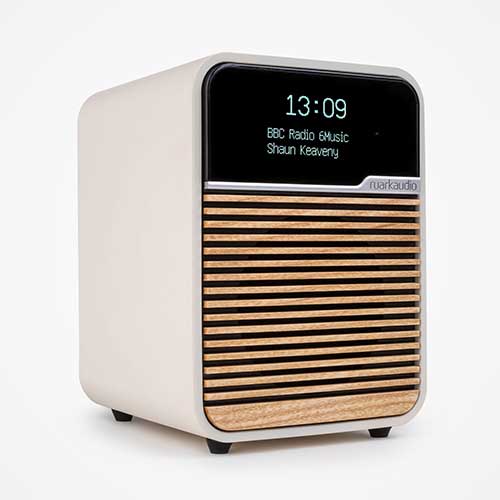 A NEW STANDARD IN FEATURES
Our crisp OLED display clearly shows time, alarm and programme information and auto adjusts to suit ambient light levels, making it a perfect bedside companion. Radio reception is excellent, and a Bluetooth receiver allows you to enjoy R1's great sound when streaming from your phone or computer.
FM parameters can be set to suit US and Japanese needs and a multilingual user interface makes R1 a truly international proposition. Also with a real time clock built in, time and date are kept active when power is disconnected or when transmitted data is not available.
The list of features continues, but other highlights include a USB-C charge/shuffle playback port, headphone output, switchable line input and of course our trademark RotoDial control system. Finally, for those seeking distant operation, we have an optional compact remote control available.
As we said back in 2006, radio never sounded or looked this good.
---
Product specification
Accessories included Aerial, Manual
Alarm Dual
Brand Ruark
Audio Connections Bluetooth 4.2, USB-C, 3.5mm Aux In, 3.5mm Headphones Out
Connectivity type Bluetooth
Dimensions Packaged: H27 x W18 x D21cm.
Unpackaged: H17.5 x W13 x D13.5cm
Display OLED
File formats WAV, AAC, WMA, FLAC, MP3
Manufacturer part number (mpn) R1D-LCR
Model name / number R1 Mk4
Multi-room sound No
Nfc payment enabled No NFC Payment method
Power supply Mains
Preset stations 8
Radio tuner DAB, DAB+, FM
Sound features Alarm Clock
Speaker output 9W
Weight 1.4kg
We offer FREE delivery on orders over £100. Deliveries of small items are made by courier and are the next working day after dispatch.
Large appliances are delivered by our own delivery teams, installation services can also be selected during the checkout process. Unfortunately, we are not able to deliver some large appliances outside of Norfolk and North Suffolk at the moment; you will be informed of this during the order process if you enter a postcode outside of our delivery zone.
Some manufacturers offer direct delivery of large appliances; you will be informed if this is available during the order process.
We aim to dispatch within 2 workings days of the order being placed. You will receive an email confirming your delivery date.
Delivery Information ›
We offer installation services on large home appliances, you can select additional services at checkout.
We offer the following installation services:
Televisions & Associated Devices - from £45.00
Washing Machines - from £25.00
Washer Dryers - from £25.00
Tumble Dryers - from £15.00
Dishwashers - from £25.00
Refrigeration - from £10.00
Ovens & Cookers - from £75.00
All installations are carried out by our own experienced engineers. Our installation services are only available in Norfolk and North Suffolk, you will be asked for your postcode during the checkout process to see if these services are available to you.
Upon receipt of your order, we will call you to arrange a convenient time for your delivery and installation to take place.
For full details follow the link below.
Home Appliance Installation ›