Available to Order
£

399.99Save

£

50.00
1 year manufacturer warranty
Delivery We will contact you by phone to confirm your order within 24 Hours
Our Services Installation, Collection
Would you like our experts to install your new appliance?
,
Would you like our delivery team to take away and recycle your old appliance when we deliver your new one?
Help & Advice Speak to our experts today
Need help or technical advice on a product or service? Get in touch, we're always happy to help.
Call us on : 01603 599 599

Key Features
14/30/44 minute quick washes available
NFC Connected (Connect your Android Smartphone to the machine)
Automatic Wash and Dry
Cotton Care 59 minute
Similar models in this range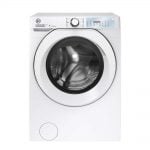 10Kg Wash 6Kg Dry
Wash and dry your clothes to perfection with the freestanding H3D4965DCE. You'll find spacious 9 kg + 6 kg wash and dry capacities, an impressive 1400 spin speed, and a huge range of programmes to care for your laundry.
This Hoover condenser washer dryer is exclusive to Euronics and Agent stores, so it won't be available at any other retailer.
Wash and Dry Cycles
You'll find 17 different programmes on the Hoover H3D4965DCE, to suit a whole range of garments. Take advantage of the following wash cycles:
Eco
Cotton
Daily Wash
Drain & Spin
Half Load
Hand Wash
Mixed Load
Pre-Wash
Rinse Cycle
Spin Only
Wool
If you're often in a rush, then choose one of the three Quick Wash options – where your cycle can be finished in either 14, 30 or 44 minutes. There's also a Cotton Care 59 Minute setting, which is designed to meet your daily washing needs in under an hour.
Choose from drying cycles such as High Heat, Low Heat, Sensor Dry and Synthetics. To prevent any clothing damage, Sensor Dry will automatically stop your load as soon as it's dry.
To have your washing ready to be ironed and put away, then go for Automatic Wash and Dry, which will clean and dry your clothes back to back.
User-Friendly Washer Dryer
The H3D4965DCE is NFC-connected, so you can connect your Android smartphone to the appliance. Just download the One Touch app, and discover even more cycles and features.
Need your favourite outfit ready at a time that suits you? Then make the most of the Delay Start feature, and set your cycle to start up to 24 hours ahead.
Combining functionality with style, this Hoover freestanding washer dryer has a digital display with LED indicators and dial controls. If you need to place it on top of or below another appliance, there is an optional stacking kit available. It also comes in a timeless white finish to blend into any kitchen or utility room seamlessly.
Offering generous wash and dry capacities, a fast spin speed, and functions galore, the Hoover H3D4965DCE will breeze through your laundry loads. Order this freestanding washer dryer today.
Brand Name Hoover
Noise Level - Washing (dB) 60 (dB)
Number of Programmes 14 + 3
Weight (Approximate) 69 kg
Manufacturer Hoover Candy Group
Programmes Washing Half Load
Cotton
Hand Wash
Rinse Cycle
Eco
Daily Wash
Spin Only
Drain & Spin
Pre-wash
Mixed Load
Wool
Height 85 cm
Colour White
Programmes Drying High Heat
Low Heat
Sensor Dry
Synthetics
Width 60 cm
Depth 56 cm
Wi-Fi Yes
Installation Type Freestanding
Washing Capacity (kg) 9 kg
Drying Capacity (kg) 6 kg
Spin Speed (rpm) 1400 Spin
Control Type Dial
Display Screen Type Digital Display with LED Indicators
Features 14/30/44 minute quick washes available
Cotton Care 59 minute
NFC Connected
Automatic Wash and Dry
Annual Energy Consumption (Washing & Drying) (kWh) 23000 Ltrs
Product Type Washer Dryer
Time Delay Yes
Water Consumption 115 Litres standard wash
Water Supply (Cold/Hot) Cold
Noise Level - Spinning (dB) 82 (dB)
Shipping Depth 60 cm
Shipping Height 89 cm
Shipping Width 62 cm
We offer FREE delivery on orders over £100. Deliveries of small items are made by courier and are the next working day after dispatch.
Large appliances are delivered by our own delivery teams, installation services can also be selected during the checkout process. Unfortunately, we are not able to deliver some large appliances outside of Norfolk and North Suffolk at the moment; you will be informed of this during the order process if you enter a postcode outside of our delivery zone.
Some manufacturers offer direct delivery of large appliances; you will be informed if this is available during the order process.
We aim to dispatch within 2 workings days of the order being placed. You will receive an email confirming your delivery date.
Delivery Information ›
We offer installation services on large home appliances, you can select additional services at checkout.
We offer the following installation services:
Televisions & Associated Devices - from £45.00
Washing Machines - from £25.00
Washer Dryers - from £25.00
Tumble Dryers - from £10.00
Dishwashers - from £25.00
Refrigeration - from £10.00
Ovens & Cookers - from £60.00
All installations are carried out by our own experienced engineers. Our installation services are only available in Norfolk and North Suffolk, you will be asked for your postcode during the checkout process to see if these services are available to you.
Upon receipt of your order, we will call you to arrange a convenient time for your delivery and installation to take place.
For full details follow the link below.
Home Appliance Installation ›