3 year manufacturer warranty
Standard Delivery From Tuesday 16th August
Our Services Installation, Collection
Would you like our experts to install your new appliance?
,
Would you like our delivery team to take away and recycle your old appliance when we deliver your new one?
Help & Advice Speak to our experts today
Need help or technical advice on a product or service? Get in touch, we're always happy to help.
Call us on : 01603 599 599

Key Features
Frost Free (prevents ice build-up and ensures you never need to manually defrost the freezer)
Food Protector Technology (will keep the freezer working even in ambient temperatures as low as -15°C)
Wine Rack (provides a convenient and elegant space to store bottles)
LED Lighting (Brighter and more energy efficient than a standard bulb)
Similar models in this range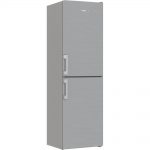 Silver
Organise the family's groceries easily with Blomberg's KGM4553 fridge freezer. This freestanding appliance is exclusive to Euronics and Agent stores, so you won't be able to purchase it any other retailer.
Like the look of this white Blomberg fridge freezer? You can also buy it in a modern stainless steel finish – KGM4553PS.
Family Sized
In the fridge, you have 168 net litres of storage space – plenty of room to store all your chilled goods. The four glass shelves and three door balconies make organising your food and drink effortless, whilst the salad bin will keep your fruit and vegetables fresher for longer. There's even a stylish chrome wine rack to chill a bottle of bubbly ready for that special occasion.
The freezer section has a 95 net litre capacity with four drawers to store all your family essentials. As the drawers are clear, it's simple to see what's inside at a glance. And, the KGM4553 includes a slimline ice cube tray, so you can grab those much-needed cubes for your beverage on a hot day.
Blomberg Technology
Blomberg has equipped the KGM4553 with Auto-Defrost technology to keep your fridge freezer in top working order. The fan cooling system removes the build-up of ice so you will never have to manually defrost the freezer. Plus, thanks to Food Protector technology, you can even store this model in an outbuilding or garage.
The antibacterial door seal prevents the build-up of bacteria, prolonging the life of your food, whilst the bright LED interior light helps you easily see right to the back of the fridge.
Both the fridge and freezer doors are reversible and can be left or right hand opening – allowing for maximum flexibility when installing the appliance.
The large capacity and various storage options make the KGM4553 ideal for families whilst the A+ efficiency rating will help you look after the pennies and the planet – buy yours today.
Brand Name Blomberg
Manufacturer Blomberg
Colour White
Weight (kg) (Approximate) 57 kg
Height (cm) 182.4 cm
Width (cm) 54 cm
Depth (cm) 57.5 cm
Installation Type Freestanding
Defrost Type Auto Defrost
Net Total Capacity - ltrs 263 L
Net Refrigerator Capacity - ltrs 168 L
Net Freezer Capacity - ltrs 95 L
Number of Refrigerator Shelves 4
Number of Refrigerator Crispers 1
Number of Refrigerator Door Bins 3
Colour of Drawers Clear
Reversible Doors Yes
Lighting Type LED
Product Type Fridge Freezer
Shipping Height 191 cm
Shipping Width 58 cm
Shipping Depth 63 cm
Additional Information Chrome wire wine rack provides a convenient and elegant space to store bottles.
Number of Freezer Drawers 4
We offer FREE delivery on orders over £100. Deliveries of small items are made by courier and are the next working day after dispatch.
Large appliances are delivered by our own delivery teams, installation services can also be selected during the checkout process. Unfortunately, we are not able to deliver some large appliances outside of Norfolk and North Suffolk at the moment; you will be informed of this during the order process if you enter a postcode outside of our delivery zone.
Some manufacturers offer direct delivery of large appliances; you will be informed if this is available during the order process.
We aim to dispatch within 2 workings days of the order being placed. You will receive an email confirming your delivery date.
Delivery Information ›
We offer installation services on large home appliances, you can select additional services at checkout.
We offer the following installation services:
Televisions & Associated Devices - from £45.00
Washing Machines - from £25.00
Washer Dryers - from £25.00
Tumble Dryers - from £15.00
Dishwashers - from £25.00
Refrigeration - from £10.00
Ovens & Cookers - from £75.00
All installations are carried out by our own experienced engineers. Our installation services are only available in Norfolk and North Suffolk, you will be asked for your postcode during the checkout process to see if these services are available to you.
Upon receipt of your order, we will call you to arrange a convenient time for your delivery and installation to take place.
For full details follow the link below.
Home Appliance Installation ›