Which portable bluetooth speaker is best?
9/9/2022
Finding a Bluetooth speaker that fulfils all your needs can take time, largely due to the sheer number of devices available on the market from an array of online manufacturers. At Snellings, we believe it is important a device ticks all the boxes before you commit to spending your cash!
Always here to help, we've created a buying guide that explores our top 3 portable Bluetooth speaker recommendations, saving you the time and energy needed to scour the internet for the best Bluetooth speakers.
When purchasing a portable Bluetooth speaker, it's important to choose the right kind of speaker for you. Whilst it may seem obvious to go for the current most popular device, will it actually work best for your needs? Take time to assess what you need your speaker for, where you are likely to play music and other things such as how loud you want the music to be. Whilst a speaker may look pleasing to the eye, it may not be the best bang for your buck.
---
---
The Sony Portable Waterproof Bluetooth Speaker SRS-XB23 model is one of our best-sellers for a reason. This small but mighty device is waterproof, dustproof, and shockproof, making it the perfect addition for any garden party where things might get just a little bit messy. The X-Balanced speaker unit with side passive radiators optimises the bass, meaning you can hear your music exactly how it was intended to be heard. This speaker also includes a Party Connect feature allowing up to 100 compatible wireless speakers to be connected, just in case you wanted to raise the roof a little bit more. With up to 12 hours of battery life, this Sony device is sure to see you through the night!
This device is excellent value for money. With a handy, super-portable design, this Sony speaker is also a great choice for your next camping trip or festival, enhancing sound in any kind of environment. Whether you place it horizontally or vertically, the SRS-XB23 will sit securely, achieving high-quality, rich and powerful sound whatever the weather.
---
---
Our next recommendation is the Bose SoundLink Flex Festival Bluetooth Speaker. Named the 'perfect musical sidekick' the Bose SoundLink Flex is sure to elevate any kind of moment, withstanding bumps and bangs due to its versatile, tough (but light) design. Whether you're working from home or enjoying family time, the SoundLink flex is designed to provide hours of quality music for up to 12 hours a time. When it's time to charge, simply connect your charger via the USB-C port and you'll be up and running again in no time. Like the SRS-XB23, this device also includes a Party Mode allowing your songs to be heard at the optimum volume and with the best bass. If you're more of a sports fan, you may even consider connecting your SoundLink Flex to your Bose Smart Soundbar so you can keep track of the football score whilst you're away from the TV.
At £150.00, we think this well-priced device offers a multitude of benefits for listeners. Not only is it designed to withstand external forces, but it's intricately well-designed inside too. The Bose transducer is custom designed for the SoundLink Flex, delivering the clearest possible sound with the deepest bass. Whether you're into classical or prefer house music, the SoundLink Flex has got you covered. It also includes a speakerphone and a built-in microphone allowing you to take calls on the go, perfect if you've got your hands full.
---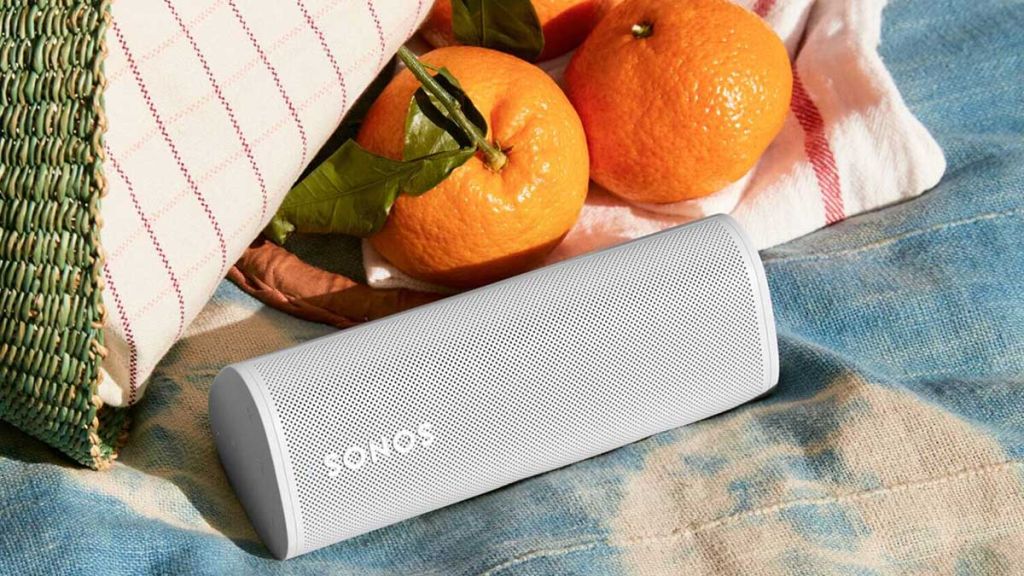 ---
Our top recommendation is the Sonos Roam Portable Smart Speaker. The Sonos Roam is designed for on-the-go use, whether that be during a hike or on your morning commute to the office. With voice control, it couldn't be easier to switch from your favourite song to a popular podcast. The Sonos Roam is also the perfect addition for any party or family gathering with multi-room listening options and all-day battery life. Spilt a drink? Not a problem for the Sonos Roam; with its waterproof design this hardy little speaker is built to last. Like our other two top recommendations, the Sonos Roam also offers you the added benefit of connecting additional speakers for seamless audio that stays in sync all night long, all you need to do is think about what song to play next! This small but mighty device is also the perfect addition to any home theatre. Gone are the days of rewinding your film or turning on the subtitles, the Roam captures audio with clear definition meaning you'll never miss a trick.
With precision-engineered acoustics and smart Trueplay technology, the Sonos Roam adapts to your surroundings to play audio with clarity and depth no matter where you are. By purchasing the Roam, you will also gain access to Sonos Radio, allowing you to tune in to over 60,000 live stations around the world. The Sonos Roam works perfectly with streaming systems and smart devices from Google Assistant to Amazon Alexa, meaning you can send sound directly from any Apple device using AirPlay 2 with the assistance of Siri. This multi-platform device not only utilises smart technology but smart design. The ergonomic feel means you can take your Sonos Roam with you anywhere. Whatever your destination, you're sure to enjoy the adventure with your Roam.
As an award-winning independent electrical retailer, we like to think we're the experts when it comes to recommending new devices for customers. With a wealth of information available over the internet, it can be a bit overwhelming at times when all you want is simplicity. We hope that by reading our guide you feel more familiar and confident with portable Bluetooth speakers and are ready to make your decision! For more information, why not pop down to one of our Norfolk stores for product demonstrations and advice from friendly staff? Alternatively, contact us today.
---