KitchenAid's most marvellous mixers
29/9/2021
---
KitchenAid is one of the oldest and most trusted brands making kitchen appliances today.
Their top-quality appliances are favourites among professionals and home chefs alike. KitchenAid stand mixers have even appeared on the Great British Bake-Off! However, these iconic appliances are not just for baking. In this article, we take a look at KitchenAid's huge range of extra attachments, which can help you with everything from juicing fruit to making your own ice cream.
---
KitchenAid Mixers: Perfect for Baking
With its solid, professional-grade construction, powerful motor and classic design, the 5KSM175PSBER Artisan Stand Mixer is an indispensable tool for home chefs. Made of stainless steel and available in a range of colours, from Almond Cream to Dried Rose to Pistachio, it makes a beautiful addition to any kitchen.
KitchenAid's range of stand mixers are perfectly designed to make batters and doughs. One of the best additional attachments for baking is the 5KSMSFTA Sifter & Scale, which uses the mixer's motor to sift your flour or cocoa powder.
The sifter has a digital scale attached, so you can measure your ingredients straight into it. It also has a chute to prevent spills when pouring. With this handy tool, you can save time and avoid mess as you bake. Taste of Home are big fans of the Sifter & Scale attachment, which they say 'makes quick work of weighing, incorporating and sifting ingredients.'
While this clever little widget helps you craft Bake Off-worthy creations, KitchenAid mixers are not just for cake batter. In fact, they can do much, much more than just stir ingredients. As Business Insider writes: 'When it comes to mixers, KitchenAid stand mixers are in a class of their own. In addition to mixing batters and kneading doughs, these mixers work with a wide array of attachments.'
So, whether you're out to impress your dinner guests with homemade sauces and ice cream, or simply looking for time-saving gadgets to reduce mess and hassle, KitchenAid has the tools for you. With an attachment for almost every purpose, KitchenAid mixers can help you unleash your culinary creativity.
---
Scrumptious Sauces
For example, KitchenAid mixers can make juices, sauces, coulis and jams thanks to the KSM1JA Slow Juicer and Sauce Attachment. Taste of Home is full of praise for this multifunctional attachment: 'If your morning routine involves a fresh-pressed glass of green juice, it's worth adding this attachment to your kitchen. Designed to expertly create juices, sauces and jams, this add-on gadget can replace other bulky, stand-alone appliances. Plus, choose between three different pulp screens to ensure your final product has the perfect texture.' Whatever's on the menu, you simply feed your fruit, herbs or leafy veg into the tube at the top and watch your juice, jam or sauce come out at the bottom.
---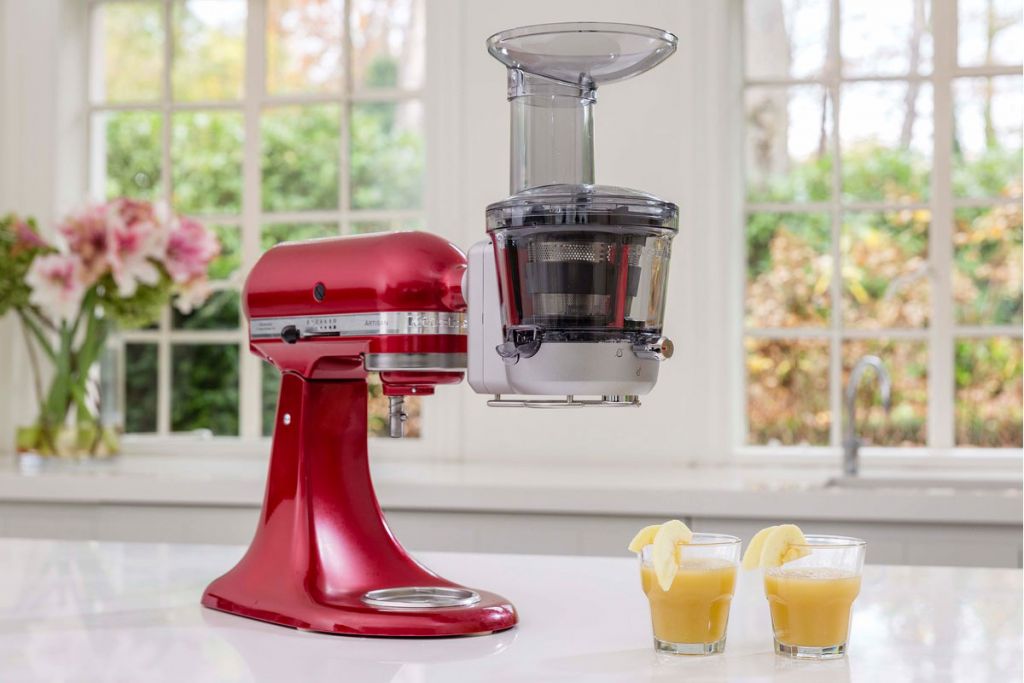 ---
KitchenAid also makes the 5JE Citrus Juicer Attachment. Powered by the mixer's motor, it speedily extracts juice and filters out pips and seeds. Foodal's reviewer loves this simple but effective attachment: 'With this citrus juicer, I actually get the full amount my recipes say I should from juicing any citrus fruit! It attaches to the power hub at the front of the machine, and will work for any model of KitchenAid. My favourite part: it's totally dishwasher safe!'
---
KitchenAid stand mixer attachments
Turn Your Kitchen into an Ice Cream Parlour
If you're feeling a little more ambitious and want to get the most out of your KitchenAid mixer, why not try the 5KICA0WH Ice Cream Maker Attachment? The Spruce Eats loves how this easy-to-use attachment 'allows you to customize the flavours to fit your family's taste.'
Equipped with a double-walled freezer bowl, this churner is everything you need to make your own sweet treats. All you have to do is freeze the bowl, pop your ingredients in and leave the mixer to do the rest. And the Ice Cream Maker Attachment is not just for mint choc chip or peach sorbet; you can even make frozen cocktails with it!
The KitchenAid Ice Cream Maker is also a highly practical buy, with Foodal reporting that it is 'quieter in comparison to ice cream makers for stand mixers from other companies.' In addition, 'all of the parts except the bowl are dishwasher safe, so cleanup is a breeze.' Once you're finished whipping up your homemade puddings, there's no need to ruin the fun with boring washing up!
Like the KitchenAid sauce and juicer attachments, the Ice Cream Maker lets you make your own recipes from fresh ingredients. As a result, you have total control over what goes into your food – which is great if you're watching what you eat. Foodal loves making healthier ice cream with KitchenAid's mixer attachment: 'Since it's usually made simply from just fruit juice and water, with maybe a little natural sweetener, it's a great low calorie dessert.'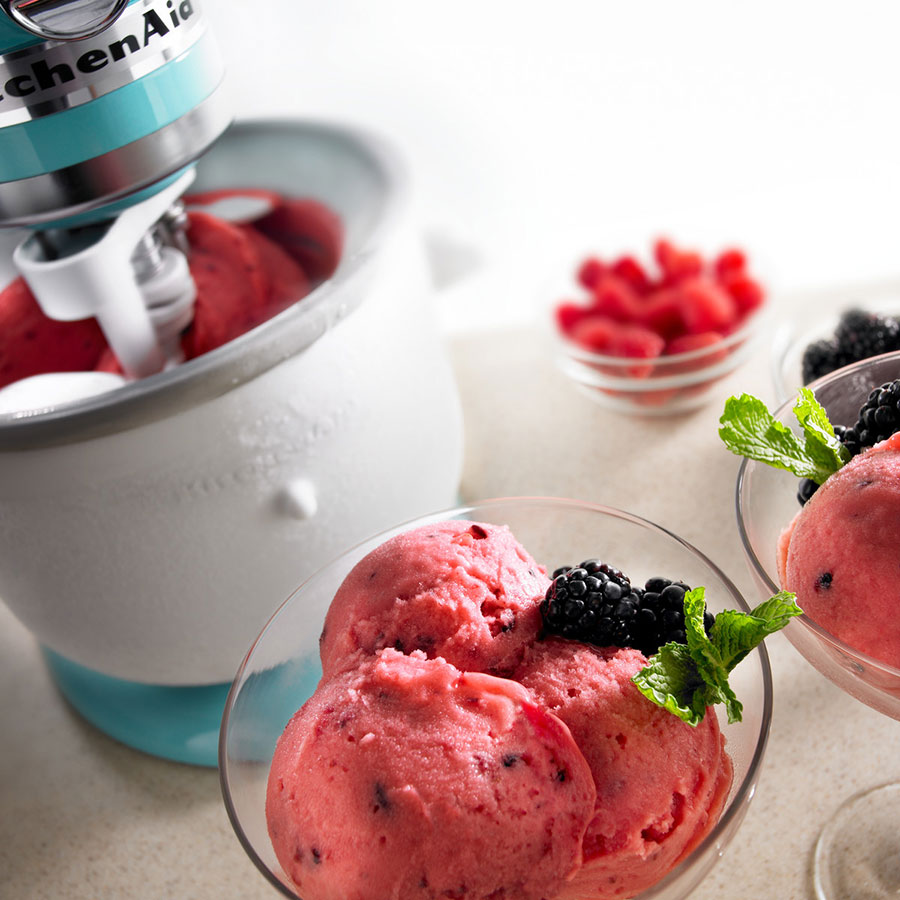 ---
KitchenAid Mixers: Dozens of Functions in One Appliance
KitchenAid mixers are far from single-function appliances. Equipped with the right attachments, a KitchenAid mixer can be your sous-chef as you mix, bake, juice, pulp, and create delicious ice creams and sauces. If you want to take your cooking to the next level and get the most out of this marvellous mixer, Gerald Giles stocks a wide range of KitchenAid attachments that you can browse here.
---
---