Sony PS-LX310BT Bluetooth turntable review
10/6/2019
Technology, like fashion, often goes in cycles. Games, gadgets and gizmos that are seen as out-of-date one minute are 'retro' the next and we often see older products or technologies take on a whole new lease of life years after their original launch date.
Although sometimes products return in their original guises, more often than not, they get an update to help make them relevant for a brand new audience. One such product is the turntable. While some purists may still be using original record players from the 1960s, '70s and '80s, tech savvy music fans are looking for slightly more modern alternatives.
Offering music fans a classic aesthetic with all the connectivity and sound quality of contemporary devices, products like the Sony PS-LX310BT are helping to bring retro technology into the 21st century. To help you decide whether or not a modern turntable is right for you, take a look at our review of this stylish, cutting-edge piece of kit.
The basics
When you first look at the Sony PS-LX310BT, you'll see a sleek, classically designed turntable. Boasting a matte black finish and a slim silhouette, the device would look just as comfortable in a high end '70s living room as it does in the homes of today.
However, unlike the turntables of yesteryear, the Sony PS-LX310BT can be connected to a whole host of other modern devices. From soundbars to headphones and other specialist audio products, the Sony PS-LX310BT can be instantly linked to a wide variety of compatible gadgets. As well as allowing you to improve the quality of sound you're listening to, this gives you the flexibility to listen to your music how and when you want to.
The Sony PS-LX310BT can be used to play both original LPs and reissued, modern vinyl. So whether you've been collecting records for decades or have recently discovered a love for this retro technology, the Sony PS-LX310BT will help you get the most out of your music collection.
Connectivity
Unlike old-fashioned turntables, the Sony PS-LX310BT can be connected wirelessly to speakers and other devices. This means you won't have unsightly wires trailing across your living room units and can place your new turntable in the position that best suits your audio setup.
The turntable is connected to speakers and other gadgets via Bluetooth. Setting up the device is surprisingly quick, easy and straightforward, so you could be listening to your favourite albums just moments after taking it out of the box.
You can pair the Sony PS-LX310BT with up to eight Bluetooth devices, allowing you to create a comprehensive home audio experience. Its range is good enough that, if you've connected the device to headphones, you can walk into the next room without interrupting your signal.
Alternatively, if you like your home audio a little more old school, you can connect the turntable to your speakers using the built-in output. This allows you to plug the device directly into your sound system, giving you instant results and a hard-wired connection.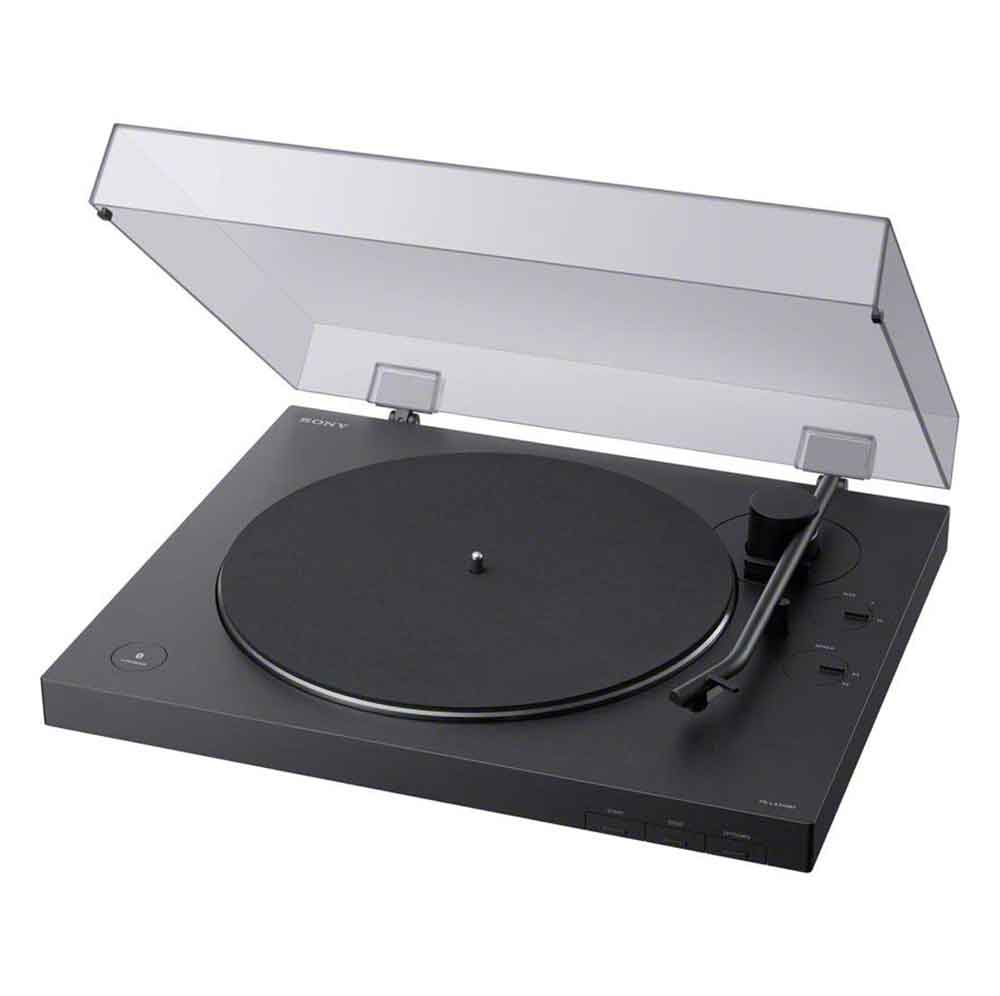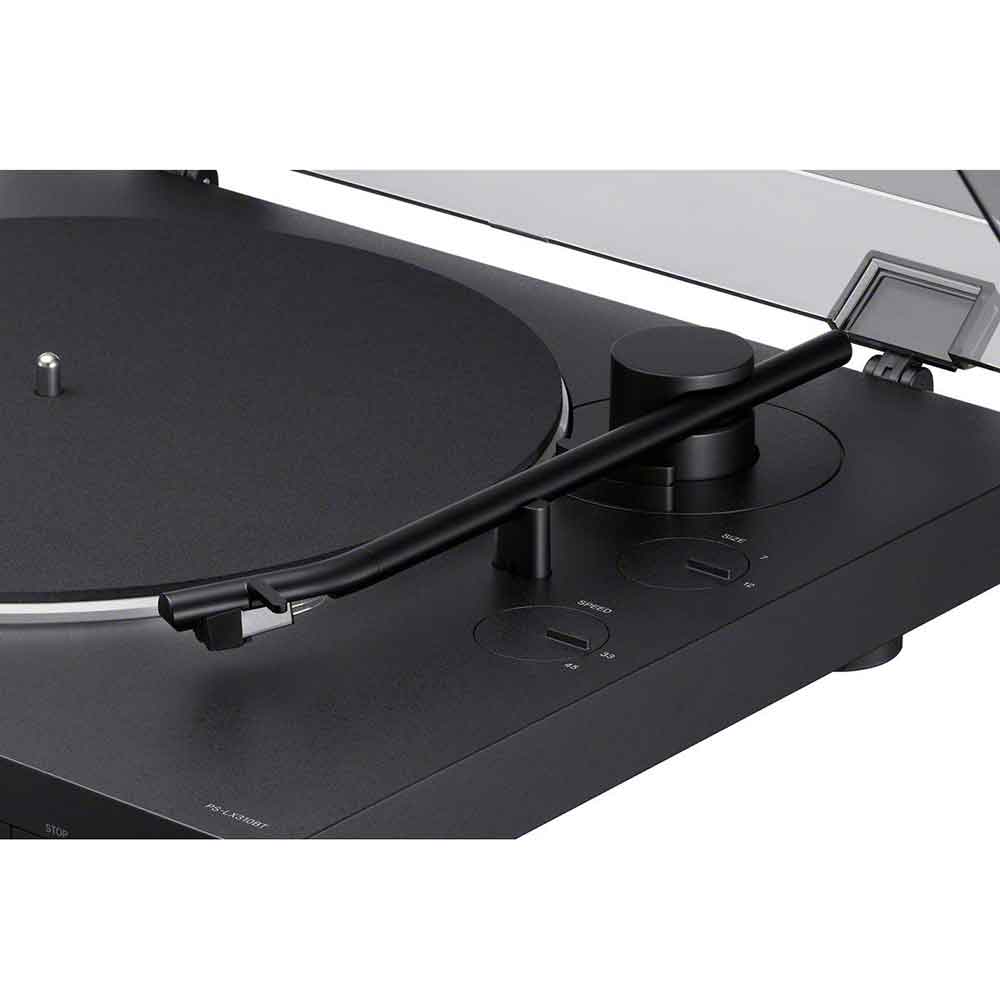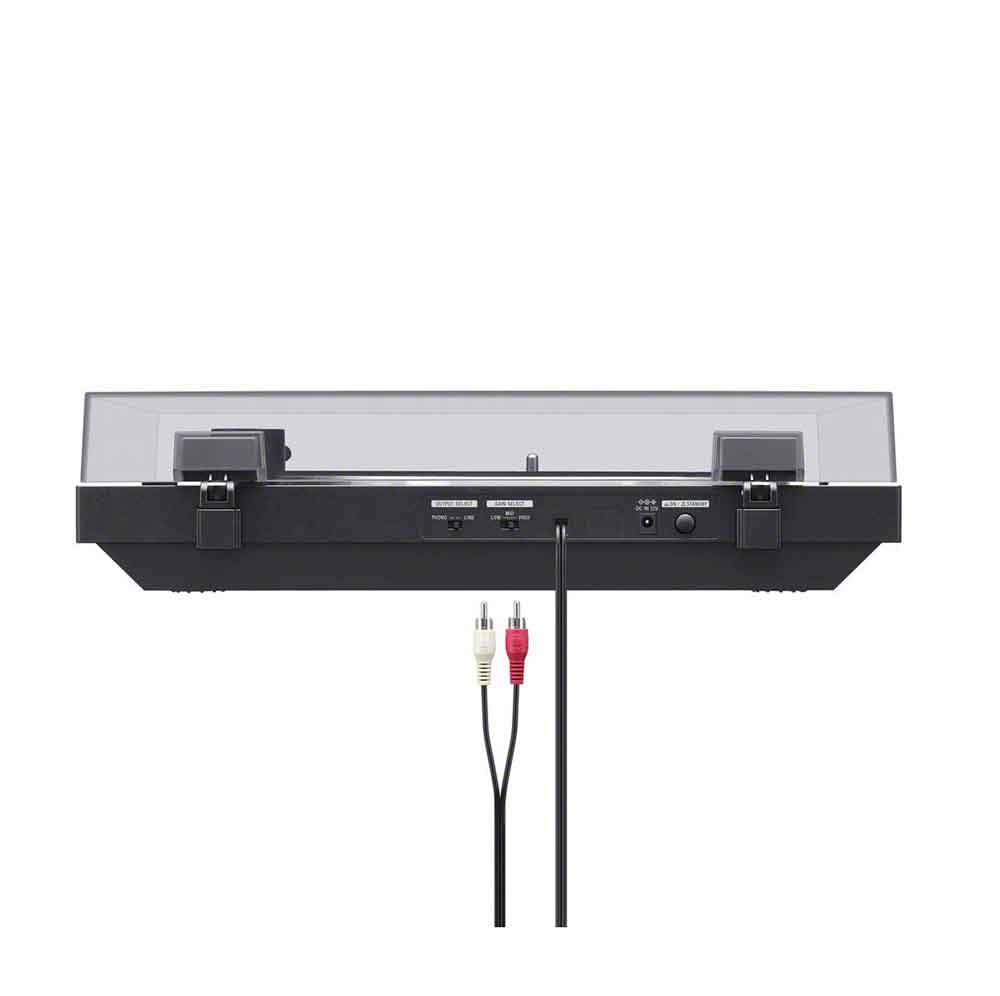 Usability
Most of the controls for the Sony PS-LX310BT turntable are located to one side of the turntable itself, while some are positioned on the front of the device. These switches allow you to change the volume and gain levels of the turntable, giving you a good level of control over your audio experience.
Set up
The Sony PS-LX310BT turntable is incredibly easy to set up and use. Unlike old style turntables that required a little fine-tuning to ensure they played music at the correct speed and the correct level, the Sony PS-LX310BT does almost everything automatically. All you need to do is carefully remove the stylus cover, press 'start' and you're ready to go.
This easy set up makes the Sony PS-LX310BT the perfect choice for those looking for an instant addition to their home audio system. Simply plug the device in, connect it to your chosen speaker and you'll be enjoying your favourite albums before you know it.
Sound
As the Sony PS-LX310BT is compatible with a variety of Bluetooth speakers, finding the right audio setup for your needs should be easy. You can connect the turntable to your Sony soundbar, your headphones or any other wireless speakers you have in the space.
The speaker you choose for you turntable will depend on your personal preferences, your existing setup and the space available. If you already have a few different speakers in your home, try connecting the turntable to different devices to see which offers you the best quality sound.
Aesthetics
Offering a sleek, slimline aesthetic and stylish black finish, the Sony PS-LX310BT turntable will look great in any home. Being able to set the device up wirelessly means you can keep your shelves and audio units as clear as possible, something that will help to give your home a clean, modern look and uncluttered aesthetic.
As you'd expect from a manufacturer like Sony, the build quality of the Sony PS-LX310BT is excellent. Strong, durable and made from high-end materials, it will add a stylish finish to your home and continue to look great for years to come.
Whether you want to listen to your record collection on headphones in your bedroom or blast your favourite artists through the house for everyone to enjoy, the Sony PS-LX310BT will make the perfect addition to your audio setup. Stylish, durable and designed to offer a high level of usability and connectivity, the device will add a fantastic flexible feature to your home entertainment system.
If you're still not sure whether the Sony PS-LX310BT is right for you, or if you want to find out a little more about the device and the speakers it's compatible with, we can help.
You can even bring a couple of your own vinyl records in store to try the turntable for your self.