KitchenAid's awesome attachments make light work of food prep
19/8/2021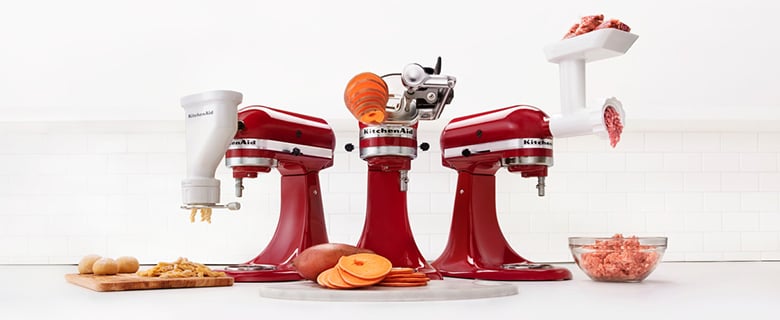 We all know that KitchenAid's range of stylish, durable stand mixers are great for baking and making desserts, but what you might not be aware of is the brand's huge collection of attachments for everything from making your own pasta to juicing fresh fruit.
Many of us love home cooking and impressing our guests with exciting new recipes. KitchenAid has a stunning array of tools to help you save time and avoid mess when you're whipping up a new kitchen creation. As Business Insider observes: 'If you own a KitchenAid already, you are only one attachment away from making your own pasta, straining and grinding fruits and vegetables, making sausage, spiralizing vegetables, creating homemade ice cream, grinding your own flour, or turning your mixer into a food processor.' Here, we check out the best attachments for lightning-fast, no-fuss food prep.
---
KitchenAid Makes Food Processing a Whizz
---
First up is the trusty 5KSM2FPA Food Processor Attachment. It has six different settings, giving you total control over the size and shape of your chopped ingredients. Because it has manual speed controls and an external lever, this attachment is safe and simple to use. According to The Spruce Eats, 'Reviewers rave about the ease and speed with which they are able to cut ingredients'.
In addition, one of the best things about this attachment is that it performs just as well as a normal food processor while saving you space in the cupboard. Business Insider loves how much bang you get for your buck with the KitchenAid Food Processor: 'This attachment does everything a top-quality food processor does, without the need for a new appliance that takes up extra space in your kitchen'.
---
As well as the Food Processor Attachment, KitchenAid has a whole host of tools for shredding, slicing, grinding, and milling. There's the 5KSMVSA Slicing and Shredding Attachment, which is 'a huge timesaver' according to Foodal. This gadget allows you to slice, dice, or grate cheese and vegetables into a variety of shapes and sizes. As a result, it's perfect for salads.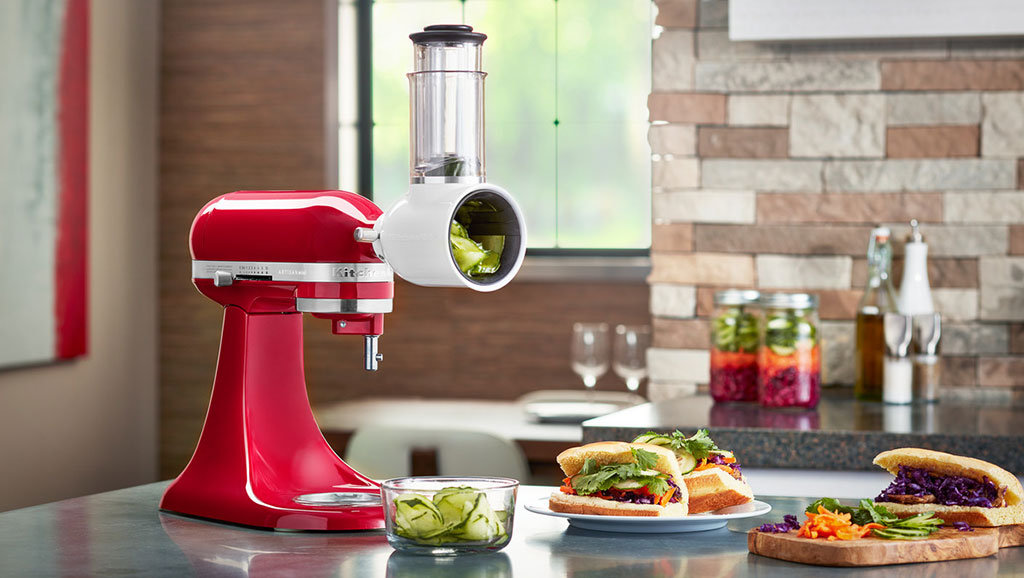 ---
Get More Out of Your Veg
---
If you want novel ways to use vegetables in your cooking, you might be interested in the KitchenAid 5KSM1APC Spiraliser Attachment, which cuts vegetables such as sweet potatoes and carrots into coils to use in salads or as a substitute for spaghetti. It's therefore 'ideal for low-carb eaters, paleo dieters, individuals sensitive to gluten', writes Business Insider.
Moreover, it helps you get your food prep done in no time: 'This attachment is useful for peeling potatoes and the quick-change blades make meal preparation simple and fast. While a hand crank spiralizer typically takes a couple minutes to spiral a courgette, with this attachment it's a matter of seconds.'
Meanwhile, the 5KSMSCA Vegetable Sheet Cutter shaves fruit or vegetables into thin slices that can be used to make wraps, an alternative to pasta for lasagne or homemade vegetable crisps. Like the KitchenAid spiraliser, this clever tool helps you swap pasta and bread for veggies, making it perfect for people who want to avoid wheat and gluten.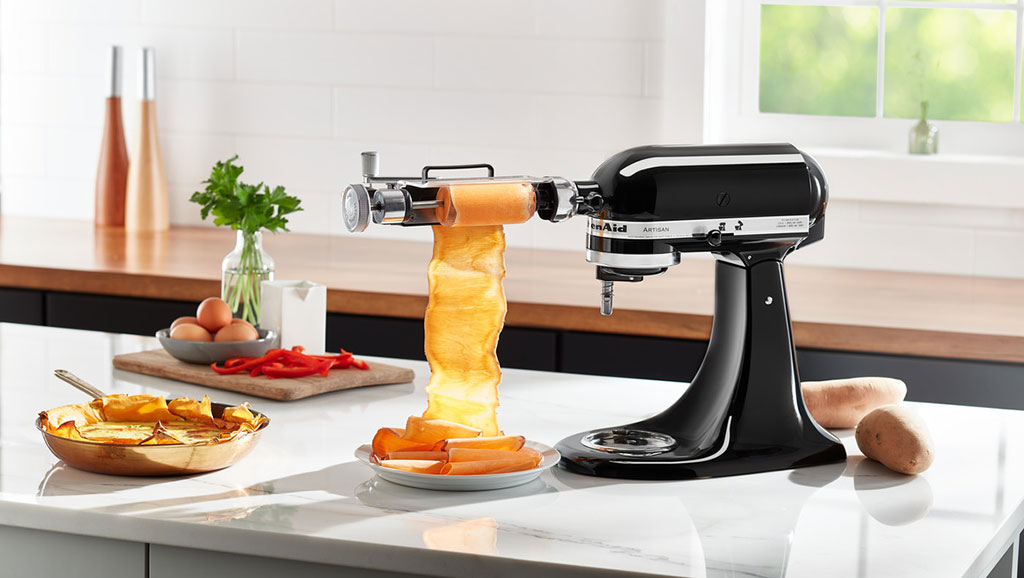 ---
Fire Up the BBQ!
---
If you're a fan of homemade burgers, sausages and meatballs, the 5KSMMGA Metal Food Grinder for Artisan Stand Mixer is the attachment for you. Taste of Home asks: 'Have you ever mixed a dish by hand, only to feel like your arm is about to fall off from exhaustion? If so, you need this food grinder attachment. When connected to your mixer's power hub, it makes quick work of grinding meats, making breadcrumbs, grating cheese and combining ingredients.'
This grinder boasts KitchenAid's famously sturdy construction, and is made entirely of metal. As a result, says Business Insider, it is 'ideal for heavy-duty grinding projects and ensures long-term durability'.
KitchenAid also makes a more lightweight, plastic food grinder for its stand mixers, the 5FGA Food Grinder. Foodal loves this hard-wearing attachment, promising that 'it'll certainly get the job done and is far easier to use than a hand crank grinder'.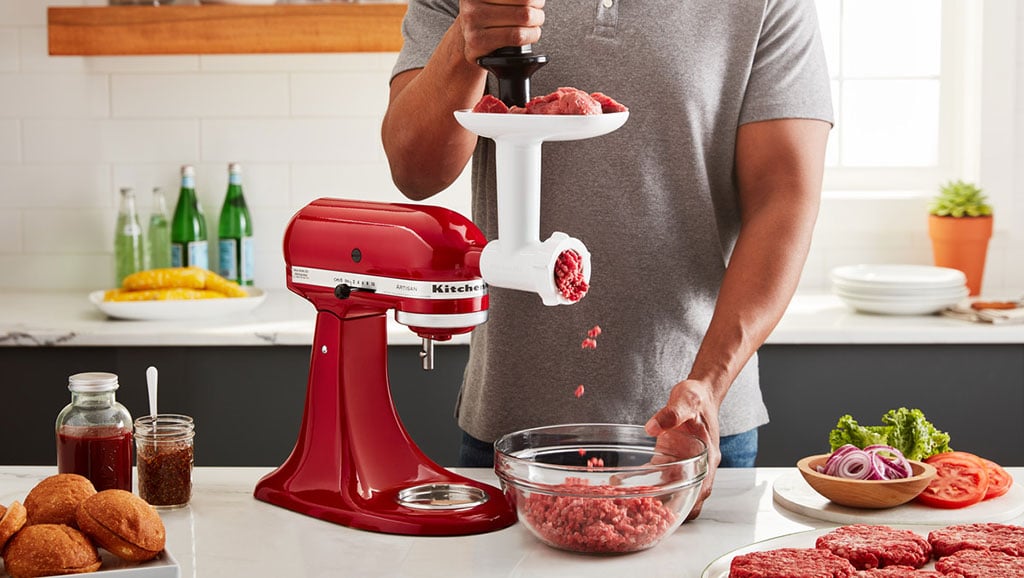 ---
Making Your Own Flour Doesn't Have to Be a Grind
---
The uses of a KitchenAid mixer don't end there. As well as mixing your ingredients for baking, KitchenAid stand mixers can also help you make your own flour with the 5KGM Grain Mill. Foodal writes: 'If you are a baker […] you need to get this grain mill. If you want to go all out and really, truly make bread from scratch, short of growing your own grain, this is the way to do it!'
The grain mill attachment offers you a wider choice of flours, allowing you to grind your own from wheat, corn, oats and even dried peas and lentils. As a result, this is another useful gadget for those on gluten-free and lower-carb diets. The grain mill's wide range of settings makes it a versatile tool, writes Business Insider: 'Those who enjoy multigrain bread and cracking grains for porridge will like that this accessory can mill very coarsely.'
---
What's for Pudding?
---
Finally, for those with a sweet tooth, there's the 5KICA0WH Ice Cream Maker Attachment. This freezer-safe bowl allows you to churn your own ice cream, gelato, sorbet, slushies and frozen cocktails – making it a popular accessory with kids and adults alike! The St James' Gate Kitchen Blog says that using this attachment to turn your kitchen into a bespoke ice cream parlour is 'a fantastic experience'. With a churner powered by the stand mixer's motor, the Ice Cream Maker attachment means that it's never been easier or more stress-free to prepare delicious desserts.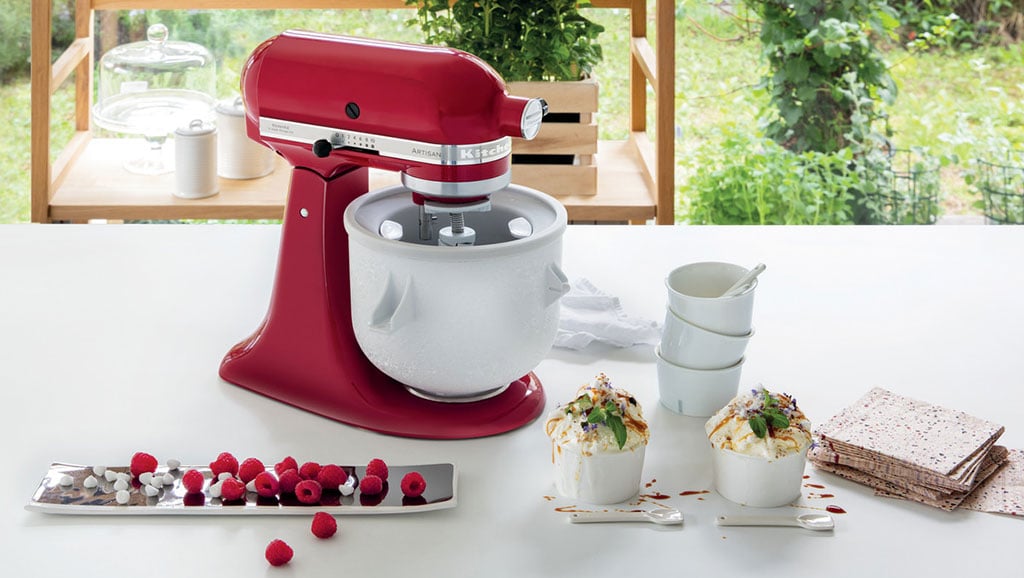 ---
KitchenAid Makes an Attachment for Everything
---
With this broad array of tools for chopping, grinding, milling – and even making your own sweet treats – a KitchenAid mixer can help you with every food preparation task imaginable. As such, it saves you time, effort and washing up. If you're looking to turn your KitchenAid mixer into a one-stop shop for food prep, check out the full line of attachments here.
---
KitchenAid Stand Mixer Attachments
---