Which air fryer is best for you?
13/7/2022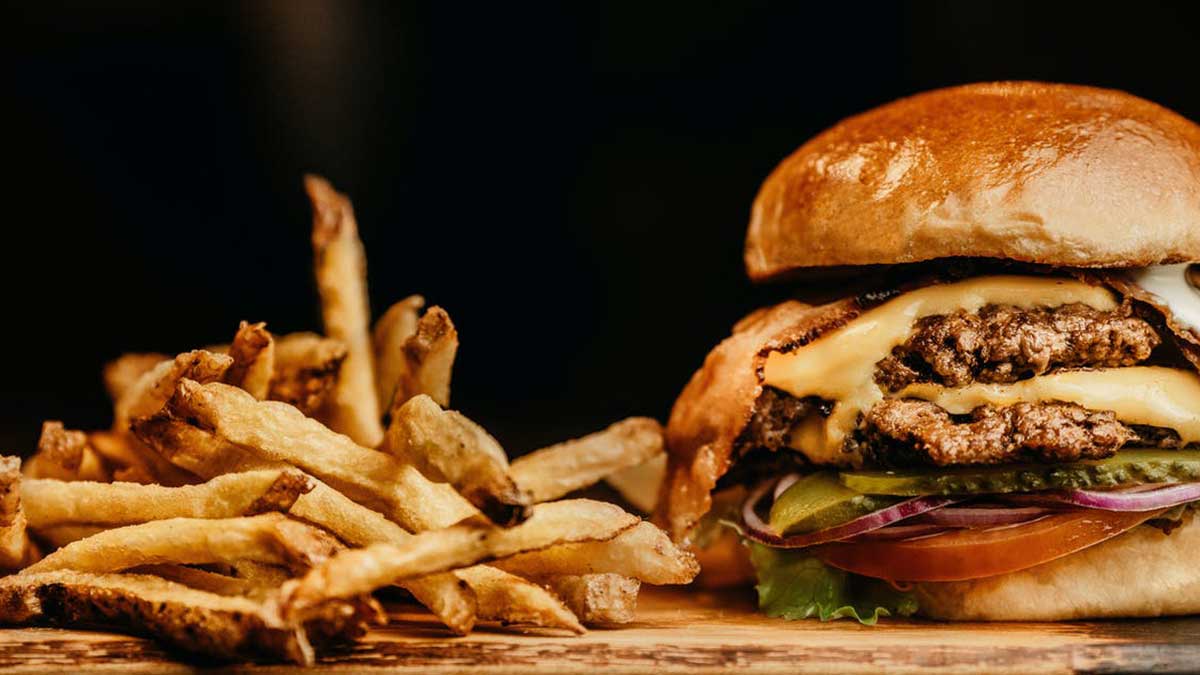 Looking to cut back on the amount of oil you use in your cooking but are worried you won't be able to enjoy the same delicious treats? Fear not; the versatile air fryer could be just what you're looking for.
Air fryers, sometimes called health fryers, are efficient kitchen appliances that work by circulating hot air to create a fried and crispy finish on your foods. They use very little oil and can help you to cook impressive delights that your standard convection oven can't achieve.
Air fryers cook food very quickly too and can save you time, money, and counter space on days when you don't really feel like cooking. Small in size but mighty in their ability, air fryers can cook anything from chicken wings to hand-cut chips, perfect vegetables and even cookies.
Essentially, an air fryer is very similar to a convection oven on a much smaller scale. An air fryer aims to match the taste and texture of delicious food without the fat and calories.
Air fryers work very simply by using a heating element and a fan. By circulating this hot air, moisture converts to mist. All you have to do is place your food in the basket or drawer of your appliance and let the cooking chamber heat up. Inside the appliance, the heat penetrates the food from the outside first, helping to achieve that crispy coating.
Many of the air fryers we stock here at Gerald Giles also contain multiple functions, such as Dehydrate and Grill, allowing you to take your guests on a culinary adventure. Some models even have dual drawers meaning you can cook multiple dishes at the same time. Perfect for families, couples, or anyone who wants a helping hand with dinner time.
Whilst the air fryer may have caught your attention, you may feel bamboozled with the various models on offer. However, we're here to break down the differences and help you decide which air fryer is best for you, your family, and your kitchen.
---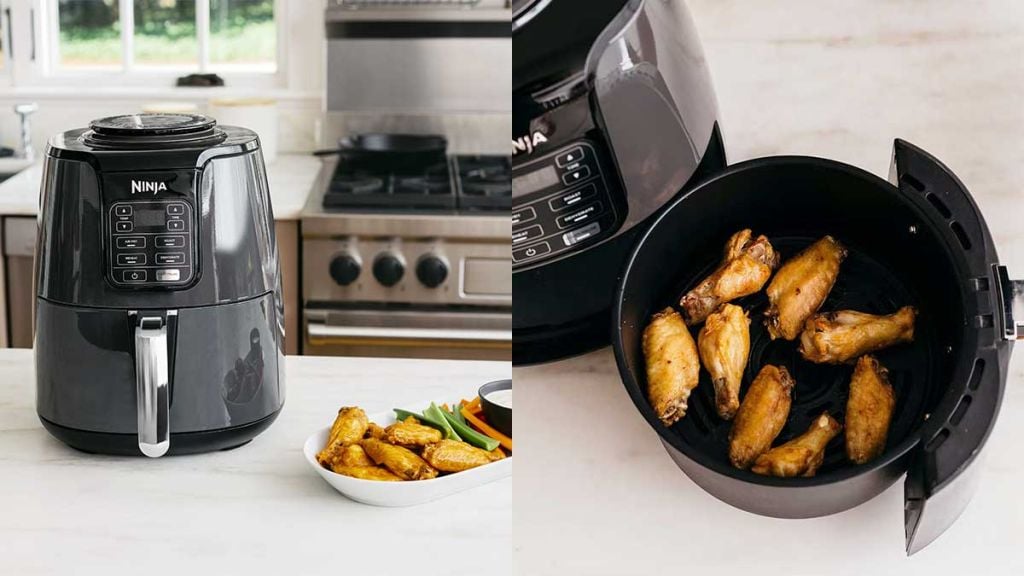 The best advice we can give is to do your research beforehand and take into consideration the following:
What do I want to cook in my air fryer?
Am I using it solely for myself or will I be frequently cooking for others?
How much space do I have in my kitchen?
How much am I willing to spend on an air fryer?
Am I looking for specific functions?
If you're simply looking for a more energy-efficient and healthier way to cook your chips, for example, then why not consider the Ninja Air Fryer AF100UK? Simple but effective, this Ninja model uses up to 75% less fat than traditional frying methods.
With its smooth, sleek touchscreen and 1500 watts of power, you can easily select Air Fry, Roast, Reheat, or Dehydrate. With this many options, it's pretty hard to think of things you can't cook!
This Ninja air fryer is a step up from traditional air fryers and offers multiple functions aiding you in your healthy eating venture. With a super-fast airflow and compact size, you won't be waiting long for your food to be cooked to perfection. To make life that little bit easier, you can also cook food from frozen, perfect for the fussy eaters in your life.
The AF100UK also includes a variety of heat settings and two fan speeds, allowing you to take control and eat when you're ready. With its 3.8L capacity and dishwasher safe parts, the AF100 fits around 900g of potatoes inside, meaning you can cook for all the family with total ease.
Air fryers are a great investment for anyone, whether you live alone or are cooking for a family. They also help to keep your kitchen cool due to their small size, unlike huge ovens that throw out heat and make your kitchen feel swelteringly hot.
Perfectly sized for even the smallest of kitchens.
---
For bigger families, or if you simply want to cook multiple things simultaneously, let the Ninja AF400UK Foodi MAX Dual Zone 9.5 Litre Air Fryer be the star of your kitchen.
With six different ways to cook; Max Crisp, Roast, Bake, Reheat, Dehydrate and Air Fry, this Ninja model makes cooking a breeze. With 2 separate cooking zones, it's never been easier to make mains, sides, or desserts.
Boasting a 9.5-litre capacity, this air fryer is perfect for feeding up to 8 people or more! Ideal for parties, catering events, or if you've got guests dropping by.
We all know how frustrating it is when one dish is finished long before another, but with the Ninja AF400UK, you can SYNC or MATCH your two drawers together so that they finish cooking at the same time. What more could you ask for? Each drawer fits up to 1.4kg of chips or an entire 2kg chicken, making it an excellent choice for your kitchen.
Ninja air fryers also cook delicious food in under half the time of a fan oven. This is a great benefit and is sure to come in handy when you and your family need dinner on the table as soon as possible.
The Ninja Foodi MAX will be your new best friend in the kitchen as it does the thinking and timing for you. With its SYNC option and 6 different cooking programmes, you can mix and match, experimenting with various different dishes.
If you like the sound of the dual drawer air fryer but lack the kitchen space, we have good news. There is a smaller version available, the Ninja Foodi Dual Zone 7.6L Air Fryer AF300UK. There's never been a better time to jump into the world of air frying.
---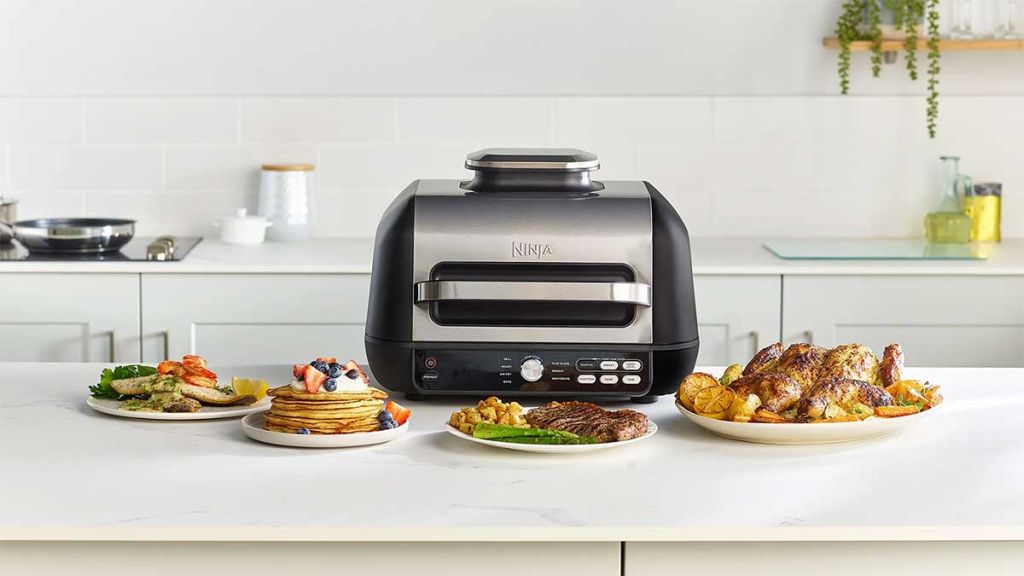 A model that you may not yet have considered is the Ninja AG651UK Foodi Max Pro Health Grill, Flat Plate & Air Fryer. Combining three appliances in one, this model helps you take cooking to the next level every time.
With its intense high heat and large capacity, you can sear meat and grill vegetables to restaurant standard, wowing all guests who enter your home. The Ninja AG651UK includes 2 interchangeable grill plates, the Powered Grill Plate to assist in grilling sumptuous steaks and the Flat Plate to sear and sauté to perfection. Bring Michelin star quality into your kitchen today with the AG651UK Foodi Max Pro Health.
This model is flexible and versatile meaning you can cook with the lid open. From rare to well done, the choice is yours to make. With the leave-in Digital Cooking Probe, your AG651UK will continuously monitor your food's temperature, letting you know when it's ready.
And of course, the AG651UK air fries too. With 3 interchangeable usages and 7 cooking functions, this smart device can help you to go above and beyond in the kitchen. If you want to experiment with your cooking, this model is for you. The Foodi Max Pro Health is sure to challenge any chef by bringing the feeling of outdoor cooking straight to the kitchen. Perfect for those who love seared meats and grilled vegetables.
If you haven't sauteed or seared before, don't be put off! Whilst grills and hot plates can feel intimidating, the Ninja range is designed for everyone. Wave goodbye to meat probes and hello to tasty meals.
Although we've only touched upon 3 different air fryers, there are lots more available in varying sizes and functions. Air fryers are an easy way to cut down on your consumption of unhealthy fats and oils, they also give convection ovens a run for their money beating them in cooking time and compact size.
---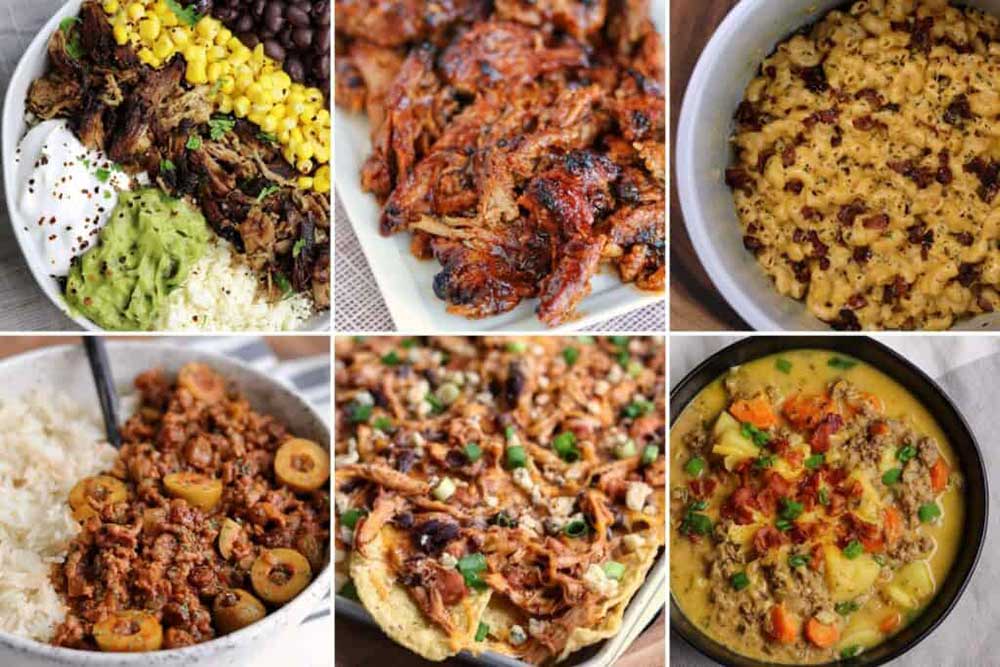 Have you also been looking for some tasty recipes? Then head over to our dedicated recipe page and try something new.
Whilst the Ninja range of kitchen appliances specialises in quick cooking times, they're also easy to clean. Most appliances have parts that can easily be taken out and placed in your dishwasher. This means you don't have to worry about soaking things overnight or scrubbing them for hours.
Safe and easy to use, the air fryer is an accessible piece of kitchenware helping to transform the future of cooking for all. If you think you're ready to buy an air fryer, then don't hesitiate!
If you still have questions surrounding the air fryer or would like to view the range in person, visit our shop on Ber Street, Norwich. We're a family-run team of specialists and can answer any questions you have surrounding air fryers or other kitchen appliances. We also love chatting to customers on social media, so feel free to get in touch – Facebook, Twitter or Instagram.
If you would prefer to get in contact via email, write to us at sales@geraldgiles.co.uk. We're proud to stock a wide range of Ninja products and appliances, so browse our website or visit us in-store to receive amazing offers on modern kitchenware and devices to transform your home.
---