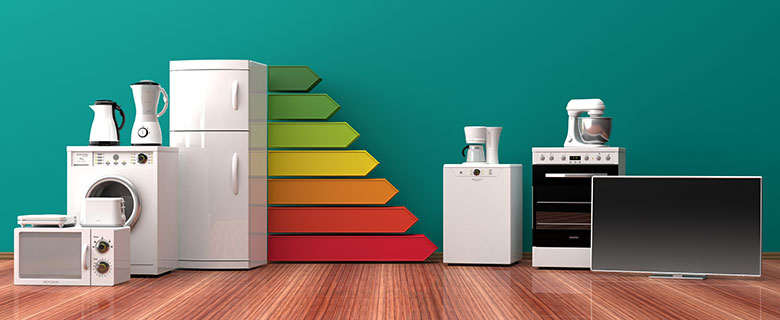 What does the new Energy Label mean to me?
Everyone who has purchased electrical equipment will be familiar with the energy rating label that is displayed on products ever since 1992. The label was designed to give an at-a-glance view of the energy efficiency rating of the product and aid consumers in making an informed purchase. However, the label is now almost 30 years old so long overdue for an update!
These new labels are already appearing in product boxes and from 1st March 2021 will replace the old labels on all displays in stores and online. So any recently purchased electrical appliances may contain both the old and new label. If so please do not be alarmed, your product is still energy-efficient, it's merely now being measured against a more modern scale in order to give room for improvement as the world continues to drive energy efficiency even further in the years ahead.
New energy labels have been introduced for:
Dishwashers
Washing machines
Washer dryers
Fridges and freezers
Wine storage
TVs and electronic displays
Light sources (Sept 2021)
Read on to find out all you need to know about the new energy label.
1. Why are energy ratings are important
Climate change and energy efficiency are at the forefront of everyone's mind. Addressing the climate crisis is an important part of life today. People are becoming more aware and involved in the fight against climate change by making adjustments in their everyday lives to become more energy efficient.
The introduction of smart energy meters gives consumers a transparent view of what energy they are using and in what areas they are able to make savings in both energy usage and cost. In addition to this, consumers are increasingly conscious of their electrical purchases and place a high value on the energy efficiency rating confident that a higher rating will provide the best choice.
Consumers rely upon the clear display of energy ratings on electrical goods to assist in making an informed purchase decision. The new label will show consumers the information they need to know in a simple easy to digest manner.
2. Why the new label is being introduced
The energy label system serves as a guide to consumers to be confident that their electrical purchase has a high level of energy efficiency, this labeling system has been in place for more than 25 years. The label has driven the development of innovative efficient products dramatically reducing the energy consumption and costs of appliances.
However, the current A+++/G labeling scheme has become less effective. The mixed label scale involving many "+" is no longer transparent and the majority of products on the market are already placed in the 2 – 3 top classes today – making it difficult for consumers to distinguish the most efficient products.
3. Features of the new label


New simplified efficiency scale
The new scale will have a reduced range from A to G. The coloured scale featured on energy efficiency rating labels will remain the same as it is instantly recognisable and easy to use.


Partly new pictograms
Icons are a quick and recognised way of relaying information therefore many will remain the same. There will however be some adaptations and additions to the new label. The spinning efficiency class of a washing machine and energy efficiency in HDR-mode for TVs will now be displayed.


QR code for easy access to further information
The new label will feature a QR code that can be scanned to obtain further information about the product if customers wish. This will keep the label simple and free from excess information, whilst still allowing the customer to easily find out more.


Energy consumption will be more prominent
The energy consumption of the product will be more prominently displayed on the new label. Clearly shown in the centre of the label, energy consumption is displayed in either kWh per 1000 hours or kWh per 100 cycles depending upon the product type.
4. Which products will carry the new label
The product categories that will be displaying the new label from March 1st 2021 are:
Dishwashers
Washing machines
Washer dryers
Fridges and freezers
Wine storage
TVs and electronic displays
Light sources (Sept 2021)
Each product group has an updated label to reflect the information that is most important to the customer. The label changes for each group are as follows:
Refrigerator and freezer labels will display the new A – G scale, an additional icon for chilled and unfrozen compartments and a new icon for noise emissions.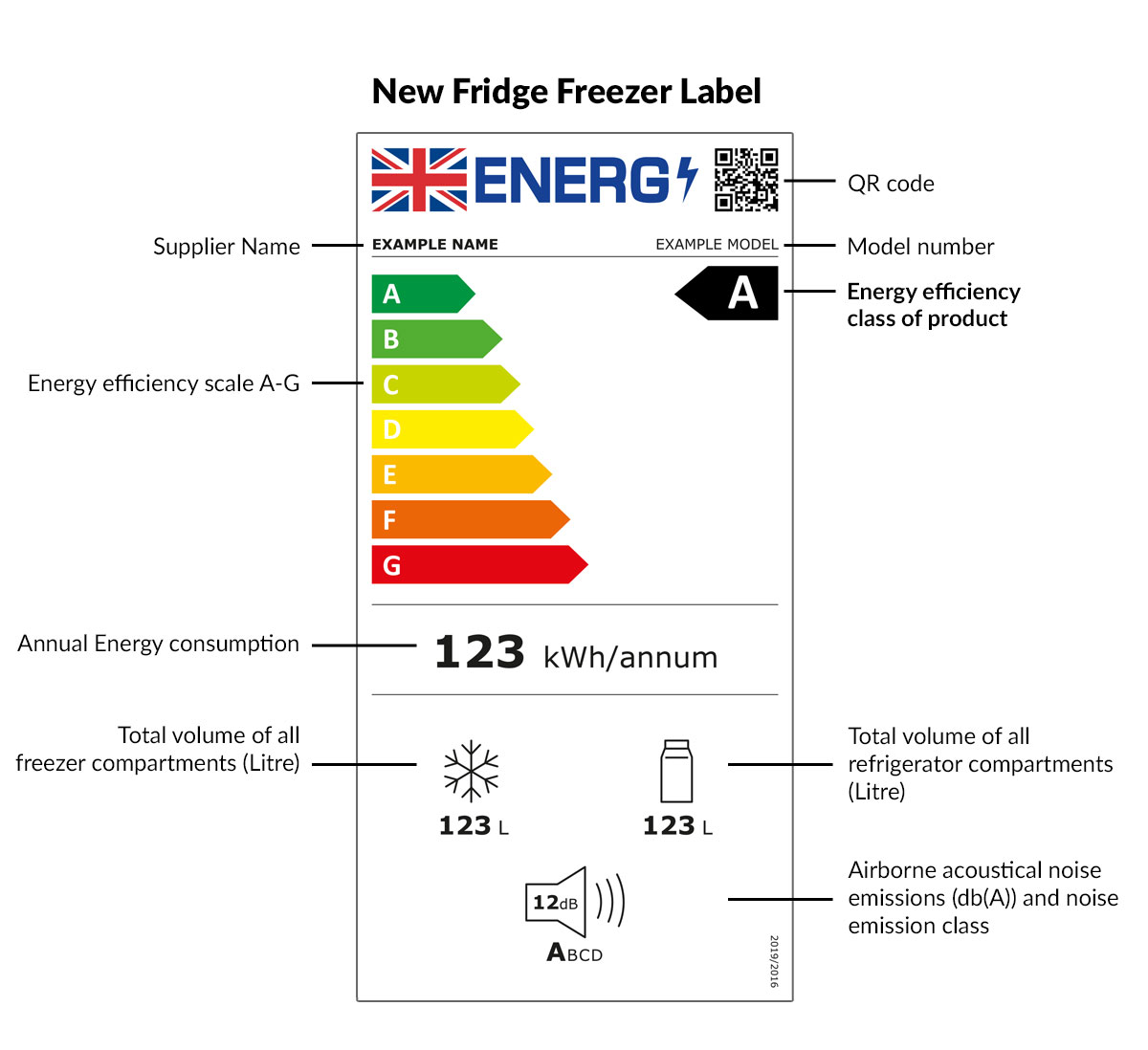 Washing machines will now show energy consumption per 100 washes. Along with water capacity and duration of eco programmes. Noise emissions are displayed for spinning only (not washing) however more information on noise emissions will be available.
Labels on washer dryers will now list energy consumption per 100 washes. A rated capacity will be listed for a wash and dry cycle in addition to a washing cycle. Noise emissions classes will now include spinning and durations of wash and dry cycles are included.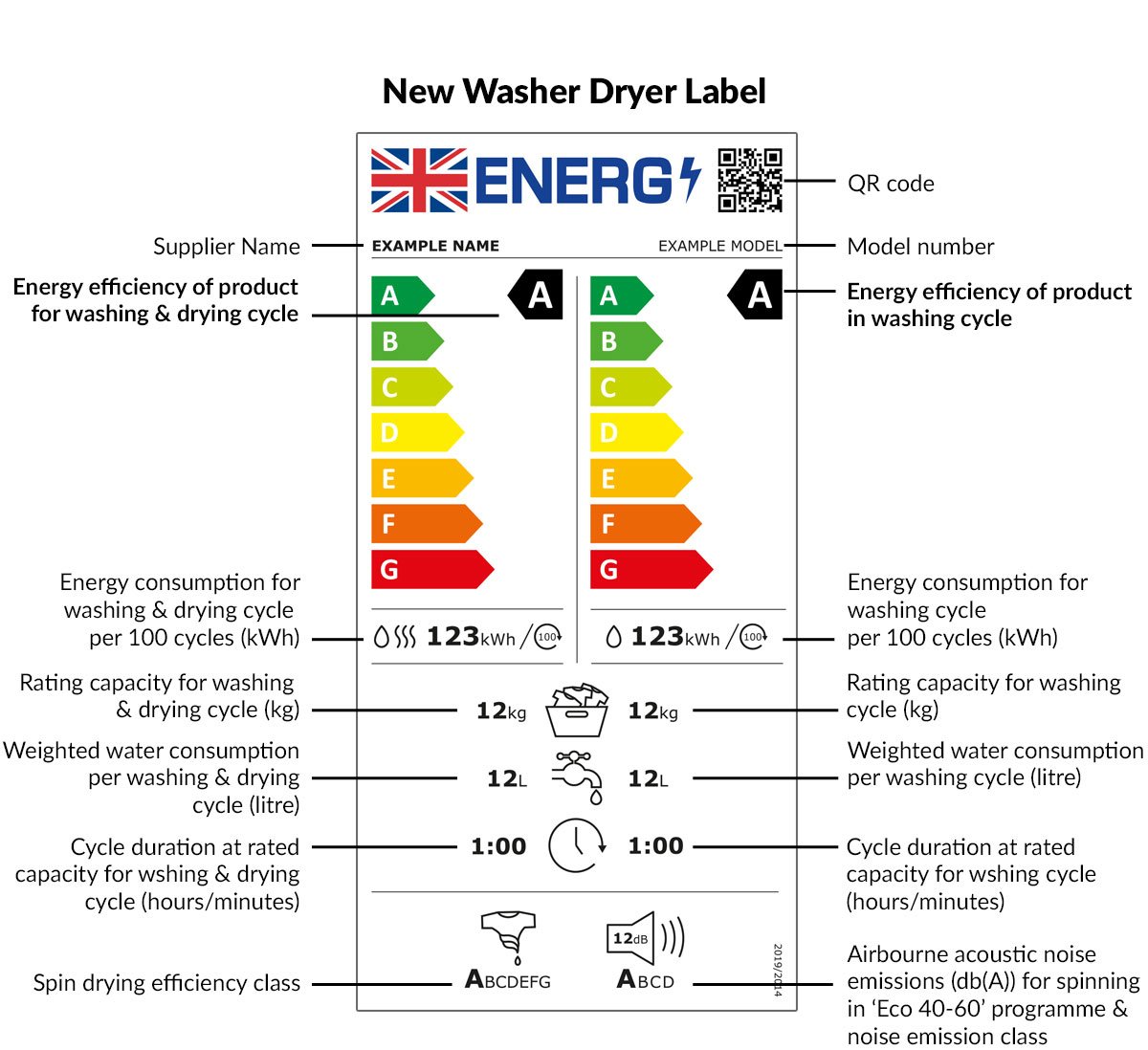 Dishwasher labels will display the eco setting energy consumption per 100 cycles. The water consumption for an eco setting will be shown in litres and the duration is now listed. A new icon for noise emissions is an addition to the label and more information on noise emission class is available.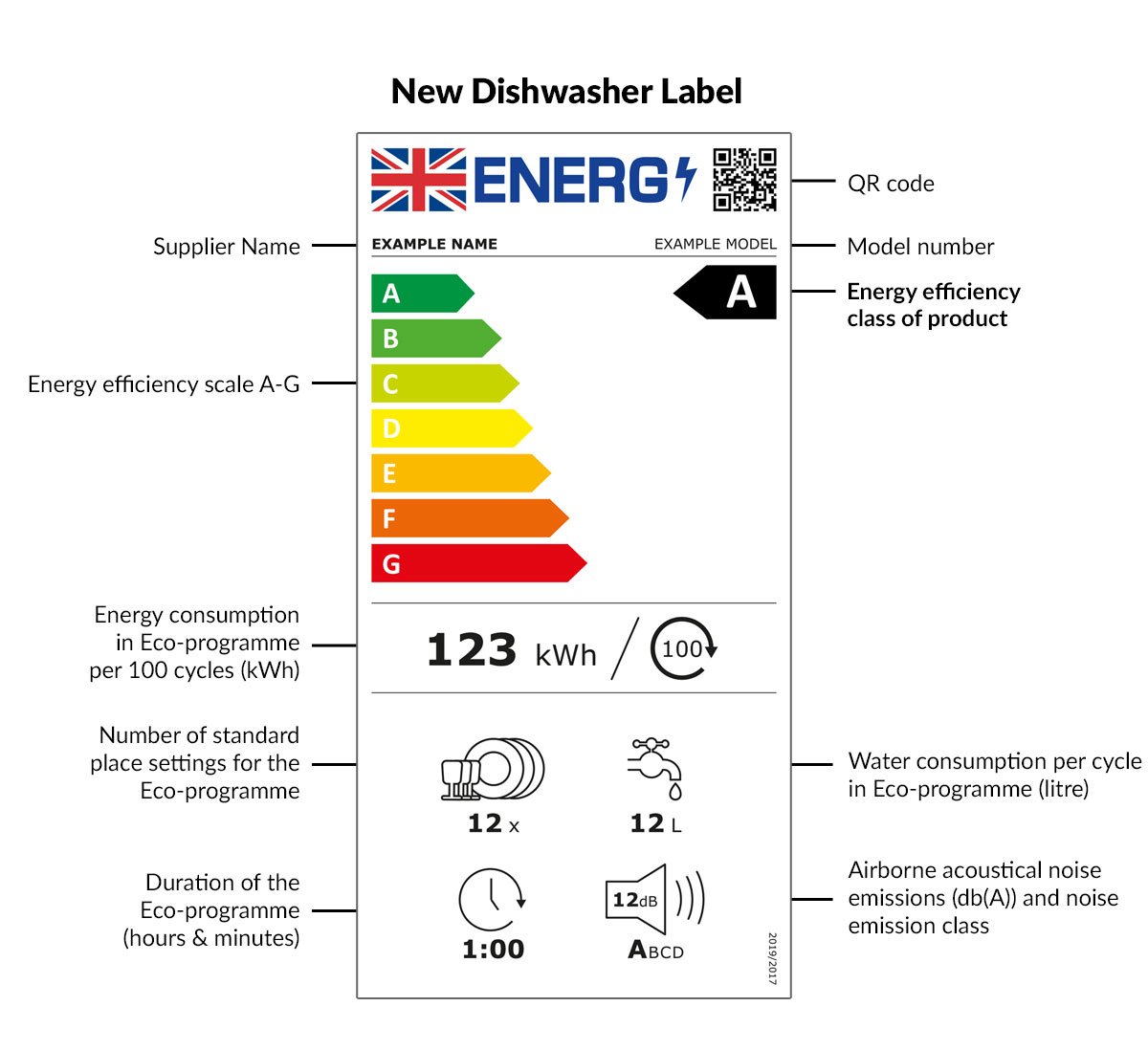 Television and electrical display labels will now show energy consumption per 1000 hours of use. The screen size now includes resolution level in pixels. Detail or power in watts and hard switches has now been removed.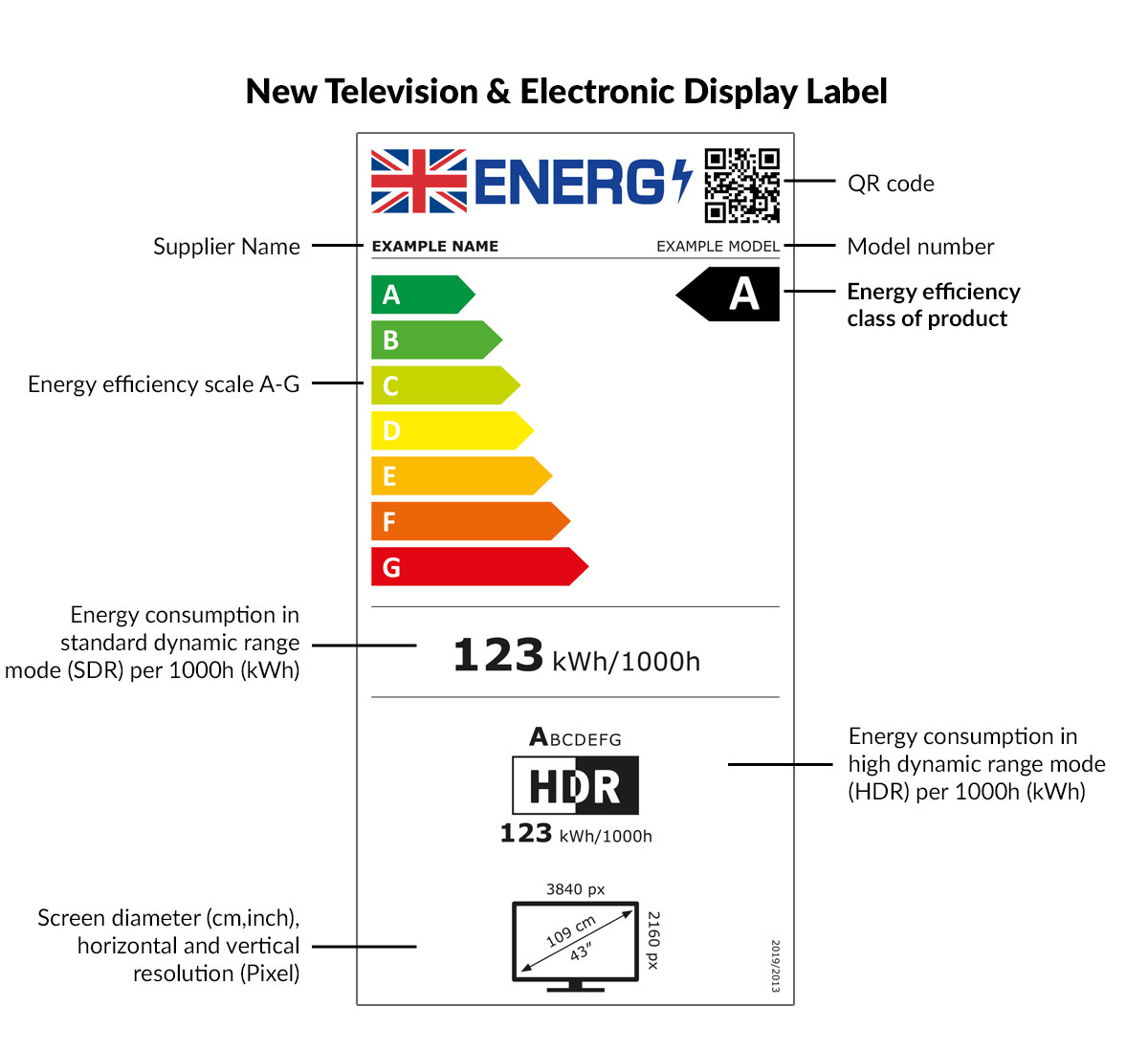 The new label system has been designed with everyday consumers in mind. Small changes can make a big difference to the impact that electrical products have on the climate crisis and also save hundreds on energy bills. By making the energy efficiency rating and its benefits clear, the new label system will serve to guide customers in their energy-efficient, cost-saving purchases. For the latest in energy-efficient electrical products and guidance on choosing the most energy-efficient appliance visit us in-store on view online at www.geraldgiles.co.uk
Useful links for further information – https://energylabel.org.uk/for-consumers/new-labels-from-2021-onwards/
The Energy Saving Trust – Leading the way in a positive change
The Energy Saving Trust is an independent organisation dedicated to helping people save energy in their homes every day. A team of energy experts communicate with millions of households each year. Their advice is based on pioneering research that is world-renowned.