5 year manufacturer warranty
Standard Delivery From Tuesday 16th August
Help & Advice Speak to our experts today
Need help or technical advice on a product or service? Get in touch, we're always happy to help.
Call us on : 01603 599 599

Key Features
Motorbar™ cleaner head with hair removal vanes
99.7%to 0.3 microns filtration
Washable, Multi-Stage Filtration
12 cyclones
Articulating handle
Suitable for multi-surfaces: Carpet, Stone, Tile, Laminate, Parquet & Upholstery
Includes the following 4 tools: Combi tool, Stair tool, Tangle-free turbine tool, Soft dusting brush
Similar models in this range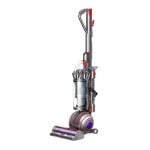 Ball Animal
Make light work of the vacuuming with this upright model from Dyson. Featuring innovative engineering and a range of tools, the Ball Animal Multi-Floor vacuum will glide across all surfaces with ease.
Complete Cleaning
Featuring Dyson's iconic Ball technology™, you can move around furniture and other obstacles with a simple turn of the wrist. The telescopic handle rotates in three directions for cleaning up high and down low – making cleaning your home as strain-free as possible.
Radial Root Cyclone technology is featured on the Ball Animal Multi-Floor cleaner. Optimising airflow for powerful suction, the advanced five-stage filtration system traps 99.97% of dust and particles as small as 0.3 microns.
Coming with a range of attachments, this Dyson vacuum cleaner has the right tool for every task – especially for homes with pets. The Motorbar cleaner head cleans deep into carpets and seals in suction on hard floors. With its special removal vanes, hair is automatically cleared from the floorhead as it cleans.
Reach every nook and cranny with the combination tool and clean the stairs using the dedicated stair tool. The tangle-free turbine tool is ideal for removing hair from carpets, cars, and upholstery. What's more, this model also comes with a soft dusting brush which lifts dust and allergens from flat surfaces and furniture. And, the flat-out head is an ultra-low cleaner head ideal for reaching under sofas, beds, and home appliances.
Added Extras
The Ball Animal Multi-Floor helps you make light work of the cleaning. With a lightweight build that's easy to transport, this upright vacuum cleaner across all floor types – perfect for homes with multiple surfaces. The 10-metre cord and four meters of stretch hose give you plenty of freedom to reach every part of your room.
Avoid the extra hassle with the bagless design. Instead, you can empty the dust compartment hygienically with Dyson's trademarked one-click bin emptying system. Just push the button to release the dirt. Even better, it's quick and easy to put back.
Plus, the washable multi-stage filter makes it simple to keep your cleaner in perfect working condition.
Available in a stylish copper and silver finish, the Dyson Ball Animal Multi-Floor upright vacuum cleaner is the perfect addition to any home.
| | |
| --- | --- |
| Brand Name | Dyson |
| Manufacturer | Dyson Direct, Inc |
| Product Type | Upright Vacuum Cleaner |
| Cordless | No |
| Colour | Silver/Grey |
| Height | 106.5 cm |
| Width | 28 cm |
| Depth | 39 cm |
| Weight (Approximate) | 7.4 kg |
| Number of Power Levels | 1 |
| Filter Type | Washable, Multi-Stage Filtration |
| Pet Hair Cleaning | Yes |
| Dust Collection | Bagless |
| Cable Length | 10 m |
| Floor Type | Carpet Stone Tile Laminate Parquet Upholstery |
| Attachments | Articulating handle Combi tool Stair tool |
| Features | 99.97% to 0.3 microns filtration 12 cyclones Motorbar cleaner head with hair removal vanes Tool/Accessories: Articulating handle, combi tool, Stair tool, Tangle-free turbine tool, Soft dusting brush |
| Shipping Height | 108 cm |
| Shipping Width | 23.1 cm |
| Shipping Depth | 29.4 cm |
We offer FREE delivery on orders over £100. Deliveries of small items are made by courier and are the next working day after dispatch.
Large appliances are delivered by our own delivery teams, installation services can also be selected during the checkout process. Unfortunately, we are not able to deliver some large appliances outside of Norfolk and North Suffolk at the moment; you will be informed of this during the order process if you enter a postcode outside of our delivery zone.
Some manufacturers offer direct delivery of large appliances; you will be informed if this is available during the order process.
We aim to dispatch within 2 workings days of the order being placed. You will receive an email confirming your delivery date.
Delivery Information ›
We offer installation services on large home appliances, you can select additional services at checkout.
We offer the following installation services:
Televisions & Associated Devices - from £45.00
Washing Machines - from £25.00
Washer Dryers - from £25.00
Tumble Dryers - from £15.00
Dishwashers - from £25.00
Refrigeration - from £10.00
Ovens & Cookers - from £75.00
All installations are carried out by our own experienced engineers. Our installation services are only available in Norfolk and North Suffolk, you will be asked for your postcode during the checkout process to see if these services are available to you.
Upon receipt of your order, we will call you to arrange a convenient time for your delivery and installation to take place.
For full details follow the link below.
Home Appliance Installation ›