In Stock Now
£

39.95Save

£

7.05
Standard Delivery From Thursday 18th August
Help & Advice Speak to our experts today
Need help or technical advice on a product or service? Get in touch, we're always happy to help.
Call us on : 01603 599 599
Key Features
Less dense filters make the difference
Remove allergens & germs
Remove household odours
Recyclable
6-month filter life
Traps particles for good
Similar models in this range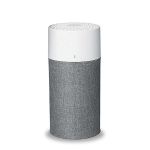 Air Purifier
A winning combination
The combination particle + carbon filter removes annoying household odours, chemicals, and gases, as well as 99.97% of airborne particles, like pollen, dust, viruses, and more with Blueair's HEPASilent™ filtration technology.
Genuine performance, superior quality
Unlike generic look-a-likes, genuine Blueair replacement filters are specifically designed to maintain superior performance over time and ensure your warranty remains intact.
Replacement is easy
When it's time to replace your filter (about every six months), start by unplugging your air purifier. Turn the top portion of the air purifier counterclockwise to remove it. Take out the old filter and vacuum away any dust on the inside. Insert the replacement filter, replace the top/cap and plug it back in. Easy.
Features
Less dense filters make the difference
Our unique HEPASilent™ filtration technology allows our filters to be less dense. Less dense filters require less air pressure— resulting in quieter and more energy efficient air purifiers.
Remove allergens & germs
The particle filter layer helps to minimize the airborne particles that can trigger allergy symptoms, including pollen, dust, mould spores, pet dander, viruses, bacteria, and fine smoke particles.
Remove household odours
A layer of activated coconut carbon absorbs light gases, including volatile organic compounds (VOC), smog, chemicals, and annoying household odours from pets, smoke, and cooking.
Recyclable
This filter is recyclable, so the only thing you're adding back into the environment is clean air.
6-month filter life
To maintain optimum performance, we recommend changing your filter about once every 6-months when used 24 hours a day.
Traps particles for good
The filter structure traps even the smallest particles and resists clogging to maintain maximum airflow.
Specifications
Filter Type
Particle filter + Carbon sheet. Activated coconut shell carbon. Non-woven gradient Polypropelyne fibres. Free of chemicals and binders. Fibre shedding resistance.
Dimensions(HxWxD) 325 x 258 x 218 mm
Product weight 0,340kg
Filter frame material PP
Filter recycling Yes, please check your local recycling facility for availability.
Recommended filter change 6 months (4,380 hours) when used 24 hours a day
Number of filters 1
We offer FREE delivery on orders over £100. Deliveries of small items are made by courier and are the next working day after dispatch.
Large appliances are delivered by our own delivery teams, installation services can also be selected during the checkout process. Unfortunately, we are not able to deliver some large appliances outside of Norfolk and North Suffolk at the moment; you will be informed of this during the order process if you enter a postcode outside of our delivery zone.
Some manufacturers offer direct delivery of large appliances; you will be informed if this is available during the order process.
We aim to dispatch within 2 workings days of the order being placed. You will receive an email confirming your delivery date.
Delivery Information ›
We offer installation services on large home appliances, you can select additional services at checkout.
We offer the following installation services:
Televisions & Associated Devices - from £45.00
Washing Machines - from £25.00
Washer Dryers - from £25.00
Tumble Dryers - from £15.00
Dishwashers - from £25.00
Refrigeration - from £10.00
Ovens & Cookers - from £75.00
All installations are carried out by our own experienced engineers. Our installation services are only available in Norfolk and North Suffolk, you will be asked for your postcode during the checkout process to see if these services are available to you.
Upon receipt of your order, we will call you to arrange a convenient time for your delivery and installation to take place.
For full details follow the link below.
Home Appliance Installation ›