---
The Quooker Collection
A Quooker consists of a kitchen tap on your worktop and a tank in your kitchen cupboard. There are various options. For convenience, go for a 3-in-1 tap or a separate boiling-water tap. Choose the tap that suits you best.
---
---
Boiling-water tap and mixer tap in one
---
From now on, there'll only be one tap on the worktop. The Quooker Fusion is a boiling-water tap and mixer tap in one, beautifully combined.
---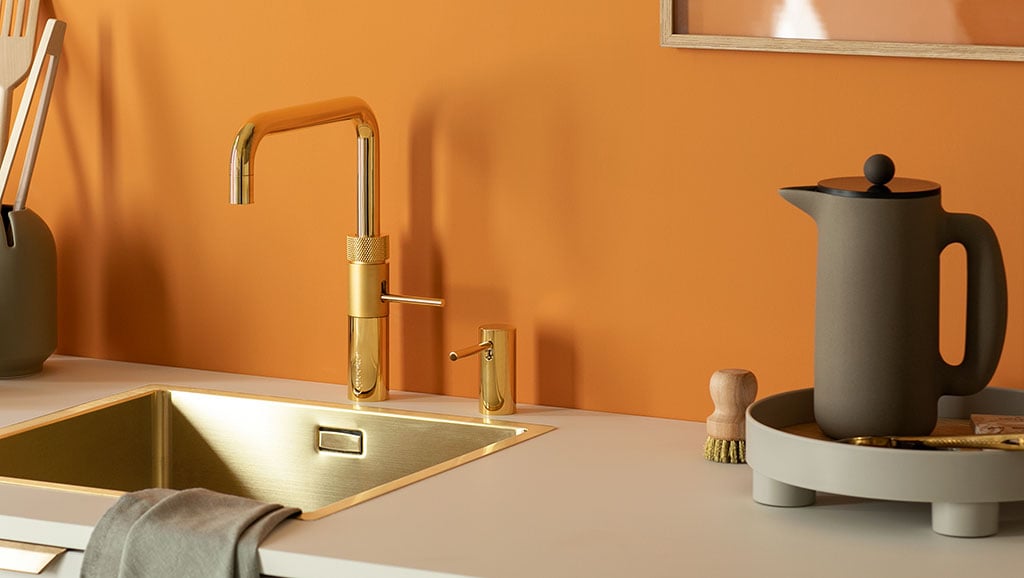 ---
The 5 most frequent FAQs about the Fusion
What is the Quooker's daily energy consumption?
When on standby, a Quooker costs 3 pence a day.
---
Can Quookers be installed in any kitchen?
Quookers can be fitted into new kitchens and also retrofitted into existing ones. To install a Quooker, all that is required is space for the tank, a 13 amp power socket, access to waste pipe and a cold water supply underneath the work surface within 500mm. A minimum incoming cold water pressure of 2 bar is required.

Space requirements:
The Quooker PRO3 tank requires 400mm of height space and is 150mm in diameter. The Quooker PRO3E tank requires 450mm of height space and is 150mm in diameter. The Quooker PRO7 and Combi 2.2 tanks require 470mm of height space and are 200mm in diameter. The Quooker PRO7E and Combi 2.2E tanks require 520mm of height space and are 200mm in diameter.
---
Does Quooker provide filtered cold water?
The Cold Water Filter has been designed to allow you to quickly switch from tap water to cold filtered water. Any new Fusion or Flex will now be able to supply cold filtered water via a single push and turn which when engaged will light the tap ring blue. The water passes through an activated-carbon filter which ensures the water tastes and smells better.

With the new CUBE, you can now also dispense sparkling and chilled water from the Quooker tap.
---
Can I install my Quooker myself?
The Quooker is delivered with installation materials and a clear manual. Follow this carefully for instructions on how to correctly install your Quooker.

The installation guides for all Quooker tanks and taps can be found here. Quooker also offer instruction videos in which they explain step by step how to install their products. Please ensure you are referring to the guide for the correct tank type. Note that there are two guides for each tank – the standard tank for our standard range of taps and the E tank for use with the Nordic and Fusion range of taps.
---
If you have any other questions our team at our Gerald Giles store are happy to help – Drop in and see us
---

---