---
Our shops are OPEN
We look forward to welcoming you back in store. Our Coronavirus safety measures remain in place, please read the latest information below so we can keep you and our colleagues safe when you visit us in-store.
If you prefer, you can still contact us by phone, email or place an order online.
Our installation and delivery teams continue to wear PPE and will inform you of any precautions you must take during their visit. (such as social distancing, wearing your own mask, or leaving the room while they work)
We'd like to thank all our valued customers for their continued support during, what has been a challenging time for many.
---
Our stores
The safety of our colleagues and customers is our priority, we are requesting all customers follow these guidelines when visiting our stores.
We will be restricting customer numbers in store, so you may be asked to wait outside until invited into the store.
Please shop alone where possible and keep 2 metres apart from other customers and staff whilst in store.
Hand sanitiser stations will be available, and you will be encouraged to use them as you enter and exit our stores.
Please limit contact with products in store.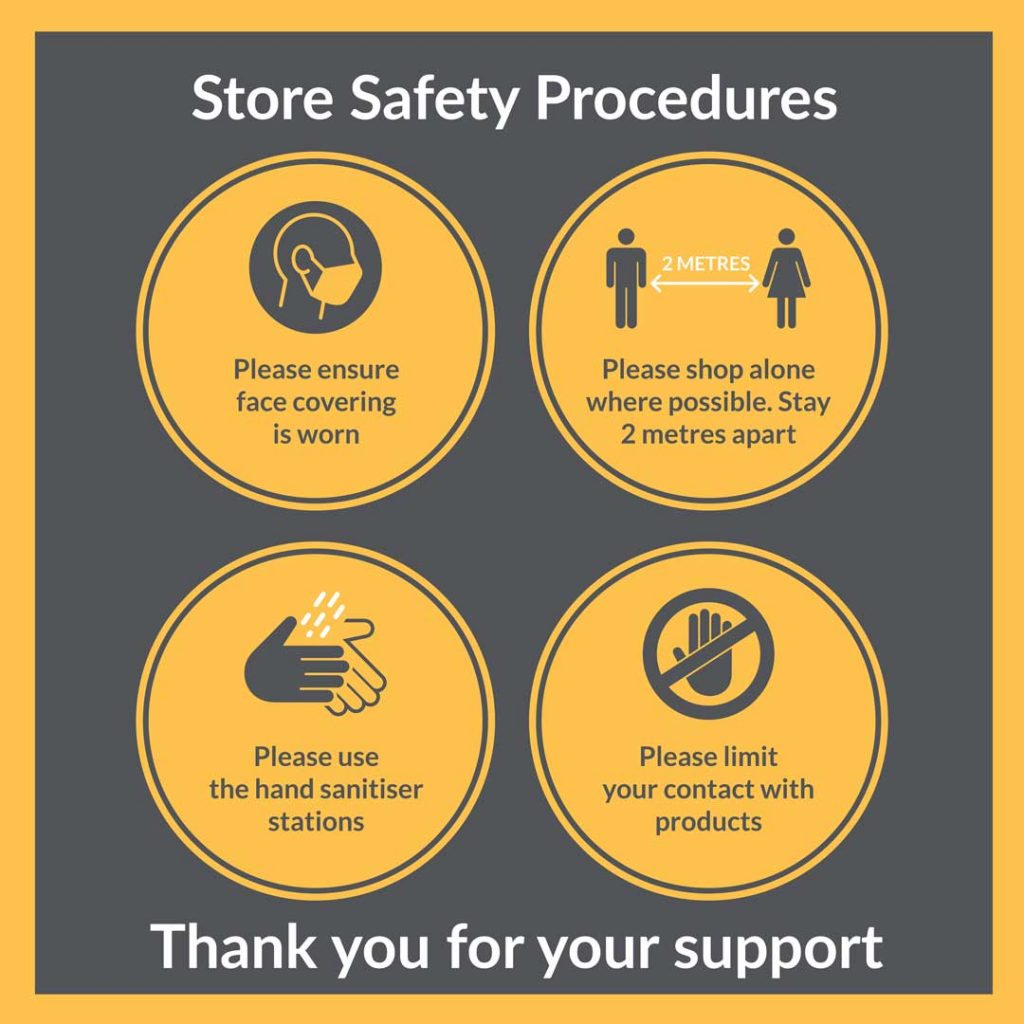 ---
Installations
We're offering installation services in Norfolk and Suffolk, on the following products:
Other installation services may be available on request.
---
It's important we continue to follow these safety precautions to make sure that we can install safely:
Please keep at least 2m away from our installation engineers at all times
If you can, stay in another room away from where our engineers are working – they'll still get you to check everything is working OK before they leave
Open windows in the room where we'll be working and where possible have doors open so we don't need to touch door handles
Our engineers continue to follow the latest government advice on self-isolation or quarantine – this means that some install services may be changed last minute – please bear with us, we will get to you as quick as we can
All installations are completed at the discretion of our install teams. If we're unable to complete your install for any reason, we'll discuss alternative arrangements with you.
---
Deliveries
Small Appliance Delivery
Our deliveries for small items are dispatched via APC they are currently operating a 'No Contact Delivery' procedure. Consignees will not be required to personally sign the ePOD device or hard copy document but will be required to provide their name verbally to the delivery driver whereby the driver will include this on the delivery record. If a customer refuses to provide their name, the consignment will not be left with them but fall under the 'refused goods' process.
Large Appliance Delivery
Our own fleet of delivery drivers will deliver in your home to a room of your choice, but if you'd prefer a delivery to your front door only, we can do that too. We'll give you a call prior to delivery to arrange.
To help keep both you and ourselves safe, please maintain the recommended social-distancing gap of 2m from our delivery teams at all times and where possible have doors open so we don't need to touch door handles. All our teams will be taking appropriate precautions and using PPE. We will take photo proof of delivery instead of our usual signature.
---
Service & Repair calls
Each request will be reviewed on an individual basis.
If you have any concerns please contact us or check this page for the latest updates.
We are constantly reviewing the unfolding situation, so please continue to review this page or follow us on Twitter or Facebook where we will also be sharing our updates on the situation as it unfolds.
---