Everything you need to know about Quooker taps
25/8/2021
Did you know that 70% of us are using appliances that are over a decade old? From our ovens to our fridges, our kitchens could probably use a little sprucing up. But one thing you might not have considered? Your taps could be due an upgrade, too.
Most of us in the UK consider mixer taps to be modern (and yes, our American counterparts think that's insane). And how useful they are! Being able to combine hot and cold water so you don't end up scalding your hands or scrubbing furiously under an icy flow is pretty life-changing.
So what if taps were taken a step further? Enter the Quooker ('quick' + 'cooker'). Invented by Henri Peteri and his son Niels back in 1970, the prototype was a hit amongst friends and family: the first boiling-water tap in the world.
The business really took off around 2004, when the first consignment of Quookers ventured abroad. And nowadays, the business produces a whole range of revitalised taps, always aiming to stay true to their sustainable, energy-efficient roots.
As of June 2021, we're an official stockist of Quooker, and we couldn't be more excited! We love to stock the latest and greatest products, and these unconventional taps are no exception. We'll even be showing them off in our showroom, so pop in if you're near Norwich for a demonstration. We have a live working Quooker Flex connected to the Quooker CUBE, so you can have chilled sparkling water, now that's amazing! – we can't promise you won't fall in love. We certainly did!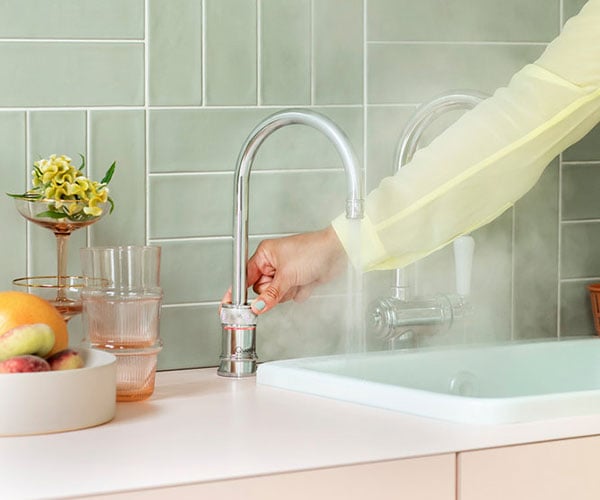 Quooker have designed a range of taps to suit everyone, with customisable options. The Classic Nordic Tap – which comes in Round or Square options – boasts the features that have been so popular in the Netherlands for decades. An insulated spout ensures that it won't burn you, while a red ring light informs you that the water is boiling.
Which Quooker tap should you choose?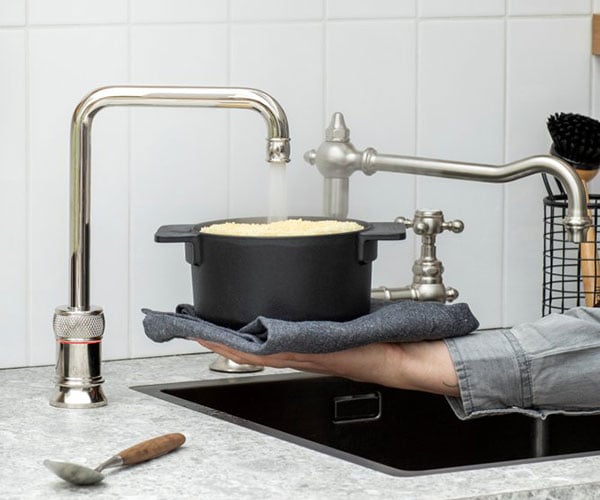 It's also height-adjustable so that you can easily fit it to your sink. It's not a mixer tap, though: you'll still have to have a separate tap for your other needs. This can be on the plus side if you're cautious about accidents (though there are plenty of high-tech safety features to ensure you're fine).
Meanwhile, alongside the features of the Fusion, the Flex offers a pull-out hose design that means you can reach hard-to-clean parts of the sink and dishes with ease. Plus, when the flexible hose is extended, the Quooker can't produce boiling water – making it even safer to use.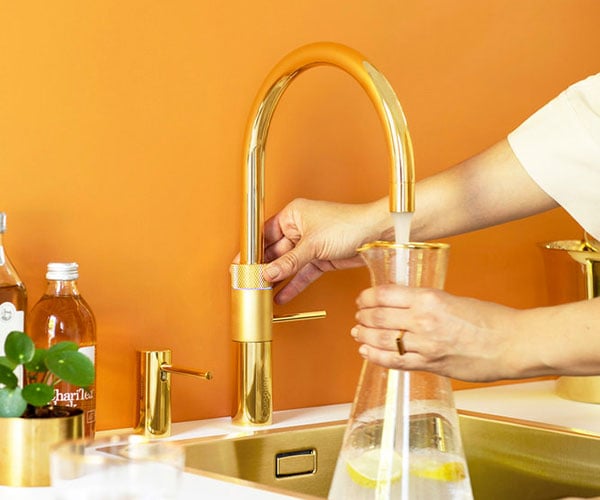 Another option is the Fusion tap. As the name suggests, it's a boiling water tap and mixer tap in one, so brilliant if you're trying to save space – or just streamline your kitchen.
Like the Classic Nordic, the Fusion offers both Round and Square options, but comes in a few more colours – just in case your kitchen aesthetic is a little different. Chic brass, elegant gold, and stylish matte black are all on the table, as well as the typical polished chrome and stainless steel options.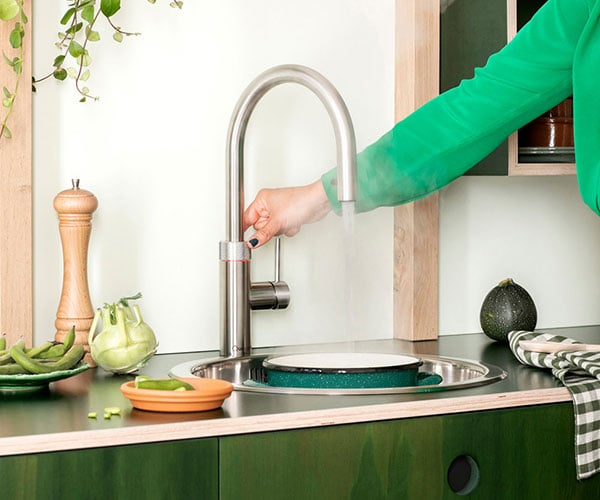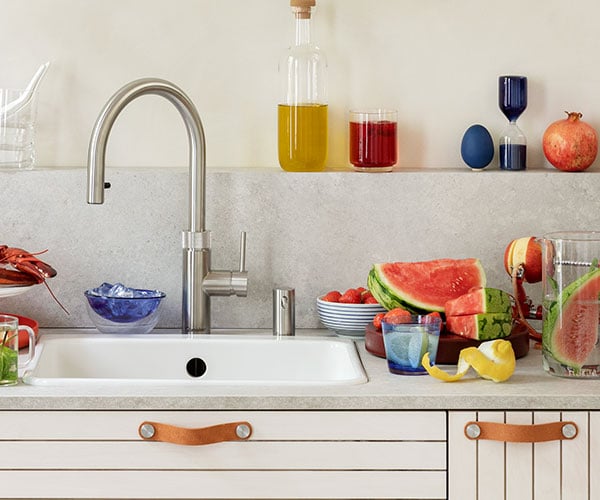 For chilled, filtered and sparkling water, you'll need a CUBE alongside whichever version of the Quooker tap you go for. An easy press-and-turn motion will activate the CO2 cylinder, the illuminating red light will turn blue, and you'll have a glass full of sparkling water in just a few seconds.
A few moments longer holding the button, and you could be enjoying a glass of chilled water that's just as filtered as shop-bought. And the filters themselves last around a year, saving the planet and your pocket.
We have one in our showroom at Gerald Giles in Norwich, visit us for a demonstration.
Will a Quooker fit in my kitchen?
These nifty taps can be fitted into new kitchens, but they're also easily retrofitted into existing ones. You'll need a few things: enough space for the tank you choose, a 13-amp power socket, access to a waste pipe and a cold water supply within 500mm.
You'll also need a minimum incoming water pressure of 2 bar, which is considered fairly high – so you might want to check your water pressure before falling in love with one of Quooker's shiny (or matte) offerings.
Once you've taken the plunge, you can even fit the tap yourself at your convenience, as it is delivered with a comprehensive manual and installation materials. Quooker also offers installation videos on their site, in case you're more of a visual learner.
How can Quooker be sustainable?
We know, it sounds like nonsense: a tap that produces boiling water on demand being more energy-efficient than boiling a kettle. But thanks to some truly innovative technology – like Quooker's patented vacuum tank that keeps the water at 110 degrees under pressure, only boiling when it exits the tap – it truly is.
On top of the technology, Quooker taps reduce the need to guesstimate how much water you might need in a kettle: they dispense exactly the amount you need. No more forgetting you've put the kettle on, only to remember half an hour later!
Quooker estimate that keeping boiling water on hand in one of their taps costs just 3p per day in energy charges.
Quooker can produce chilled and sparkling water on demand, this helps the environment too: fewer plastic bottles from sparkling water, and less time spent waiting for water to be cool enough to be pleasantly drinkable.
Finally, Quooker's sustainable ethos extends throughout their business. As of 2016, 900 solar panels cover their premises, supplying all the energy they need.
How will you use your Quooker?
We're dreaming of warming mugs of tea within seconds of walking in from a rainstorm. Cool glasses of filtered water on terraces, complete with a sprig of mint or a couple of slices of lemon for that Mediterranean moment. Maybe even a classy Gin Rickey as you get in the mood for an evening out (that's gin, sparkling water, and lime)!
Quooker taps may sound unnecessary, but we're told that once you've tried the convenience, it's almost impossible to go back!
In a more practical sense, Quooker taps also make tasks like sterilising baby bottles and boiling pasta a breeze, and who doesn't want a little more simplicity in their lives?
Find out more here
Find out more here, or visit our showroom in Norwich for a demonstration, we are in central Norwich opposite John Lewis, we have free on-site parking, or give us a call on 01603 621772 to chat to us about which Quooker tap might be right for your home.