Watch Great Britain and England on a TV which can keep up – the best 2016 TVs for sport
25/5/2016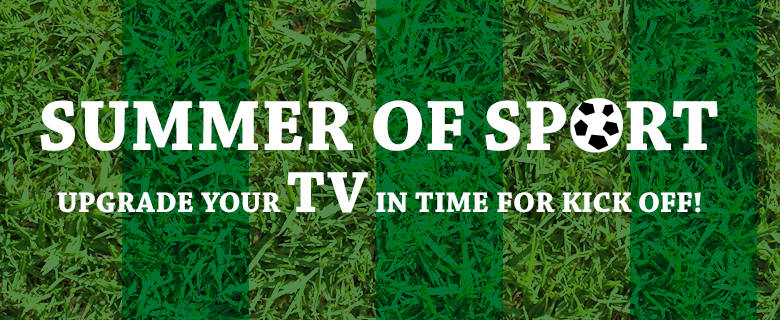 Although the British weather normally suggests otherwise, the summer of sport is fast approaching. From Football to Fencing, Taekwondo to Tennis,  you will be able to catch it all on the TV very soon. Obviously preparing the perfect front row seat is priority. You'll want to watch the major sporting events on a set designed to give you optimum picture quality and with a fast processing rate so it can keep up with those dart like shuttlecocks and record breaking 100 metre sprints. So we're going to take you for a look at the new range of 2016 TVs which give you a personal best on performance when sport is on.
Choosing the best TV for sport can be based on a range of different features. How fast a TV can process images on screen will make the difference between panning over a pitch and only seeing a blurry mess or panning over the pitch and catching every single slight movement by an athlete. If you're looking at a Samsung TV, then the process rate is measured in Picture Quality Index or PQI for short. Ranging from 100 – 2700 PQI, 2016 Samsung TVs with a high PQI include KS7500 (2200 PQI) and KS8000 (2300 PQI) models. Panasonic measure their refresh rate in Hertz, and their DX750, available in 50, 58 and 65 inch screen sizes boast a fantastic 1800Hz giving the viewer incredible detail despite fast motion pictures on screen.
Sony and Samsung models both benefit from a Sports display setting which will optimise the picture brightness and quality so that you get a vibrant track side seat with as much intricate detail as if you were in the stadium. Replicating the grass in as realistic colour match as possible, the picture will be vivid yet accurate at the same time which gives the viewer a much more authentic feel to any game, set or match.
Sound settings are also taken into account, so if you love to watch sport all season round, on selected Sony TVs, you can select 'Live Football' audio mode which will enhance the roar of the crowd and bring the audio atmosphere to your own living room. Failing that, why not upcycle your sound with a soundbar? We have a great range of soundbars to really bring the big crowd booms to your living room. Make sure you're ready for our Summer of Sport and book yourself a front row on your own sofa. Interested in the latest 2016 TVs? Get in contact with us today to help.