Review: What is QLED? And 8K vs 4K ?
19/2/2019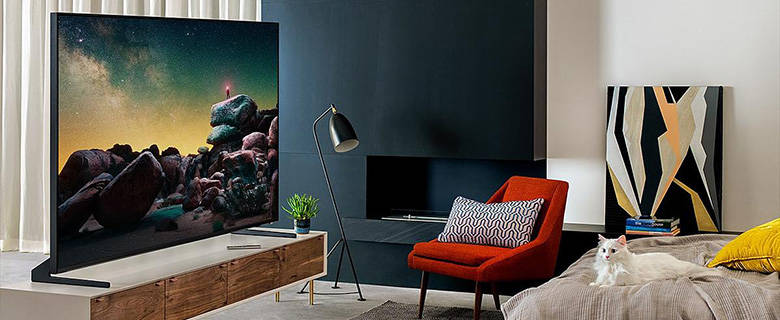 As all tech and TV fans will know, Samsung has long led the way in cutting-edge audio visual technology. For years now, the brand has been pushing at the boundaries of LED, LCD and HDR systems, creating ever more spectacular products and images along the way.
One of Samsung's newest TVs combines the latest in audio visual technology with ultra high resolution images. This high tech, high impact TV is set to revolutionise the way we watch movies, shows and sporting events and bring the highest quality video to people across the UK.
If you're an early adopter looking to get ahead of the curve, or if you just want to know what TV will look like in the near future, a look at the Samsung QLED 8K TV is a must. Sleek, sophisticated and smart, it's giving us the visual word of tomorrow, today.
What is QLED?
One of the things that makes this innovative TV set stand out from the crowd is its QLED technology. These days, many people are familiar with LED TVs. Used in most high tech sets, LED technology helps to make images clearer and more vibrant.
QLED technology takes things one step further. The Q stands for quantum dot. These dots range in size from two and ten nanometres and offer a different way for screens to produce colour. This makes QLED TVs much more efficient than LED sets that use a limited and inefficient combination of white LEDs and colour filters.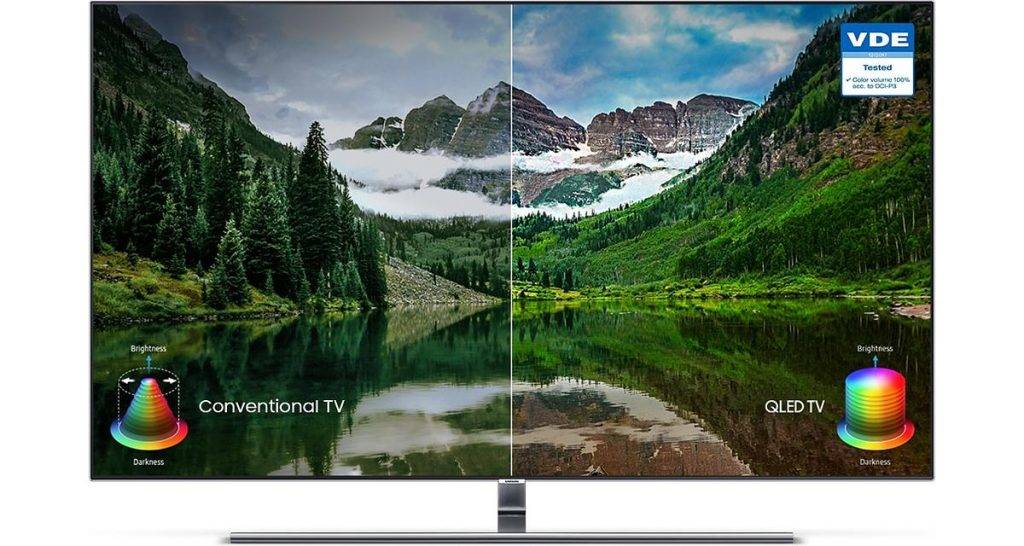 Quantum dots produce different colours depending on their size. The smallest dots focus on blue light while the larger dots produce tones of red. TVs with quantum dot technology produce more heavily saturated and precisely defined primary colours than standard LED TVs. This ability to produce bright, vivid colours has made QLED technology increasingly popular and more and more brands are incorporating it into their TV sets.
8K TVs
Every few years, a new and exciting technology comes out that makes TV screens better, clearer and more defined. First, we had HD TV, then it was ultra HD, or 4K. Over the last few years, 4K has virtually become standard in high end TVs. Producing fantastic images and making movies, sports events and shows a joy to watch, 4K has revolutionised home cinema systems.
However, the dominance of 4K might be about the come to an end. True 8K TV sets, like Samsung's QLED 8K TV, can now offer customers even higher quality and better resolution. These high tech TVs have four times as many pixels as 4K sets with a resolution of 7,680 by 4,320. This wealth of pixels gives 8K TVs an exceptionally high quality and provides viewers with a visual experience unlike anything they've ever seen.
As 8K technology is cutting edge, there are very few TVs available with true 8K screens. In fact, the Samsung QLED 8K TV is one of just a handful of commercially available sets.
8K Vs 4K
As 4K TVs themselves are relatively new to the market, a lot of TV fans may only have recently upgraded to the technology. The introduction of 8K technology may have many people wondering if their new 4K sets will soon become obsolete. However, at the moment very little content is broadcast in 8K. The 8K sets that are commercially available are designed for those who want to stay one step ahead of the tech curve and ensure they're always watching the best images possible.
Good quality 4K TVs will therefore still be relevant for a number of years. As more and more content is produced in ultra high definition, the technology will increasingly be seen as standard. 8K, in turn, will also become more common and, as prices begin to drop and more content is produced in 8K, more and more people are likely to adopt the technology.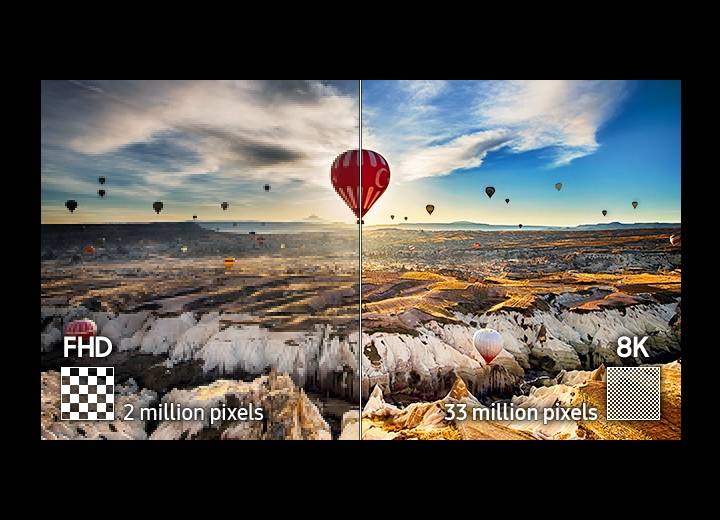 With 8K offering four times as much clarity as 4K, it's highly likely it will eventually take over our screens. In just a few years' time, all our TV programmes and movies may well be shot in 8K, giving viewers everywhere a clearer, more vibrant and more immersive experience.
8K content
At the moment, not a lot of content is actually produced in 8K. In Hollywood, some productions are now filmed using 6K cameras. While in Japan, an increasing number of companies are trialling 8K technology. Japanese national broadcaster NHK ran a series of 8K trials in 2015 and in 2016 the company announced it was successfully using 8K in some of its broadcasts.
In fact, these trials were so successful that NHK has announced it's launching the world's very first 8K television channel. This is likely to begin broadcasting in late 2018 and should be fully functional by the time the 2020 Tokyo Olympics roll around. A handful of other broadcasting companies are also looking into 8K trails with the number of 8K channels set to steadily increase over the coming years.
A few online content providers and hosting sites are also beginning to adopt 8K technology. Vimeo has recently added an update that supports HDR and 8K resolution videos, but you will need an 8K screen if you really want to enjoy this 8K output.
Trying our 8K TV
If you're unsure whether or not 8K technology is right for you, why not pop in and experience an 8K TV for yourself? We have a fully fledged Samsung QLED 8K TV in our Norwich store, allowing you to see the difference in quality first hand. While you're there, you can explore other products in the Samsung range and find the perfect high tech TV for your needs.
To find out more about 8K TV and the latest in ultra HD technology, pop into our store, explore the information on our site or get in touch with a member of our team today.