What is a Pyrolytic oven?
28/2/2019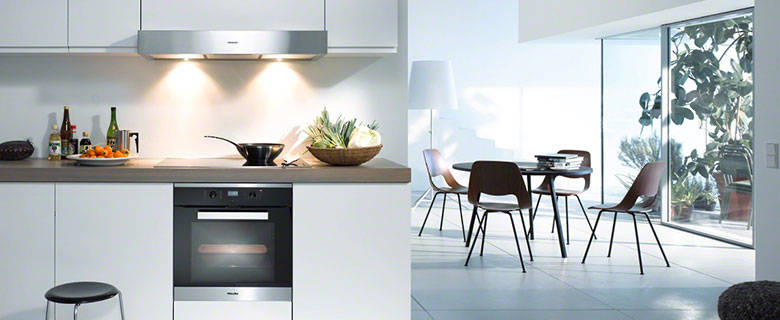 As all homeowners know, cleaning the oven is one of the least enjoyable household chores. Difficult, time-consuming and grimy, cleaning the oven is something most of us put off as long as possible.
However, if you invest in a new pyrolytic oven, scrubbing your appliance may well become a thing of the past. These high-tech cookers use extreme heat to turn any food residue into ash. This ash can then simply be removed using a damp cloth. If having a self-cleaning oven sounds like the answer to your prayers, here are some of the best models on the market for you to have a look at.
Miele H6660BPCLST PureLine Single Pyrolytic Multi-Function Oven
With 76 litres of cooking space, the Miele H6660BPCLST is a great choice for keen chefs everywhere. The oven has an easy to use TFT display, automatic programmes for over 100 different types of food and a modern, sleek aesthetic. A great choice for cooks who like to bake, roast and grill their meals to perfection, the oven will make the perfect addition to your kitchen.
Miele H6461BPCLST PureLine Multi-Function Single Pyrolytic Oven
Like the H6660BPCLST, the H6461BPCLST has a 76-litre capacity, 100 automatic programmes and a stylish finish. Its five shelf levels help you to find the perfect position for your bakes while the touch control makes the oven exceptionally easy to use. Use the pyrolytic cleaning function after you've cooked your meal to leave your oven looking great.
Miele H6460BPCLST PureLine Multi-Function Pyrolytic Single Oven
A great choice for busy families and keen cooks, the Miele H6460BPCLST PureLine offers a large cooking capacity, five shelf levels, 100 presets and an easy to use control system. The temperature range runs from 30 to 300˚C, giving you complete control over your cooking.
Miele H2566BP CAMPAIGN ContourLine Single Multi-Function Pyrolytic Oven
The Miele H2566BP CAMPAIGN comes with a range of preset programmes including defrosting, gentle bake and intensive bake. Thanks to its A+ energy rating, the appliance uses minimal electricity and so is perfect for households trying to reduce their impact on the environment. FlexiClip fully telescopic runners help you to remove food from the oven easily and safely while the appliance's EasyControl settings make it easy to find the perfect programme.
Miele H2267BP Active Built-in Single Oven with Pyrolytic Cleaning
The Miele H2267BP comes with a range of built-in features including a 7-segment display with rotary selector, fully telescopic FlexiClip runners and, of course, Pyrolytic cleaning. The 76-litre capacity makes the oven suitable for busy households, while the sleek finish makes it the perfect choice for contemporary kitchens.
Find out more about Miele's range of ovens, Pyrolytic cleaning and the other kitchen appliances we supply by exploring our site today.
For a limited time see the Miele cashback offer on selected Miele pyrolytic ovens.