Miele Generation 7000 – ArtLine Review
2/9/2019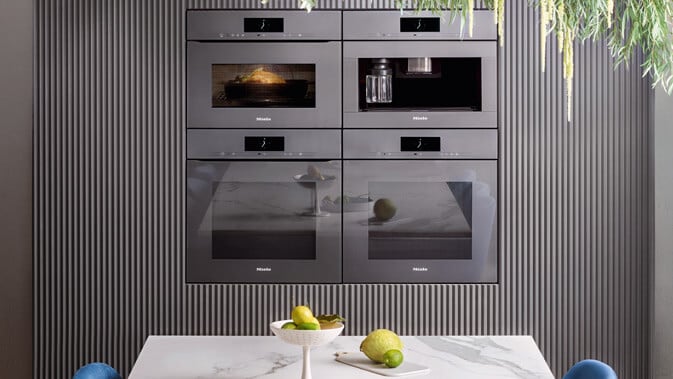 The ArtLine Collection
With its unique handleless design and contemporary clean finish, the ArtLine collection is one of the most distinctive in Miele's new Generation 7000 range. These innovative products offer you the chance to create a truly seamless interior aesthetic, while adding functionality and practicality to your kitchen.
Like the other collections in Miele's Generation 7000 range, ArtLine offers a great choice of products and a number of innovative and exciting features. From powerful built in single ovens to cutting-edge steam ovens and versatile microwaves, this stylish range has everything you need to completely transform your kitchen.
Miele H7860 BPX handleless oven
The Miele H7860 BPX handleless oven is the perfect choice for anyone who wants to add style and practicality to their home. Its clean glass front, graphite grey finish and handleless design give the appliance a sleek, contemporary feel, while its numerous features ensure you never sacrifice functionality for looks.
The oven's large touch display has a movement sensor and comes with MotionReact technology. This makes it easy to switch between programmes and precisely control your appliance.
One of the most innovative features of the H7860 BPX oven is its FoodView technology. Use the camera inside the oven to see what's happening in the cooking compartment wherever you are in the world. Download Miele's custom-made app, Miele@home, to remotely control your appliance via your smartphone or tablet computer.
If you struggle to cook meat, fish and other ingredients perfectly, the H7860 BPX oven's food probe will help solve your culinary conundrums for good. This exciting feature tests the core temperature of your food and displays the cooking time that's required to get the best results possible. Once your food has reached the perfect temperature, you can use the oven's TasteControl feature to cool the cooking compartment and prevent your dishes from being overcooked.
Miele H7840 BMX handleless microwave
Whether you're looking for a microwave to match your ArtLine oven, or you want a standalone appliance that will add style to your kitchen, the H 7840 BMX is the perfect choice. Like the other products in the ArtLine range, it has a seamless glass front, contemporary aesthetic and handleless design.
The Miele H 7840 BMX comes complete with a number of automatic programmes, allowing you to get started as soon as your appliance is installed. What's more, as well as numerous pre-set programmes, the Miele H 7840 BMX also has infinitely adjustable power ratings. This allows for precision cooking and means you can prepare everything from meat and fish to cakes and puddings perfectly.
Like the Miele H7860 BPX handleless oven, the H 7840 BMX microwave comes with a food probe. This allows you to quickly and accurately test the core temperature of your dishes and calculates the exact cooking time required to achieve the best possible results.
Miele's Quick & Gentle cooking technology lets you combine traditional heat with an adjustable supply of microwave energy. This unique feature will help you to dramatically reduce cooking times while ensuring your dishes still taste fantastic.
Connect your H 7840 BMX microwave to the rest of the smart appliances in your kitchen by activating its WiFi capabilities. Download the Miele app to control your microwave, and your other Miele appliances, remotely via your smartphone or tablet computer.
Miele DGC 7460X handleless steam combination oven
One of the most innovative appliances in the ArtLine range, the Miele DGC 7460X steam combination oven offers a choice of versatile cooking options and a sleek contemporary aesthetic. Thanks to its handleless design, the microwave will blend seamlessly into your kitchen, giving you a fantastic interior look and an improved level of functionality.
In built DualSteam technology ensures even results and quick cook times. You can even use the feature to prepare entire meals, comprising multiple courses, in one go.
If space is limited in your kitchen, the DGC 7460X steam combination oven can be used as your main cooking appliance. Use traditional heat to get your ingredients crispy and use steam cooking to keep meat, fish and veggies soft and succulent. Use the numerous automatic programmes to cook dishes quickly and easily and take advantage of the oven's large 68-litre capacity to prepare generous quantities of food at the same time.
The Miele DGC 7460X steam combination oven allows you to do everything from defrosting and reheating to grilling, steaming and sous-vide cooking. This incredible versatility opens up your options in the kitchen and allows you to create meals that are truly spectacular.
Find out more about the DGC 7460X, and the other products in the ArtLine range please get in touch, you can book an appointment here online or call us on 01603 621772.