Cooking with Steam has never been easier
8/8/2017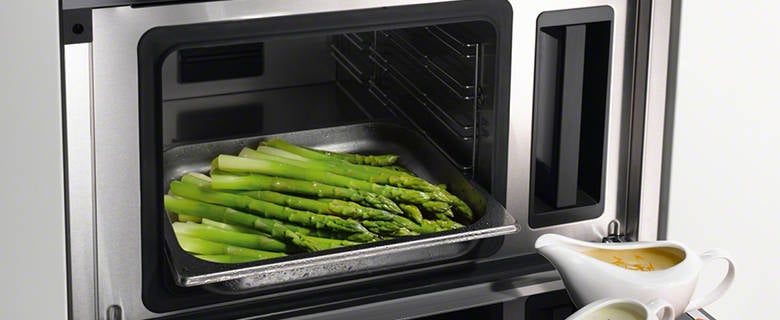 Over the past few years, steam ovens have become increasingly popular with keen cooks around the country. Offering a unique and efficient way of cooking vegetables, fish and a range of other dishes, steam ovens can help to revolutionise the way you use your kitchen. If you're considering investing in a steam oven but haven't yet used one of these innovative appliances, we're taking a closer look at Miele steam ovens and how they can aid your culinary prowess.
 The basics
Miele steam ovens heat food to between 40˚C and 100˚C. They reach their target temperature quickly and cook food gently and efficiently. Thanks to the unique way they work, steam ovens help to retain the textures, colours, aromas and nutritional content of vegetables, fish and other delicate foods. As Miele's efficient steam ovens can be set to exceptionally exact temperatures (within 1˚C) it's possible to cook a wide range of foods to perfection.
Functions
As well as cooking fish, vegetables, pasta, rice, meat and pulses, Miele steam ovens can be used for a variety of other functions. You can quickly and gently defrost frozen food, prove dough, melt chocolate, make yoghurt, sterilise jars and baby bottles and even extract juice. All Miele steam ovens also feature dedicated sous vide programmes for slow cooking food in vacuum packaging at low temperatures. This allows you to create dishes that are beautifully tender and full of flavour.
Benefits
Using Miele steam ovens instead of traditional cookers has a range of benefits. As steam is continuously injected into the oven, odours and flavours are not transferred between dishes. This allows you to cook separate meals on up to three levels without fear of cross contamination. Miele steam ovens also come with a variety of set programmes. This means you can simply select the type of food you want to cook from the menu and your oven will cook the dish to perfection. Up to three automatic programmes can be selected at one time, with the temperature, timing and sequence set for you so all of the elements of your meal are ready at once.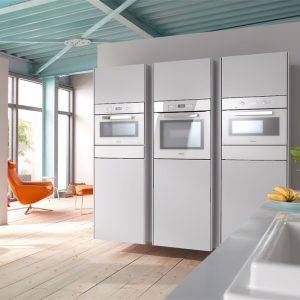 Safety 
Miele steam ovens are very easy to use and can be safely installed in family homes. The ovens can be locked with the touch of a button to prevent inquisitive helpers from opening the appliance too soon. And just before the end of the cooking process, the steam is released from the oven so that you can remove your food safely and comfortably.
An innovative and practical choice for any keen cook, Miele steam ovens can help you to achieve your culinary goals. To find out more, or to browse our range of steam ovens, explore our site today.