Vacuum cleaners – terms explained: From cylinder to upright and everything in between
31/10/2019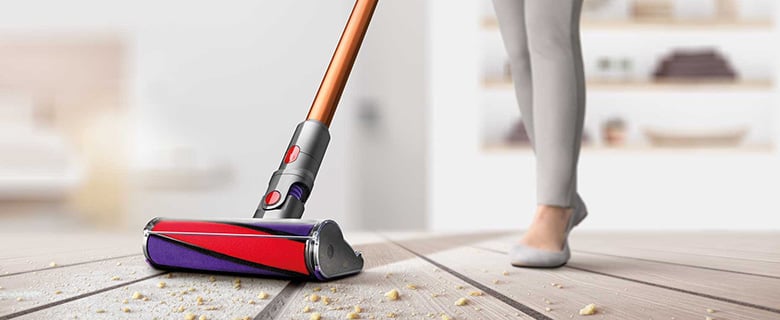 If you're like most homeowners, the vacuum cleaner is probably the most essential tool in your cleaning kit. Helping to keep floors clean, fresh and dirt free, vacuum cleaners make it easy to keep your home looking its best.
However, in order to get the most from your appliance, you need to ensure you get the perfect vacuum cleaner for your needs. To help you select the right model and the right style of appliance, we're taking a look at some of the most common terms you'll come across when searching for your new vacuum cleaner.
Bagged
Bagged vacuum cleaners have been around for years and will be familiar to homeowners of all ages. Unlike bagless and cylinder vacuum cleaners, bagged models collect the dirt, dust, and debris that's sucked up from your carpets and floors in a bag. Once the bag is full, it can simply be removed from the appliance and thrown away.
The main benefit of a bagged vacuum cleaner is that it completely removes dirt and dust from your home. This is good news if you, or someone in your family, have allergies as the allergens will be gone for good. The downside of a bagged vacuum cleaner is that it requires new bags every few months. What's more, when these bags are full, the suction power of your cleaner can be reduced. Although not expensive, these bags aren't great for the environment as they have to be thrown away once used.
Bagless
Bagless cleaners collect the dirt sucked up from your floors and surfaces in a specially designed compartment. When it's full, this compartment is removed from the cleaner and the contents emptied out. Unlike bagged cleaners, bagless cleaners don't require any extra accessories. This means you won't be caught short if you forget to buy new bags from the shop. Some bagless cleaners are also designed so that they don't lose suction as they fill. This will help to ensure you're always able to get your floors and surfaces as clean as possible.
Cylinder
Cylinder vacuums are a type of bagless cleaner. The cylinder is designed to suck up dirt and collect debris. A lot of cylinder cleaners are transparent, so you can see the dust building up as you clean. Once full, the cylinder is removed from the cleaner and the contents thrown in the bin. Almost all cylinder cleaners are upright vacuums, although some, such as the Dyson Big Ball Animal 2+ Cylinder Vacuum Cleaner and the Dyson Ball Multi Floor+ Cylinder Vacuum Cleaner, have slightly different designs.
Most high-quality cylinder vacuum cleaners are designed so that they don't lose suction as the cylinder fills. However, emptying your vacuum on a regular basis is still the best way to ensure you get the most out of the appliance.
Upright
Upright cleaners are probably the most common type of vacuum. Thanks to their vertical design, they're easy to use and suitable for people with bad backs and other mobility problems. Upright vacuums can be used to clean floors of all types and often come with a variety of accessories to help you get into all those awkward nooks and crannies. The Dyson Light Ball Multi Floor+ Upright Vacuum Cleaner and the Dyson Ball Animal 2+ Upright Cleaner are two good examples of this classic design.
Cordless
For years, vacuum cords made cleaning that little bit trickier. Larger rooms and properties with limited plug sockets were particularly hard to clean. As well as making it difficult to reach all the corners of a home, corded cleaners could easily become tangled and packing them away at the end of a cleaning session could be time-consuming.
Cordless cleaners don't come with any of these issues. Unlike traditional cleaners, they're powered by rechargeable batteries and so don't require power cords or plugs when in use. Once you're done with your cordless cleaner, simply slot it back into its charging dock and it will be powered up and ready for the next time you need to use it.
When buying a cordless cleaner, it's important to invest in a high-quality appliance as some cordless cleaners lose power and suction very quickly. Vacuums such as the Dyson V7 Motorhead Extra Cordless Stick Vacuum and the Dyson V11 Absolute Extra Cordless Vacuum both offer long cleaning times and powerful suction, making them ideal for homes of all sizes.
Handheld
As the name suggests, handheld vacuum cleaners are small and light enough to be held in the hand. These types of vacuums are often used to clean sofas, cars, rugs and other small areas that regularly need a quick spruce up. Although these types of vacuums can be corded, most high-quality appliances are now designed to be cordless, making cleaning even easier.
Handheld vacuums are especially useful if you have pets and want to remove hair from your soft furnishings on a regular basis. They can also be used to vacuum up spills in the kitchen and to clean up quickly and easily after your kids. Look for a high-quality model such as the Dyson V7 Trigger Handheld Cordless Vacuum Cleaner if you want to guarantee excellent results every time.
Robot
Robot cleaners are ideal for house-proud homeowners who are short on time. Unlike other types of cleaner, these autonomous appliances don't need a person to operate them. Simply turn them on, place them on your floor and your robot vacuum cleaner will criss-cross your room, sucking up dirt and debris as it goes. Some robot cleaners will even charge themselves up automatically when their power supply runs low, taking all the hassle out of keeping your home clean.
If you're in the market for a new vacuum cleaner, our expert team will help you find the model that's perfect for you. Get in touch today or take a look around the vacuum cleaners on our site to find out more.