Gas or Induction? Which hob should I choose?
12/5/2022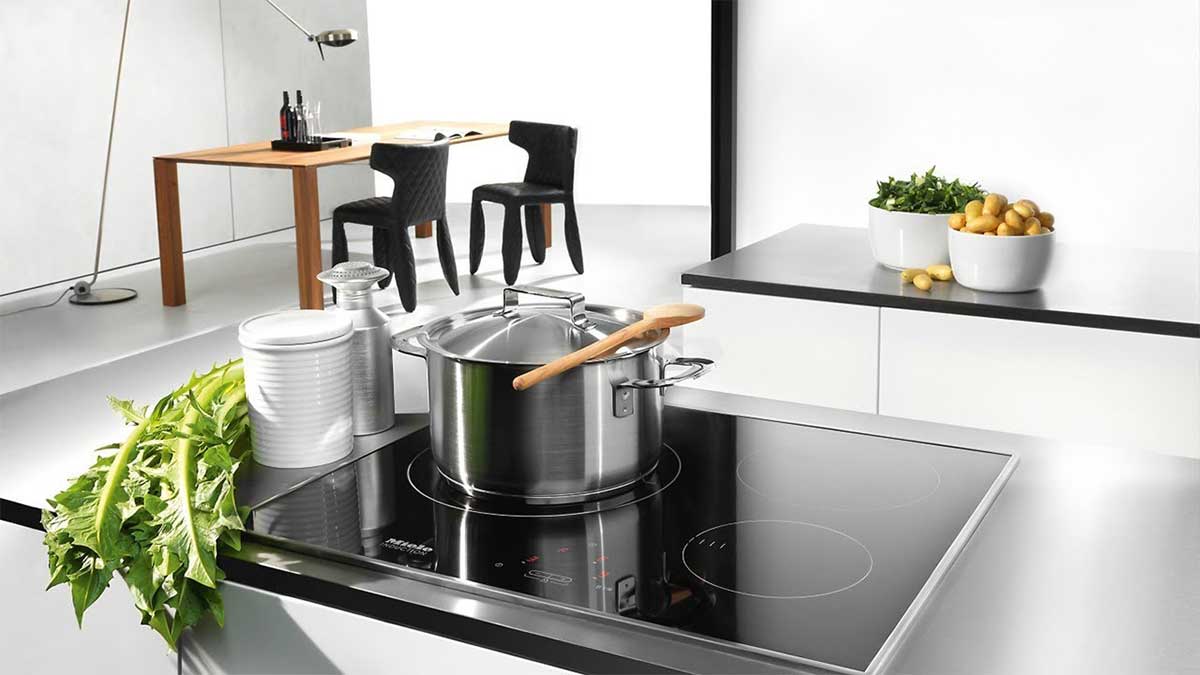 Updating your kitchen appliances doesn't have to be a stressful experience. Instead of opting for your usual appliances, why not try something new? Cooking on hobs has changed a lot in the past few years and with high-quality precision technology, you can now create captivating culinary delights with ease.
The general rule is once you've turned to induction, you won't go back to gas. Induction hobs bring a whole host of benefits, the number one being that they are more energy-efficient. This is definitely something to consider at a time when our energy prices are rapidly rising!
It is said that induction hobs offer up to 70% reduction in energy consumption compared to traditional cooking methods such as gas. Induction hobs are also great for families and offer a much safer way of cooking. With no flames or ignition, burns and fumes are a thing of the past. Spillages are also super simple to clean away on induction hobs, so you don't have to worry about burning the ring!
With no risk of accidentally 'leaving a pan on' most induction hobs operate on new technology such as Pan Detection Systems, recognising when a pan is in place. Induction hobs also offer a smoother dining experience, both heating up and cooling down pans a lot quicker than a gas hob.
This element of safety cannot be found in gas hobs, with many people switching to induction for this exact reason. Induction hobs don't have a point of ignition like gas hobs do, this means that there is very little risk of pans catching fire compared to gas hobs that produce an open flame.
---
---
One of the great benefits of induction hobs is the ease with which you can clean them. With no parts to dismantle and safely clean, induction hobs can be easily wiped down eliminating any residues from grease or food.
As induction hobs have completely smooth and even surfaces, there are also no nooks or crannies for crumbs to fall into. They also look very sleek and stylish, complimenting a range of kitchen aesthetics.
---
Induction hobs are also considered a space saver, especially for those with smaller living spaces. If you think you would miss a gas hob for cooking and chargrilling vegetables, why not consider an outdoor cooking area such as a barbecue or oven?
The main downsides to induction hobs are often found by those who professionally cook. Whilst induction hobs are very easy to control, you need to use pans that have magnetic properties in order for them to work. This means that traditional copper pans, for example, are not suitable.
However, induction hobs carry a wide variety of benefits that beat any downsides. And if you were still determined to use your French copper pans, why not consider buying a gas burner to use either indoors or outdoors? This way you can have your crepes and eat them too!
For a smarter kitchen with fewer resources, consider switching to induction cooking. At Gerald Giles, we supply a variety of induction hobs to suit every kind of home. Below we have ranked our 3 best-selling induction hobs with detailed explanations of their benefits and technologies.
---
AEG IKB64301XB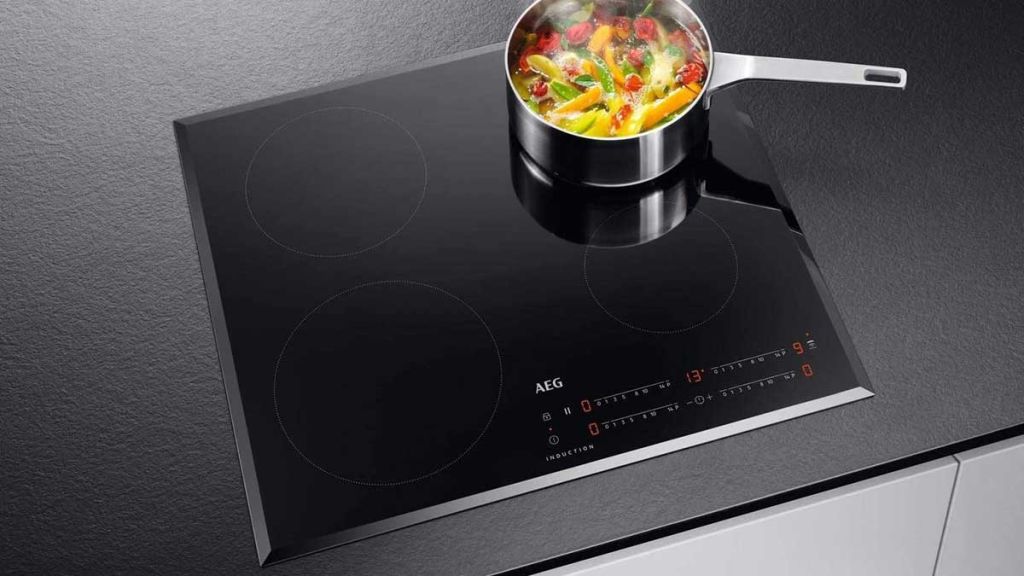 Coming in third place is the AEG IKB64301XB Induction Hob. This built-in design electric induction hob will seamlessly blend into any home allowing you to have dinner on the table in no time.
With four induction zones, cooking couldn't get any easier. This hob also includes an extra special PowerBoost button that boils water in under 90 seconds. This is because induction hobs heat the base of the pan and conserve energy, instead of heating the hob's surface.
For enhanced safety, pan detection technology will ensure only the zones you want to work with get hot so if you do touch another area of the hob you won't be faced with a nasty burn. You can also choose to set a control lock that prevents any changes to your settings.
As soon as you set your pan down on the hob and turn it on, its ActiveTouch technology will tell you which zone is best to use. Red lights indicate the temperature of the pan whilst your other options remain white. The hob also features LED backlights that indicate where your cookware is positioned. This makes the IKB64301XB an accessible piece of kitchenware suitable for a wide variety of homes.
With its cool surface, the AEG IKB64301XB hob will allow you to clean as you cook, taking kitchen preparation to the next level. It also includes a controlled cooker hood allowing you to focus entirely on your next tasty treat without worrying about turning your extractor fan on or off. With its adjustable timer, the AEG IKB64301XB will automatically remind you of how long you've been cooking!
---
Neff T48FD23X2 800mm Induction Hob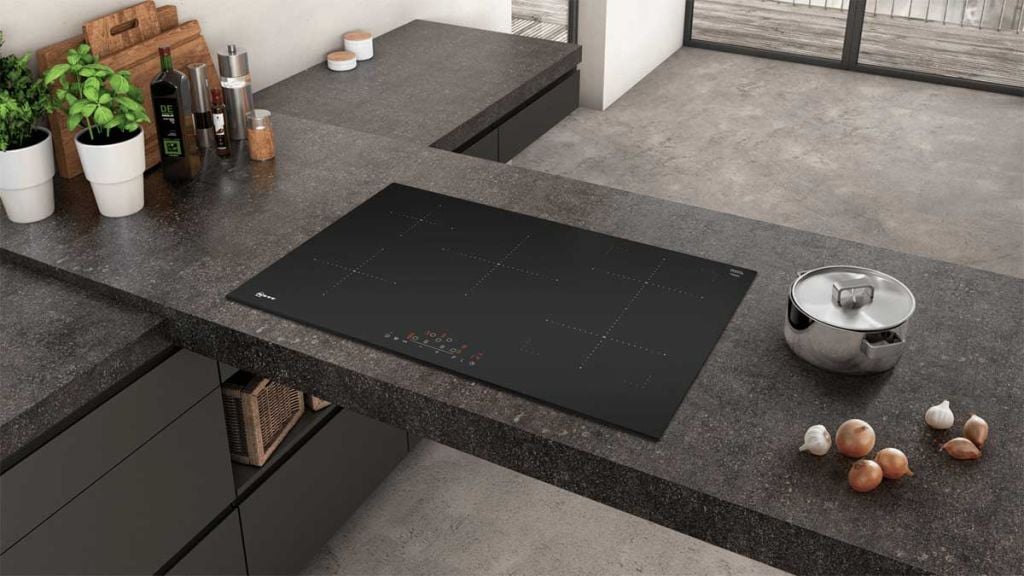 Coming in at a not-be-snubbed-at second place is the Neff T48FD23X2 800mm Induction Hob. This spectacular, stylish hob also includes a free induction pan set, making life just that little bit easier. We like to think that the T48FD23X2 will revolutionise the way you cook, this is because its built-in design and efficient energy-saving abilities have the power to transform any kitchen into a place of luxury – not to mention the envy of your friends and family!
Through heat, the hob creates a magnetic field between the base of a pan and the induction hob. This means that no energy is wasted and your pan heats in a fraction of the time a gas hob would. This is a much more efficient method of cooking compared to gas hobs and again, is a lot safer, especially if you've got little ones running around the house!
The overall design of this hob is sleek and sophisticated. Its black, glossy finish makes it suitable for a variety of kitchen designs, blending in without any raised rings on display.
The T48FD23X2 includes 17 stage power settings ensuring whatever you prepare is always cooked to perfection. From frying to boiling, the T48FD23X2 could be just what you and your kitchen need. As well as including a boost option that allows the hob to quickly jump into action, this clever design also includes a CombiZone; an area on the side of the model that can be used either as two cooking zones or one, if you were to own a large pan.
Gone are the days of worrying about knocking pans over or leaving the gas on, the Neff T48FD23X2 is the perfect addition to any home in need of an added touch of class.
The Neff T48FD23X2 is pricier than our earlier pick but it's packed with clever features and will be an important part of your kitchen for decades to come, so well worth it we say.
---
Miele KM7464FR 62cm Wide Induction Hob 4 Zone With 1 PowerFlex Zone
And in first place; the Miele KM7464FR. This sleek and efficient glass hob includes a stainless-steel rim and easy-to-use touch controls. With the addition of touch control, you can simply select the best zone and power level before adding a lock and timer. This ensures no nasty accidents as well as perfectly cooked food every time!
Miele also has a mobile app to help you get the most out of your hob. For extra convenience, you can change the cooking parameters and even stop whichever programme is running on your phone. This level of service is undoubtedly unmatched by a gas hob. The app also includes ravishing recipes to help you get the most out of your Miele product.
We've ranked this hob as our best because it offers flexibility, safety, and quality. It includes a TwinBooster power output that allows you to combine the output of two cooking zones into one, ultimately meaning you don't have to spend hours in the kitchen. By combining two zones into a larger zone, your hob becomes a versatile piece of kitchenware. So much so that you can even use pasta and casserole dishes on the hob without any problem.
The Auto Heat Up function automatically reduces the heat once your food is cooking to eliminate the risk of burning. Most users find this an excellent feature as they often forget to turn down the heat on their induction hobs. The KM7464FR also boasts a warming function for each zone that keeps your food at the optimum temperature for warmth without burning.
Like most induction hob manufacturers, safety is of utmost importance at Miele. Along with pan recognition, the KM7464FR also includes a safety lock that prevents any changes to temperature or zone use. This is a great feature if you have children and helps to reduce any burns or kitchen accidents.
With its amazing Stop&Go Memory Function, all cooking zones can be reduced down to power level one just by touching a button. This means that the hob can be left unattended, if need be, without food burning or spilling. After a short time, you can return to the hob and press the button for all zones to return to their previous power levels.
The Miele KM7464FR is a great investment for your kitchen. Its lustrous appearance and integrated design make it the perfect addition and space-saver for any home. There are many reasons why we rank the Miele KM7464FR as our best induction hob, why not order today to find out for yourself?
Still can't decide which hob to choose? Why not come and visit us at Gerald Giles, Ber Street, Norwich. Here, you can view live demonstrations and decide for yourself. Plus, you'll meet some friendly faces who are more than happy to share some words of wisdom when it comes to choosing the right hob for your home.
---