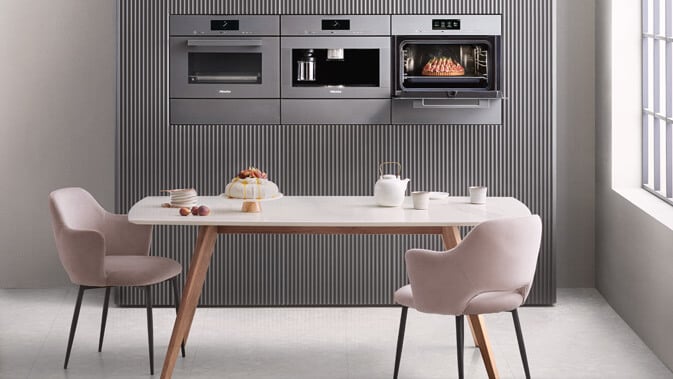 The Vitroline Collection
German manufacturer Miele has long been known for the quality of its products and the unique aesthetics of its appliances. Contemporary, innovative and functional, these high-quality products will enhance any kitchen they're installed in.
This year, Miele has released its much-anticipated Generation 7000 collection. Featuring a wide variety of products and some truly futuristic innovations, it offers house proud cooks a fantastic choice of exciting appliances. The Gen 7000 range is made up of four collections: ContourLine, ArtLine, PureLine and VitroLine. The VitroLine collection features contemporary glass façades and a striking graphite grey finish. Ideal for modern homes, this unique collection will add something special to your interior.
Miele H7464 BP single oven
The Miele H7464 BP single oven has a number of innovative features designed to make it as user-friendly and as functional as possible. The appliance incorporates many of Miele's most innovative technologies, helping you get the most out of your kitchen.
If you're managing a busy household, or if your time in the kitchen is limited, the H7464 BP single oven's TasteControl technology will be a huge help. This useful feature will cool your oven's compartment after a set period of time, preventing your food from over-cooking and helping you to turn out perfect plates.
The oven's MoisturePlus function allows you to cook light, fluffy loaves of bread with perfectly crisp crusts while its DirectSensor controls make the appliance incredibly easy to operate. Thanks to its WiFi capabilities, you can even control the oven remotely. Simply download the Miele@home app to get started.
Once you've finished preparing your dishes, you can clean your oven quickly and easily using its pyrolytic cleaning function. This heats the inside of the oven to over 400˚C, incinerating any burned-on food and allowing you to simply wipe the surface clean.
Miele H7440 BM compact microwave combination oven
Sleek, stylish and incredibly useful, the Miele H7440 BM compact microwave combination oven will make a great addition to your kitchen. Its graphite grey exterior ensures the appliance will work perfectly with other products from the VitroLine range and enhance any kitchen it's installed in.
DirectSensor controls allow you to switch between programmes quickly and easily while its Quick & Gentle microwave technology ensures a thorough, even cook throughout.
If you're in the process of building a smart home, or if you just like your kitchen appliances to come with a little extra tech, the Miele H7440 BM is the perfect choice. The microwave is WiFi enabled and, once you've downloaded Miele's custom-made app, you'll be able to control it remotely via your smartphone or tablet computer.
As well as having a wide range of automatic programmes to choose from, the Miele H7440 BM has infinitely adjustable power ratings, allowing you to cook your meals to perfection. Made possible by Miele's innovative inverter technology, this flexibility will help to enhance all the dishes you prepare.
Miele DGC 7440 steam combination oven
Add another layer of versatility to your kitchen with Miele's DGC 7440 steam combination oven. Perfect for everything from roasting to baking and steaming, the appliance will allow you to prepare a wide variety of ingredients and dishes.
Like the other steam ovens in the Miele range, the DGC 7440 comes complete with DualSteam technology. DualSteam ensures the heat is evenly distributed throughout the oven and makes it easy to ensure you get perfect results from your culinary efforts every time.
Use the DGC 7440 to melt chocolate, make yoghurt, prove dough, steam fish and extract fruit juice. You can also use the appliance to keep dishes warm before they go to the table, sterilise jars and bottles and defrost joints of meat.
If you want to get your ingredients crispy on the outside and succulent on the inside, take advantage of the DGC 7440 oven's combination cooking capabilities. Using both steam jets and dry heat, your oven will help you get even more from your culinary adventures.
Thanks to the unique cooking capabilities of the DGC 7440, it can be used as the main oven in your kitchen. This will allow you to save a huge amount of space without sacrificing functionality. Alternatively, match it with one of the single ovens from the VitroLine range to create a comprehensive and stylish cooking set up.
A fantastic addition to any kitchen, Miele's VitroLine range is functional, innovative and eye-catching.
If you want to find out more about the VitroLine range or any of the appliances we have spoken about in this article please get in touch, you can book an appointment here online or call us on 01603 621772.