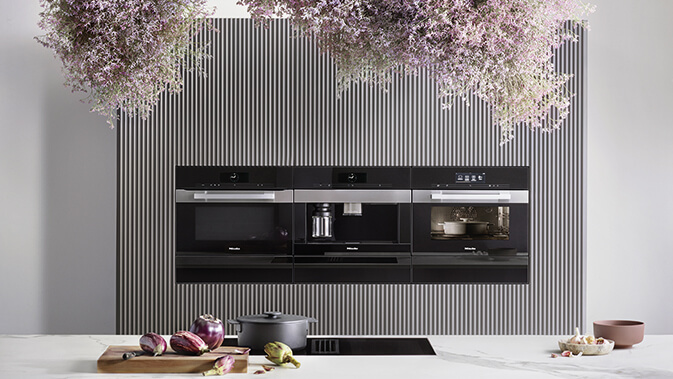 The PureLine Collection
Part of Miele's innovative new Generation 7000 range, the PureLine collection is one of its most stylish yet. Featuring clean glass façades, striking handles and contemporary stainless steel detailing, the collection will fit perfectly into any kitchen.
Unlike other collections in the Miele Gen 7000 range, PureLine places an emphasis on horizontal installation. By arranging all your appliances on the same level, you can create a kitchen that's incredibly easy to use and has a unique, modern aesthetic. The Miele PureLine range contains many of the most important appliances you need for your kitchen, making it easy to boost the functionality of your home and give your living space a stylish new aesthetic.
Miele H7264BP PureLine single oven
If you're looking for a single oven that's eye-catching and functional, the Miele H7264BP is the perfect choice. Its black glass façade gives the appliance a clean, contemporary look while the stainless steel handle helps the oven to really stand out.
The H7264BP has a clear text display and sensor controls. This makes it easy to switch between programmes and allows you to finely tune your oven to perfectly suit the ingredients and dishes you're preparing.
If you're a keen baker, you'll love the oven's Moisture Plus feature which makes it easy to bake light dough and crispy crusts. Use one of the appliance's numerous automatic programmes to get great results every time.
Once you've finished roasting, baking, grilling or defrosting, you can get the H7264BP looking good as new using its pyrolytic cleaning function. This heats the inside of the appliances to over 400˚C, incinerating any burned on food and allowing you to simply wipe the oven clean.
Like many of the products in the PureLine collection, the H7264BP single oven is WiFi enabled. Once you've downloaded the Miele@home app, you'll be able to control the appliance via your smartphone or tablet computer, wherever you are in the world.
Miele DG2840 built in steam oven
Steam ovens offer chefs a fantastic way to cook healthy, delicious meals. A great addition to any kitchen, steam ovens can help to improve functionality, boost cooking power and give you the tools you need to turn out fantastic food every time.
The Miele DG2840 steam oven offers a similar aesthetic to the H7264BP oven. Like other products in the PureLine collection, it has a black glass façade and a stainless steel handle. This means it will work perfectly with other PureLine products and add a fantastic, contemporary look to your kitchen.
Thanks to the precise positioning of the steam jets in the Miele DG2840, you're guaranteed to get even cooking conditions and exact temperatures. Use the automatic programmes to perfectly prepare a wide choice of dishes and ingredients including meat, fish, cakes, dough and even fruit juice.
The oven's large, 40-litre capacity ensures there's plenty of space for all your dishes while its EasySensor controls mean you can operate the appliance with ease.
The Miele DG2840 steam oven has quantity independent cooking. This means it takes the same amount of time to cook 100g as it does 1,000g, making it easy for you to judge the cooking time for your ingredients.
Miele 7440BM compact microwave combination oven
Sleek, modern and incredibly versatile, the Miele 7440BM microwave combination oven will add to the functionality of your kitchen. The oven features the classic aesthetics of the PureLine range, allowing you to create a seamless look in your kitchen.
The large, clear text display and DirectSensor controls make the microwave very easy to use while the numerous automatic programmes help to ensure you get excellent results no matter what you're cooking. The appliance's Quick & Gentle technology will help you to prepare a wide variety of ingredients and allow you to cook all your dishes evenly.
Like many of the other products in the PureLine range, the 7440BM is WiFi enabled, allowing you to control it remotely via your smartphone or tablet computer. This makes it the perfect choice for keen cooks looking to create the ultimate smart home.
Once you've finished cooking your popcorn, defrosting your meat or re-heating yesterday's dinner, you can get your microwave looking good as new thanks to the appliance's PerfectClean technology.
Sleek, contemporary and incredibly versatile, Miele's PureLine collection is the perfect choice for the modern kitchen. Start building your new cooking arsenal today, or find out more about the exciting products in this innovative range please get in touch, you can book an appointment here online or call us on 01603 621772.