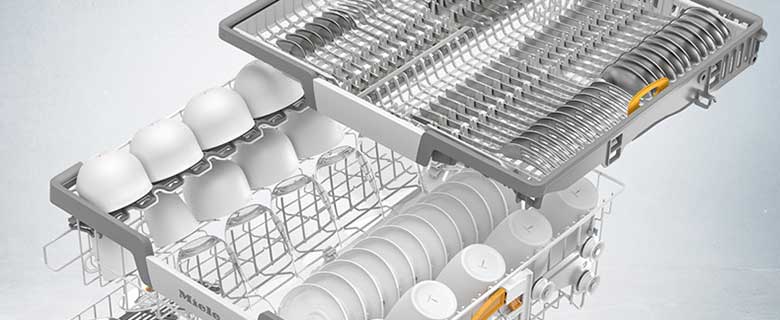 A good dishwasher can make a huge difference to the functionality of your kitchen. Enabling you to get your plates, cups and cutlery gleaming, and helping to ensure the smooth running of your home, a reliable, high-quality dishwasher is an absolute must have.
For years now, German manufacturer Miele has been leading the way in the world of dishwasher design. Constantly innovating and producing ever more exciting and practical products, Miele manufactures some of the best appliances on the market.
The company's newest range of dishwashers, the G7000, combines the innovation and build quality the company is known for. A fantastic option for anyone who wants to improve the functionality of their kitchen and future-proof their home appliances, a Miele Gen 7000 self-dosing dishwasher could make the perfect addition to your home. Keep reading to find out more.
The benefits of self-dosing dishwashers
In the last few years, we've seen more and more manufacturers introduce self-dosing appliances. Designed to help minimise the amount of detergent used in washes and cleaning cycles, self-dosing appliances can help homeowners to save money and reduce their impact on the environment.
Miele's Generation 7000 range of dishwashers comes complete with the company's latest self-dosing technology. Although you'll still be able to use standard liquids and tablets in the appliance, you can also opt to use Miele's very own PowerDisks. These specially designed blocks of detergent fit into a compartment in the front of the appliance and release a set amount of detergent during every cycle. The PowerDisk also contains rinse aid, helping to ensure your dishes come out gleaming every time.
As tablets and liquid detergents are also compatible with Generation 7000 dishwashers, you have complete control when it comes to running your dishwasher. Simply select the product that's right for you and your dishwasher will ensure that your plates, pots and pans are cleaned as thoroughly as possible.
Miele PowerDisks
If you opt to use Miele PowerDisks over standard detergent options, you'll only need to replace the product a few times a year. According to Miele, each PowerDisk should last the average household around one month. If the dishwasher is used in its Eco mode it may last a little longer, while using standard cycles will mean that you'll need to replace the disk every 20 washes. If you select an auto programme from the dishwasher's menu, the amount of detergent that's dispensed during a cycle will depend on how dirty your plates, pots and pans are and on the amount of crockery and cutlery loaded into the appliance.
The all-in-one granular detergent provides your crockery and cutlery with silver and glass protection and comes with components for a final rinse and salt functions. The PowerDisk is available here at just under £10 when bought singularly, however, further saving can be made when you purchase the PowerDisk six-pack, then you'll have one handy whenever you need it. This detergent is an affordable option for households looking for a high-performance product.
Connectivity
If you're in the process of creating a smart home, or if you just like your appliances to be as high tech as possible, Miele's G7000 range is the perfect choice. Many of the dishwashers in the collection can be connected to your smartphone using the manufacturer's very own app. You can then turn it on, change the settings and receive notifications via your device wherever you happen to be.
This can be very useful if you forget to turn the dishwasher on before heading off to work and if you want to check how much detergent is left in the appliance when you're out and about. If you run out of detergent, you'll receive a notification straight to your phone and can instantly order more PowerDisks via the Miele app or directly from Gerald Giles. If you have other Miele products in your home, your app can be used as a hub to control a variety of these high-tech products.
Functionality
As you'd expect from a manufacturer like Miele, the functionality of the dishwashers in the G7000 range has been thought through from start to finish. As well as an exceptionally high build quality, these appliances feature intuitive controls and a great choice of programmes and cycles. This will help you to get the most possible out of your dishwasher and enable you to enjoy sparkling plates, cups and crockery with every cycle. Even heavily soiled pots and pans should come out gleaming, with Miele's high-quality detergent ensuring great results every time.
Thanks to the Wi-Fi capabilities of the G7000 dishwashers, their functionality is future-proofed and ready for the 21st century. As smart appliances become increasingly common, having the ability to control your dishwasher, washing machine, oven, microwave and boiler from your phone will become a necessity. By investing in a Wi-Fi enabled dishwasher now, you can ensure you're ready for the future of kitchen connectivity.
Flexibility
The 3D Multiflex tray demonstrates the improvements Miele has made to the cutlery tray, it can now also accommodate even small items such as espresso cups. The 3D MultiFlex tray has a sunken central section and two side sections, giving you further flexibility. The left-hand section can be pushed to the right to create space for tall wine glasses in the upper basket. The depth of the right-hand section can be adjusted to easily accommodate large items of cutlery and small items of crockery.
Energy consumption
Despite the great results and high-performance cycles we see from the Miele G7000 range, these appliances use remarkably low levels of energy to clean your pots, pans and crockery. If you're currently running a retro dishwasher, you may well notice the difference in energy consumption in your next bill, especially if you use the appliance on a regular basis. What's more, G7000 dishwashers can tell you exactly how energy efficient you're being. If you're trying to boost the eco credentials of your household, this extra info could go a long way to helping you achieve your green goals.
Easy to use, reliable and capable of producing excellent results every time, Miele's self-dosing Generation 7000 dishwashers are perfect for the kitchens of the 21st century. To find out more about this innovative range, or to order an appliance for your household, take a look around our site or get in touch with a member of our expert team today.