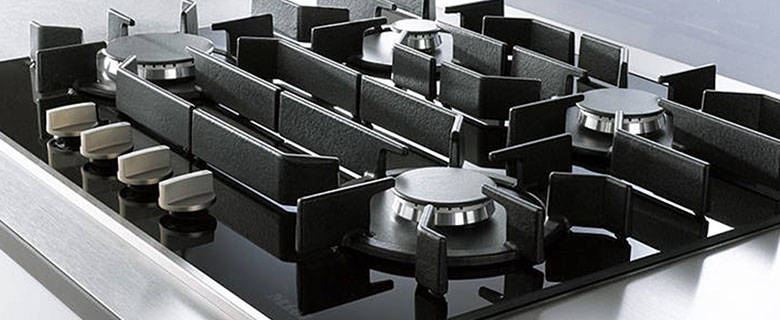 Take your home cooking to the next level with Miele hobs
If you're a keen chef or just someone who likes to cook up healthy meals quickly and easily, a good-quality hob is an essential piece of kitchen technology. Helping you to sauté, fry and steam food to perfection, a high-quality hob can make the difference between a good meal and a great one.
One of the best hob manufacturers out there is Miele. Known for its durable, stylish and innovative products, the brand has a great selection of hobs for you to choose from. To help you find the right hob for your kitchen, we're taking a look at three of the best models on the market.
Miele KM6322 614mm Wide 4 Zone inc 2 Flex Induction Hob
Induction hobs have been growing in popularity for some years now. Incredibly energy efficient, they can help you minimise the amount you spend on electricity and make your home that little bit greener.
What's more, as induction hobs only heat the pan and not the area surrounding the pan, they're very safe to use. This makes induction hobs a popular choice for families with young children as well as chefs who want complete control over their cooking.
The Miele KM6322 is an innovative hob with versatile cooking capabilities. Its cooking zones can either be used separately or combined into a single, large cooking area for unparalleled flexibility. When combined into one cooking zone, the hob will help you to heat large pans and casserole dishes quickly and evenly.
The model features advanced pan size recognition technology to ensure that heat is directed to where it needs to be. It can also be automatically locked to prevent accidents when the hob isn't in use.
Miele KM6115 574mm Wide 4 Zone Induction Hob
The KM6115 features four separate cooking zones. Each of these zones has nine different heat settings, giving you complete control over your cooking. These cooking zones heat up almost instantly, allowing you to get your ingredients boiling, simmering or frying fast. Like the KM6322, the KM6115 has pan size recognition, so you'll only as little energy as possible when preparing your meals.
Miele KM3010 4 Zone Gas Hob with Ceramic Glass Base
Although induction hobs are an excellent option for all keen cooks, there are many people out there who will never move away from traditional gas cooking. Gas hobs give the chef full control over the intensity and level of the heat their food is exposed to.
The Miele KM3010 has four cooking zones and a ceramic glass base. The durable and stylish unit has a thermoelectric heating device built in. This will cut the gas supply to the appliance if the flame is ever extinguished.
No matter which Miele hob you choose, your new appliance is guaranteed to take your home cooking to another level.
Find out more about the models available, and start shopping for your new hob, by exploring our site today, see our hob range here.