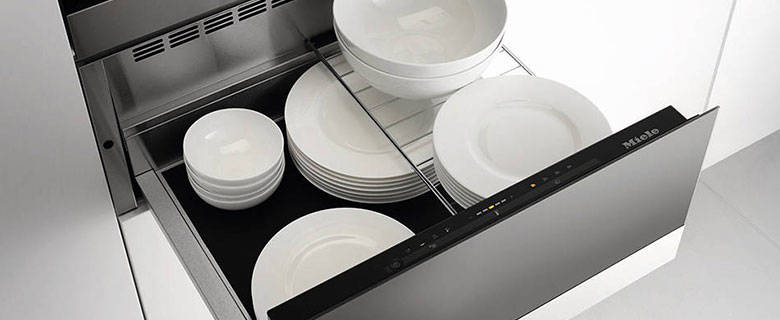 Miele warming drawers are a must if you want to be the host with the most
Although you may never have used a warming drawer before in your culinary career, once you've got used to the convenience of having one, you'll never want to go back. Essential for chefs who like to prepare big meals for friends and family, and those who like to serve every element of their meals at the perfect temperature, warming drawers can help you to make every dish you serve a winner.
If you're thinking about installing a warming drawer in your kitchen, or if you already have one and are looking for a replacement appliance, we have the perfect products for you. Keep reading to find out more.
Miele ESW6229X CLST 29cm Sous Chef Warming Draw
The Miele ESW6229X is an incredibly versatile warming drawer that's suitable for a wide range of uses. The appliance has four built-in operating modes that let you warm, and even cook your meals to perfection. Push2Open handling ensures your dishes are always easy to access while the appliance's touch controls make programming your warming drawer a doddle.
If you're a meat lover, you can use your Miele warming drawer to slow cook a wide variety of different cuts. Set the timer and leave your meat in the drawer for hours until it's soft, moist and irresistibly tasty. The fully telescopic runners allow you to pull the drawer out completely. This makes it easy to load and unload your dishes, even when you're in a rush.
Install your Miele ESW6229X alongside your Miele oven to create a complete cooking experience.
Miele ESW6114CLST 14cm Food and Crockery Warming Draw
The Miele ESW6114CLST warming drawer can heat between 40˚C and 85˚C. This makes it the perfect choice for homeowners looking to improve their kitchen's functionality. As well as being ideal for heating crockery before a meal and keeping dishes warm while you're waiting to serve, the appliance can be used to slow cook stews and help your bread achieve the perfect rise.
Like Miele's other kitchen appliances, this warming drawer has a modern, sleek finish and a high-quality build. A stainless steel bottom trim will help the drawer blend in with your other Miele appliances, while its soft close mechanism ensures smooth opening and closing and easy access to your dishes.
Once you've mastered the art of cooking meat and stews in your warming drawer, you'll never want to go back. The perfect way to get even more flavour into your dishes and impress your friends and family, these versatile appliances can help you take your culinary creations to a whole new level.
If you'd like to find out more about Miele warming drawers, or any of the other products in the Miele range, take a look around our site or get in touch with a member of our team today.