As Norfolk and North Suffolk's Miele Repairs specialist, Gerald Giles can help you.
Miele domestic appliances are durable and long-lasting, which has led to the brand is renowned for its unsurpassed product quality. However, it is possible that your Miele appliance may develop irregularities in its usual operation or performance. Often these can be quickly and easily resolved without the need for a technician to visit your home. Miele has an online Customer Assistant which provides remedies to many situations so your appliance can be back to normal with a minimum of inconvenience – see the link below.

If the problem with your Miele appliance cannot be resolved online, Gerald Giles is here to help
Based in Ber Street, Norwich, Gerald Giles is Norfolk and North Suffolk's Miele Service Dealer. Our experienced and highly trained Authorised Miele Service Technicians use the latest fibre optic diagnostic equipment to find and fix a problem quickly and often without the disruption of having to dismantle a machine.
Our technicians have trained at Miele's own Service academy and receive regular training updates to ensure they are kept up to date on the latest appliances and technology.
What Miele appliances can be serviced and repaired?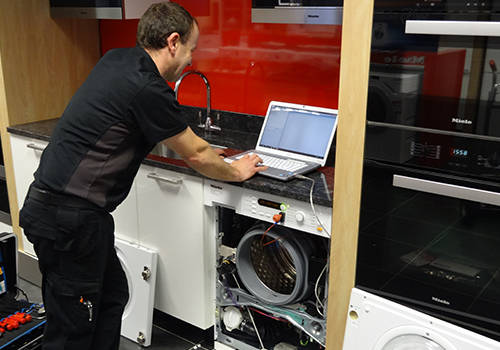 The following products can be serviced both under warranty and out of warranty:
Washing machines, both freestanding and built-in
Tumble dryers and washer dryers, both freestanding and built-in
Dishwashers, both freestanding and built-in
Ovens
Vacuum Cleaners
Microwaves
Coffee machines
Miele spare and replacement parts
Gerald Giles' technicians also carry many Miele parts to help minimise the need for a return visit, saving you time and getting your appliance back to working order as quickly as possible.
How to book your Miele service
Please call our Norwich store to book your service – 01603 621772 and check we cover the area you live in. We are able to offer morning or afternoon time slots and we will endeavour to get to visit you within 2 working days. If a more specific visit time is required we can accommodate this, but in some instances, this may mean we will not be able to get to you within our 2 working day target time frame. Please call us on 01603 621772 to find out more.
Gerald Giles coverage area for Miele Repairs